Nvidia (NASDAQ:NVDA) faces a major strategic problem. Integrated graphics, in the form of Intel's (NASDAQ:INTC) Ivy Bridge and AMD's (NYSE:AMD) newly released Trinity, are rapidly reaching the point of being good enough for the majority of usage cases. Integrated graphics processors are now capable of real time video transcoding and smooth game playing at common laptop resolutions. Three or four years ago, seeing this type of performance from an integrated chip would have been unthinkable.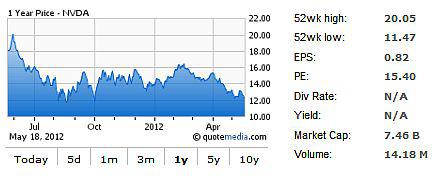 Furthermore, the relative performance of integrated graphics is likely to increase substantially in the next couple years. Intel's Haswell GT3 graphics chip is projected to have performance increases of at least 50% over Ivy Bridge, and possibly much more. Current Intel Ivy Bridge processors have an incredibly small die size, at 160mm2 for a quad core model. This means the company can devote die space to scaling graphics performance with great flexibility.
AMD has also announced a strategic focus on performance of its integrated graphics units. Its consumer marketing strategy involves compensating for Intel's superior x86 performance by offering superior performance in the company's integrated graphics units - Heterogeneous computing is the chosen marketing term. We can expect AMD to continue to devote considerable resources to improving the power of its integrated graphics units.
OEM's have a strong incentive to avoid adding in discrete graphics products. They add cost to the system in terms of both components and manufacturing time, increase the complexity of software support due to third party drivers, and add to the necessary stages of the manufacturing supply line. Although there will always be consumers who desire the added performance of a dedicated card, the proportion of the market that desires that product will shrink as the relative performance of integrated solutions rises. Loss of the mainstream consumer market, with only high performance computing and enthusiast product lines to generate revenue, is an unsustainable position. Research and development costs are largely fixed - it is not easy to simply scale back production because doing so reduces resources that can be devoted to product development. AMD is facing a similar problem in the x86 market.
Nvidia has tried to diversify its product lines into smartphone SoCs (such as Tegra), high performance computing (Tesla), and GPU virtualization. But as of last quarter, consumer graphics made up $579.7 million in revenue out of a total of $924.9 million in revenue - almost two thirds of the companies total. Consumer graphics revenue declined 6.7% from the previous quarter, dragging down total revenue by 3.9%.
Growth in the mobile market does offer Nvidia some future hope. But revenue in this market would need to grow to 8 times its current level just to equal current revenue levels. For the foreseeable future consumers graphics will represent a dominant portion of Nvidia's product line. The rising performance of integrated graphics chips represents a major strategic threat to this revenue source that investors need to be aware of.
Disclosure: I have no positions in any stocks mentioned, and no plans to initiate any positions within the next 72 hours.