by Evan Pierce
When it comes to markets that move quickly, silver is rivaled only by natural gas for volatility. If you have ever invested in silver, you can relate to the notion that silver and natural gas are the "$1,000 craps tables" of commodity trading.
Because their price action corresponds directly with silver's, companies that mine and trade silver have extremely high risk factors as well. One such company, Silver Wheaton (NYSE:SLW), is currently trading around $25 per share, well off its 52-week high of $42.50 in spite of a rising stock market. However, as with any industry, if you like the underlying business, it's a good option to invest in the biggest and the best. Silver is solidly positioned for upward price momentum, and Silver Wheaton stands ready to profit.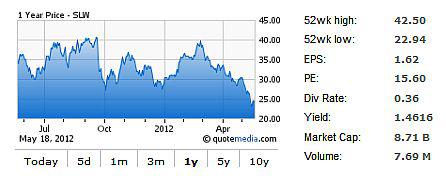 Company Profile
The strength of Silver Wheaton lies in its ability to finance mining projects with upfront payments in order to secure a future supply of silver. Founded in 2004, the company is the only large precious metals firm that doesn't actually own a mine - yet Silver Wheaton has quickly become the largest metals streaming company in the world. In exchange for an upfront payment, the company has the right to purchase, at a low fixed cost, all or a portion of the silver production from 16 high-quality operating mines and three development stage projects around the globe.
As an options trader, I liken this to buying a bunch of cheap upside calls in the silver market. The company is under no obligation to buy the silver, but it has the right to buy it. When your fortunes are tied to something as volatile as silver, options are extremely valuable.
Additionally, SLW has the right to buy gold from these mines. Without adding to its current agreements, the growth profile is substantial, with a target of 25 to 26 million silver equivalent ounces for 2011, including 15,000 ounces of gold. Looking further out, these projections rise considerably to approximately 43 million silver equivalent ounces, including 35,000 ounces of gold over the next five years. Since the company does not own any of the mines, it does not incur any operational and capital costs associated with the production. This gives it a clear edge over traditional miners. Moreover, it is not as much exposed to political risks as conventional miners are.
Industrial Demand for Silver
Silver is a top conductor of electricity, and is used in virtually all electronic devices. The continuing increase in production of electronics, particularly in developing nations, will lead to an increased demand for silver. Furthermore, the increasing use of photovoltaic cells (solar cells), which require silver, will also strengthen demand for silver as the world continues to search for green energy sources.
There is also a growing use of silver in the medical profession, as silver has antibacterial properties. Other new applications include use in wood preservatives, water purification systems, and food hygiene. Lastly, the market for silver (and gold) in jewelry, particularly in India and China where the middle class is growing, should help to keep demand for the metal strong.
The Gold-Silver Ratio
When analyzing a company like Silver Wheaton, valuations like P/E ratios and market capitalization fluctuate way too much on a daily and weekly basis to give them significant weight. We need to have some way to put a relative value on silver itself. That's why commodity traders look at the gold-silver ratio, which is simply the price of gold divided by the price of silver. Commodities are not like other financial instruments that tend to move independently of one another. Historical relationships between products are just as important as outright price, and are given a higher weight in analysis.
The gold-silver ratio has a long-term average of 27.28. During the massive run-up in gold prices over the last few years, the ratio spiked as high as 96, and today sits at 52. If gold prices remain steady at around $1,600 per ounce, silver could rise to $58.65 an ounce, or almost double, to bring that ratio back to 27.28. My feeling is that if that ratio gets anywhere near 30 without a complete collapse in the gold market, Silver Wheaton will be trading at $60.
Fear Factor
Gold is traditionally viewed as the preferred vehicle for the 'fear play': Investing in a precious metal to hedge against worldwide financial stress. Silver and other precious metals like platinum and palladium have also benefited from this strategy, as investors fear having too many assets denominated in currencies like the dollar and the euro.
Though gold ETFs are still more common, silver ETFs are an option for investors as well. However, Silver Wheaton, unlike an ETF, pays a dividend and distributes earnings to shareholders, which is one reason it's a much better fear trade than a silver ETF. As stated previously, the upside potential in the silver market just on demand gives Silver Wheaton an edge over the competition by virtue of its access to enormous amounts of cheap silver. And when you add in the fear trade, it just adds to the appeal.
Competition
Other companies in the silver space are poised to do well if the silver market strengthens. Hecla Mining (NYSE:HL) produces silver, gold, lead, and zinc. MAG Silver (NYSEMKT:MVG) is an exploration-stage company engaged in the acquisition, exploration, and development of district scale projects located in the Mexican Silver Belt. Silverwork Metals (SVM) is involved in silver mining primarily in China and Canada.
While all of these companies would benefit from a rise in the price of silver, Silver Wheaton is in a better strategic position. Should prices rise, Silver Wheaton's "options" to buy large amounts of metal at a low cost (approximately $4 per ounce) put it far ahead of the competition when it comes to cost of acquisition.
On the flip side, should prices decline, Silver Wheaton has none of the infrastructure costs associated with mining for metals, especially the headaches that can come from dealing with governments in Mexico and China. In fact, should there be a worldwide decline in silver prices, Silver Wheaton may find itself in a position of strength to purchase mines or mining companies at extremely low valuations.
Final Thoughts
Industrial uses, coupled with the fear play and the rise in the profile of metals as an investment option for the average person, have created a new market for the metal. Like crude oil, metals prices are in a new stratosphere. In my opinion, this is the new normal - inflationary pressures will underpin the market for almost all commodities for some time, as governments around the world have flooded the markets with cheap currency.
Silver Wheaton is the company best positioned to take advantage of the long-term volatility trend in commodities, and specifically metals, today. By synthetically creating options to buy silver, they have "bought volatility," and in a market like silver, that's a great play. I think Silver Wheaton will hit $60 in 12 to 24 months.
Disclosure: I have no positions in any stocks mentioned, and no plans to initiate any positions within the next 72 hours.