EMC (EMC), a major player in the data storage industry, is making something of a splash in the technology sector. Trading at just over $26 per share, EMC has a market capitalization of almost $55 billion. Call traders have shown increased interest in EMC recently, so I'm going to analyze the stock from a value investor's perspective and see what catalysts are afoot that may account for EMC's recent popularity with these investors.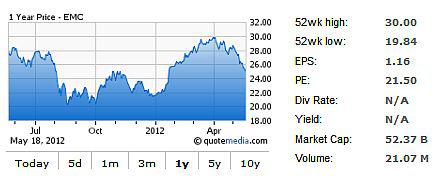 EMC is a global provider of virtual infrastructure technologies and solutions, enterprise storage systems and software, data backup and recovery, disaster recovery and archiving solutions, fraud protection, consulting, and a host of other products and services.
The stock has a trailing twelve month price to earnings ratio of 22.63 and an almost ideal price to earnings growth ratio of 1.08. EMC's price to book is a very acceptable 2.73. Return on equity stands at 13.85% and quarterly year-over-year revenue and earnings growth are reported at 10.6% and 23% respectively. The debt to equity ratio is an impressive 8.16 and the current ratio of 1.27 exceeds expectations. The stock does not currently offer shareholders a dividend. The stock's forward price to earnings ratio of 12.78 hints that the stock may be a viable long-term investment.
A review of the annual income statements reveals impressive revenue growth over the past 3 years and first quarter 2012 revenue suggests that full year 2012 revenues could exceed 2011's result. Net 2011 earnings were more than double 2009's net earnings. The income statement tells me that EMC is committed to research and development. Expenditures in this critical area have increased substantially since 2009, a percentage change of 32.09%, and net income has more than doubled in the same time frame. The balance sheet contains one troubling entry on the asset side, reflecting more than $12 billion in goodwill. I regard this as disturbing on two levels. First, it is a huge number, representing almost one-third of the company's assets and second, it is a highly subjective number, impossible to quantify.
If we compare EMC to Hewlett-Packard (NYSE:HPQ), we see some stark differences. HP trades at about $22 per share and has a market cap of around $44 billion. Although HP has an attractive price to earnings ratio of 7.71, its price to earnings growth ratio is 1.66. HP's price to book of 1.13 and return on equity of 14.64% looks good but when we move on to quarterly year-over-year revenue and earnings growth, we are quickly disappointed by a negative 7% and negative 43.6%, respectively. HP's debt to equity ratio is disappointingly high at 78.22. The current ratio is acceptable at 1.10 but does not offset the poor debt to equity performance. More to the point, the income statement shows declining net income over the last 3 full years reported. Nonetheless, HP is a solid second to EMC in disk storage market share.
IBM (NYSE:IBM) is also a formidable competitor for EMC, third behind EMC but possibly EMC's most dangerous rival in the cloud computing market. IBM is trading at about $198 per share and has a market cap more than quadruple that of EMC. It has decent fundamentals except for a ridiculously high debt to equity ratio of 154.23. I view IBM's size as a handicap. EMC is a smaller, more nimble enterprise that can react to developments more quickly.
NetApp (NASDAQ:NTAP) trades at around $34 and has a market cap of just over $12 billion and it is not cheap at nearly 23 times earnings. Moreover, NetApp faces relentless competition from EMC which has more aggressive pricing coupled with the recent introduction of its unified architecture data storage systems. As a result, NetApp appears to be losing mid-tier market share.
Western Digital (NYSE:WDC) trading at about $37 with a market cap of around $10 billion has enjoyed significant gains this year and is no small player in the disk storage arena. It is a great little stock. Arguably a value at less than 9 times earnings, a sweet price to earnings growth ratio of 0.25, a very acceptable price to book of 1.36, a palatable return on equity of 16.10, robust revenue and earnings growth, low debt to equity and superb current ratios. It is not, however, well-positioned to offer EMC any real competition in the exploding market that is cloud computing and virtualization software.
There just seems to be more to like about EMC than any of its rivals. For example, EMC just acquired privately held XtremIO, a pioneer in flash storage architecture. EMC has a long history of growth through acquisition having acquired more than twenty companies in the past 3 years alone. EMC does not have a monopoly on the global market, but it does have an impressive presence in Latin America, Europe, the Middle East, South Africa, and the Asia Pacific region. I believe a global footprint is an important consideration for today's investor given the uncertainties in the U.S. and European economies.
EMC seems well ahead of rivals in storage solutions and the technology necessary for cloud computing. Its business model is solid, and if its management stays the course, it will reap the profits that expanding storage requirements, cloud computing and virtualization software are sure to sow. Storage requirements and innovative enterprise solutions will be in increased demand as computing transitions to the cloud. EMC is my horse of choice to ride that rail.
Disclosure: I have no positions in any stocks mentioned, and no plans to initiate any positions within the next 72 hours.