In a previous article, I suggested possible volatility in the equity markets due to good news battling with the bad. Further, my opinion was that gold and bond markets would set an important tone for how equities would move. We saw several key moves on Thursday (5/17) and Friday (5/18) of this past week that suggested a sentiment change that further support my idea of high future volatility. To show this, I will simply compare the movement of US equities (I will use the S&P500 SPX, similar results for QQQ, DJIA) with gold (GLD ETF), a metric for dollar strength (the UUP ETF), and long-term 20-yr US Treasury bonds (TLT ETF).
To spoil the ending, I will state my conclusion here: equity movement from 5/16 to 5/18 has increasingly looked to be illogical and fear-based. This has created a very attractive entry point into the stock market. However, this does not conceal the fact that the next few months will likely feature large swings.
1) Starting with GLD, the chart below shows the past 5-day movement of GLD and the S&P500 (Yahoo! Finance).
click to enlarge images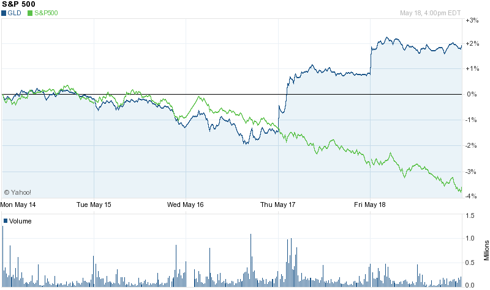 Note the in sync movement through the middle of the day Wednesday, 5/16, followed by a complete reversal to near perfect anti-correlation on Thursday and Friday. This was likely due to the mention of QE3 in the FOMC minutes, but also because gold had touched it's long-term support near $1525 per ounce. The big implication here is that the S&P500 moved down on Thursday and Friday due to fear of something. But what? Greece? Unfavorable US economic data? It is not clear. A second implication is that gold bugs can rest a bit easier for a while that a key support level held and that gold is once again seen as a fear-hedge.
2) Now moving on to the dollar. For this I use the UUP ETF, again a 5-day comparison with the S&P500.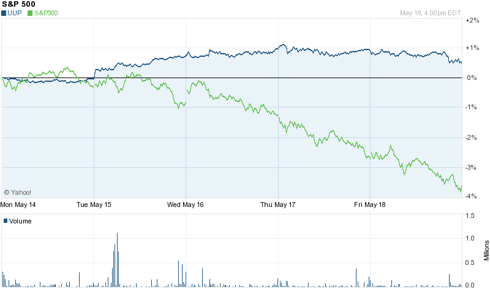 Here, we see that the dollar was anti-correlated with the stock market through Wednesday. Thursday, there was no correlation, but Friday, there was a positive correlation. This is a divergence in sentiment suggesting investor confusion. Although the dollar strength is obviously more than just a simple stock-market tracker, it has been just that for the past few months or even longer. The fact that the dollar dropped on Friday may suggest it is a strongly overbought levels, which can lead someone to speculate that some of this money may flow back into oversold equities soon.
3) Speaking of overbought, how about those long-term bonds? Several articles on Seeking Alpha and elsewhere have expressed their outrage/inability to understand why long-term bond yields are at levels that barely keep up with inflation. I have to strongly agree with this argument. How scared must an investor be to commit to a 30-year bond that may yield negative rates? The chart below compares the 20-year US treasury bond index with the S&P500.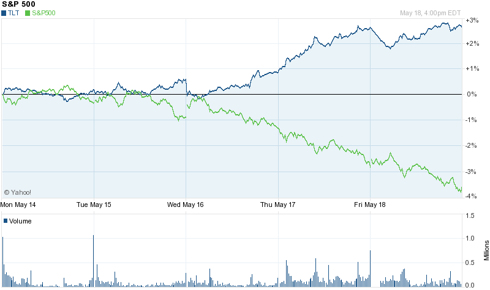 Note here the perfect anti-correlated movement through the end of Thursday (remember gold sentiment changed the middle of Wednesday). On Friday, however, stocks dipped by ~1% while TLT barely held it's ground. Both from a fundamental and technical standpoint, long-term bonds are strongly overbought and it would be very wise to gain at least some exposure into inverse bond ETFs like DTYS or TBT.
Conclusion
It is striking how divergent the investor sentiment has been on 5/17 and 5/18, suggesting a strongly overbought dollar and long-term bonds and oversold equity market. However, it is always difficult to spot a bottom, particularly as the S&P500's recent support is not until ~1250. However, given that we are already at critical levels in both the dollar and long-term bond prices, it is possible that the equity market forms a new bottom in the next coming days. Investors should be on standby to get back into the market where some real bargains exist in multiple industries and sectors (more on this later).
Disclosure: I am long GLD. I may initiate a long position in TBT in the next 2-3 days.