With shipments of Tablet PCs expected to exceed that of traditional desktop and notebook PCs by 2013, Intel (NASDAQ:INTC), the Goliath of the semiconductor market, finds itself in a bit of pickle.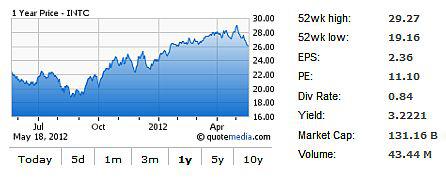 While Intel continues to dominate the x86 processor market, having shipped 80% of all x86 chips in the 1st Quarter of 2012, it has a much smaller footprint in the mobile processor market, where chips based on ARM Holdings (NASDAQ:ARMH) designs, such as Apple's (NASDAQ:AAPL) A5 Qualcomm's (NASDAQ:QCOM) Snapdragon, Samsung's (OTC:SSNLF) Exynos and Texas Instrument's (NYSE:TI) OMAP, have competitive market shares.
Some have actually suggested that Apple, owing to the dominance of the iPad in the tablet market, could actually become the leader in mobile processors by the end of 2012. The truth of the matter is not that simple. While it may come to pass that Apple-branded chips could ship the most numbers in 2012, for all intents and purposes, the true battle is between Intel and ARM. With its vast array of ARM-based licensees, ARM could rightly claim to have close to 80% of the non-x86 mobile processor market.
Intel has responded by accelerating the development of its own high-performance, low-power mobile processors. Initially, Intel focused on the then-fast-growing Netbook market with its Atom processors. However, as it became apparent that consumers prefer tablets, Intel has shifted its focus to its 32nm process-based Medfield processor.
Medfield should finally reach consumers' pockets when Lenovo (OTCPK:LNVGY) launches its K800 smartphone this month. More than simply providing a proof-of-concept device, Intel expects the K800 to show how well a mainstream mobile platform, in this case Google's (NASDAQ:GOOG) Android, runs on its own processors.
Medfield, being based on Intel's older 32nm process is only its initial salvo against ARM. CEO Paul Otellini recently announced that Intel's follow-up to Medfield, its 22nm-based Merrifield and 6331 processors, would launch by 2013.
The importance of the 22nm process cannot be over-emphasized. As initial tests have shown, 22nm-based processors outperform 32- and 40-nm based processors, such as Nvidia's (NASDAQ:NVDA) Tegra 3, by anywhere from 10% to 20% while consuming 15% to 20% less power.
That's significant: Apple shipped its latest iPad with a larger power cell, resulting in a 10% increase in weight and slight increase in thickness to accommodate a higher-resolution display and more power-intensive System-on-a-Chip (SoC). Presumably, a more energy efficient 22nm-based SoC like Merrifield will mitigate the need for larger batteries while yielding the same performance.
Indeed, Intel may have had Apple in mind when it developed these chips - and not just because an "Intel Inside" iPad will enable to trump ARM in the mobile processor space. With its preference for sleek design, Apple has long been rumored to be contemplating a shift of its newer MacBook Air to more powerful versions of its own A5 and A6 processors. With Apple as the only PC manufacturer to have shown strong growth, Intel is keen to retain it as a customer.
To be sure, Intel can expect to see strong growth in its bulwark x86 market this year and the next as PC makers ramp up for the release of Microsoft's (NASDAQ:MSFT) Windows 8 operating system.
That said, the big picture reverts to the mobile processor sphere: Windows 8 will ship alongside Windows RT, the first Windows platform to support "Windows on ARM." This is significant because the "Wintel" partnership has long been a cornerstone for both companies. But with Windows RT, Windows will no longer rely solely on Intel to run. What's more, with an ARM-based alternative available, PC makers such Hewlett-Packard (NYSE:HPQ), are planning to ship Windows RT tablets running on Qualcomm's own ARM-based processors.
Meanwhile, as Intel challenges ARM on its home turf, ARM is also taking the fight to Intel by developing 64-bit instruction chips as an alternative to power blade servers. Intel's Xeon processors currently dominate the blade server market but apart from ARM, Intel is also looking at a challenge from FreeScale Semiconductor (NYSE:FSL).
Interestingly, Hewlett-Packard is itself planning to mount a challenge to Intel in the server market with its own hyperscale servers under Project Moonshot, which will run on cheap, low-power ARM-based chips produced by Calxeda. The aim is to appeal to companies like Facebook (NASDAQ:FB) and other social networks whose processing tasks are not complex but require plenty of bandwidth to deal with heavy traffic.
As its battle with ARM and its proxies intensifies, Intel will need to make significant capital investments in foundries capable of manufacturing using the 22nm - and subsequent 14nm processes. In 2011, it invested $9 billion on these foundries and will probably spend north of $13 billion in 2012 to go with an investment of $8 billion in 2013. That will eat significantly into its Free Cash Flow, which is part of the reason that analysts covering Intel have been largely neutral.
Conclusion
Intel, which has long been a dominant presence in the PC market, is a Goliath needing to shift gears in order to combat ARM. Early returns have been mixed - it's first serious challenge to ARM, Medfield, will only ship this month and works on an older, less power-efficient technology.
Furthermore, because of its relatively long time-to-market, Medfield is unlikely to be taken up in great numbers by mobile device manufacturers. Indeed, many of the devices favored by consumers, such as Samsung's Galaxy S3, HTC's One X and Apple's iPhone all run on ARM-based processors and, with the significant investments made by these companies on ARM, it's unlikely that they will be tempted to shift anytime soon.
To compound matters, ARM merely licenses its own technologies rather than producing massive volumes of its own chips. That means that while it's only a small fraction of Intel's size, ARM can continue waging an indefinite battle with Intel.
Given this, and the relative weakness of the PC market, it is difficult to see Intel surprising the market on the upside. What's more, despite Intel's relatively low Price-Earnings (P/E) ratio of 11 - compared with the S&P 500's 21 - it is actually fairly-valued with its peers in the semi-conductor industry (P/E of 12.5).
I therefore see Intel performing in line with the broad market in the next 6 months. A gain of 10% to 15% is to be expected, but investors seeking higher returns would do better looking elsewhere.
Disclosure: I have no positions in any stocks mentioned, and no plans to initiate any positions within the next 72 hours.