BHP Billiton (NYSE:BHP) Chairman Jacques Nasser raised eyebrows in a discussion with reporters on Wednesday, May 16th when he indicated that commodity prices are likely to keep falling for now:
The tail winds of high commodity prices have contributed to record growth in the sector. Now we have a period where those tail winds are moderating and we expect further easing over time…
Nasser also indicated that BHP would not follow-through with plans to spend $80B over five years expanding its various mining businesses.
These statements immediately brought back into focus my commodity crash playbook. As a reminder, this playbook is a strategy for buying commodity-related stocks (companies with physical assets in the ground) on the cheap after a major economic slowdown in China brings commodity prices hurtling back to earth. Chinese demand has become a major driver of commodity prices. I developed this playbook using the work of Jeremy Grantham. He projected a high probability of a crash in China that would create what he described as the last major pullback in commodity prices for many generations. It assumed that global population and economic growth would pressure prices across a broad spectrum of commodities and that the odds for a return to a long-run, secular decline in commodities had finally come to an end. Last summer looked like the setup for a crash, but it stopped short. As 2011 wore on, I increasingly assumed no crash would occur. As the new year rolled around, I almost completely dropped the crash scenario.
Last August, Joy Global (NYSE:JOY) talked bullishly about the demand for its equipment because of the need to expand and develop mines to meet the growing demands of China and other emerging markets (see "Despite Bullish Outlook from Joy Global, the 'Commodity Crash' Playbook Stays Active"). Joy Global claimed that major infrastructure projects in China would continue to support demand for copper and that miners were moving from destocking to re-stocking. Now that a major (potential?) customer like BHP will not spend as much as expected, I can only assume Joy Global will have to scale back its bullish commentary in its next earnings report. The stock market is likely already pricing in this retraction. Joy Global is now retesting 2011′s low. The weekly chart below also shows how Joy Global failed to achieve new post-recession highs even as the S&P 500 did so.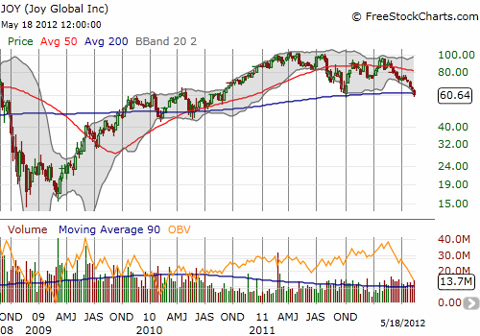 Joy Global appears to be completing a major topping pattern
I recently bought BHP shares for the first time ever as the stock approached its QE2 reference price. Since then, the stock has plunged right through the 2011 lows and appears headed for a retest of the 2010 low.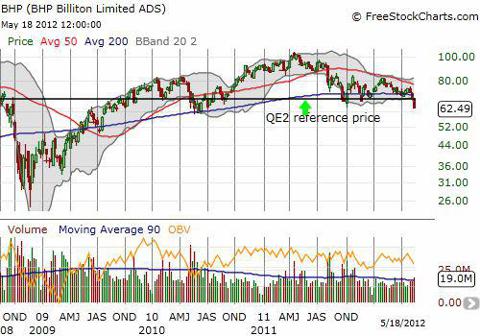 BHP is sinking fast
Source: FreeStockCharts.com
Seeing charts like JOYG and BHP give me serious pause. Commodity-related stocks have declined through much of 2012 even as major indices like the S&P 500 rallied. Stocks like BHP peaked for the year in late January and early February. It seems they have served as early warning signs. Once analysts and economists start taking down growth estimates for this year and maybe for 2013, commodity-related stocks may fall much further. So, given this backdrop, I feel no urgency to continue to build up a greater position in commodities. I am content to be patient again and wait for cheaper prices.
Many commentators and analysts exist who have called for the collapse of China's economy over the last several years. A friend of mine recently forwarded two interesting articles that I mainly blew off until I read the commentary from the BHP Chairman. I cannot do them justice here, but I highly recommend that even the most ardent China bull review them.
In "Revisiting predictions", Michael Pettis, who has a standing bet with the Economist about future Chinese growth rates, highlights his record on China-related predictions since 2006. He basically argues that China's economy is in desperate need of rebalancing and that will require much slower growth rates. Financial repression and a gross misallocation of investment have to-date generated high growth rates at a very high cost. Pettis projects a three to four year horizon for a collapse in commodity prices.
In "World edges closer to deflationary slump as money contracts in China," Ambrose Evans-Pritchard argues in the Telegraph that the broader measures of China's money supply have now contracted to levels last seen in the late 1990s:
Narrow M1 data for April is the weakest since modern records began. Real M1 deposits - a leading indicator of economic growth six months or so ahead - have contracted since November.

They are shrinking faster that at any time during the 2008-2009 crisis, and faster than in Spain right now, according to Simon Ward at Henderson Global Investors.
Ambrose goes on to cite a flurry of statistics that all point toward a sinking Chinese economy that will drag the rest of the world with it. Ambrose essentially concludes that fresh rounds of quantitative easing are needed across the globe…and soon.
I am not clear whether Pettis has factored in fresh rounds of QE in his dire forecasts, but my interest in buying deflated commodity-related stocks stems precisely from my own expectation that all near-term economic crises will be met by printing more and more money, more competitive devaluations, more currency destruction. In such an environment, I want to own physical assets for the long-term. In a coming post, I will use this assumption as part of my argument for a bottoming in gold and silver.
Be careful out there!
Disclosure: I am long BHP.