Share of JetBlue Airways Corp (NASDAQ:JBLU) are down over 18% so far in 2012. However, there are now five reasons to consider JBLU.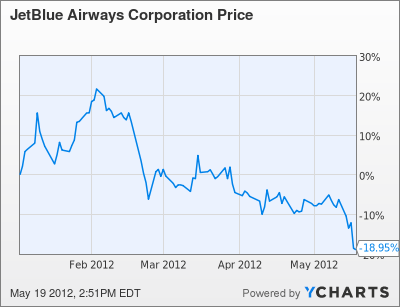 Options Activity
Option Monster reported on the high level of bullish options activity recently; 2,560 December 4 puts were sold for $0.50. This trade represents more than 300 times open interest. The trade will be profitable as long as JBLU is above $3.50 at expiration. The large put sale likely represents institutional money. Institutional money is usually smarter, thus worth following. In summary, the recent options activity points to a bottom in JBLU shares.
Drop In Oil Prices
As shown by the three-month chart of the WTI oil tracking ETF United States Oil (NYSEARCA:USO), oil prices have dropped significantly over the past few months. The drop in oil prices is good for all airlines, including JBLU, because fuel prices are a major input costs for airlines.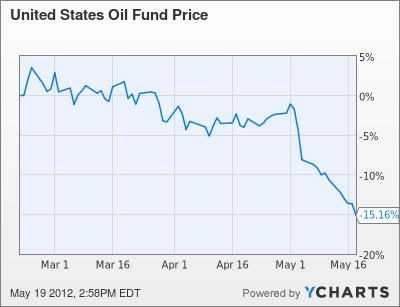 Short Interest
Short interest in JBLU currently stands at 35.01 million shares, or 20.3% of the shares outstanding. This significant short interest represents the possibility for a squeeze higher if JBLU starts to rally. Short sellers are likely to cover on any good news as they are likely sitting on massive profits.
Insider Ownership
It is interesting to note that over 26% of JBLU shares are held by insiders. This means that the management at JBLU has a real stake in how the company does. In other airlines such as Delta (NYSE:DAL) and US Airways (LCC), insider ownership is less than one percent.
U.S. Focused
JBLU does almost all of its business within the U.S. save for some flights to South America and Mexico. This means that JBLU is less exposed to the economic concerns currently facing other parts of the world such as Europe and Asia. Comparably, other airlines such as United Continental (NYSE:UAL), Delta, and US Airways do much more business outside of the U.S. than JBLU.
Conclusion
While JBLU has not done well so far in 2012, there are five reasons why the stock can rally. The bullish options activity, decline in oil prices, large short interest, high insider ownership, and U.S. focused business are all reasons to consider JBLU.
Disclosure: I have no positions in any stocks mentioned, and no plans to initiate any positions within the next 72 hours.