Velti (VELT) is a $424 million small-cap Ireland based company with a leading global marketing platform that connects brands with consumers. The company is the largest mobile marketing provider listed on the Nasdaq. It is reinventing marketing for the mobile era with innovative technology and solutions.
Velti's mGage platform provides users with easy-to-use tools to plan and run highly-interactive marketing campaigns. Customers are able to produce their content once which can be used on a variety of handheld devices. The mGage platform also provides detailed analytics and reporting allowing customers to determine whether campaigns are successful or not.
Some of Velti's customers include: Ford (NYSE:F), General Motors (NYSE:GM), AT&T (NYSE:T), Disney (NYSE:DIS), American Express (NYSE:AXP), Macy's (NYSE:M), and more.
click to enlarge images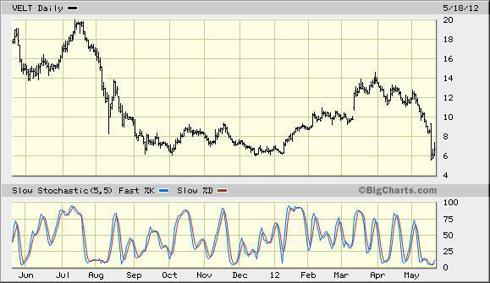 Revenue for Q1 2012 increased 75% from $29.6 million in Q1 2011 to $51.8 million. The revenue breakdown by region is as follows: 31% from the United Kingdom, 29% from Europe minus the U.K., 26% from the Americas, and 14% from Asia/Africa. Ninety percent of total revenue is derived from software as a service. Managed services comprises 7% of revenue and license revenue comprises the final 3%.
Velti is clearly undervalued with a forward PE ratio of 6.76, a PEG of 0.27, and a price to book ratio of 1.23. The stock sold off after the Q1 report on a few concerns that contributed to this low valuation. One concern is a 46% decrease in the company's cash from $76 million to $41 million. The other concern was an increase in Velti's time to collect money known as days of sales outstanding.
For the next five years Velti is expected to grow earnings annually at 34%. This growth should keep the earnings per share in positive territory beginning with Q3 2012. The company has an EPS estimate of -0.02 for Q2, but it has an estimate of 0.03 for Q3. EPS growth should continue from there.
Although the company is a bit speculative right now with significant volatility in the stock, I think the odds are in its favor for success. Customers with multi-billion dollar advertising budgets are shifting marketing spending to mobile platforms. Velti should be a prime beneficiary of this trend as its services are sought out to optimize marketing campaigns.
Investors with some risk tolerance should consider Velti as a small portion of their portfolio.
Disclosure: I have no positions in any stocks mentioned, and no plans to initiate any positions within the next 72 hours.