With a strong molybdenum market and rising production, Desjardins Securities analyst John Redstone thinks shares of Thompson Creek Metals Company Inc. (TC) could more than double in 12 months. He is upgrading the stock to "top pick" from "buy," and raising his one-year target price to C$32.67 a share (the shares currently trade in the C$16 range).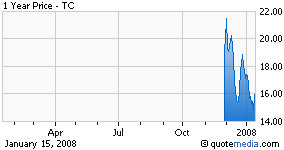 Mr. Redstone notes that combined production from the company's Thompson Creek and Endako mines is likely to increase 56% in 2008 (to 25 million pounds) and another 36% in 2009 (to 34 million pounds).
"We believe that problems encountered in Q4 [a rock slide at Endako and lower grades at Thompson Creek] are solvable and that Thompson Creek's production will rise going forward," he wrote in a note to clients.
Mr. Redstone is also bullish on the market for molybdenum, as he sees demand outstripping supply in both 2008 and 2009. He expects prices to average $35/lb and $40/lb in those years, respectively, and is anticipating significantly lower inventories at the end of 2009.