Once upon a time I was instructed that the purpose of a business is to make a profit and generate cash. I rate potential investments on these two facets. It is how companies go about meeting these twin goals that can make things interesting. This article will look in depth at Textainer Group Holdings (NYSE:TGH).
Background
From the company's website:
Textainer has operated since 1979 and is the world's largest lessor of intermodal containers based on fleet size. We have a total of 1.7 million containers, representing 2.5 million TEU, in our owned and managed fleet. We lease containers to more than 400 shipping lines and other lessees. We lease standard dry freight, dry freight special containers, and refrigerated containers. We are one of the largest purchasers of new containers annually. We believe we are also the largest seller of used containers, selling up to 100,000 containers per year to more than 1,000 customers. We provide our services worldwide via a network of more than 150 offices and depots.
First and foremost, investing in Textainer is an investment in world trade…but not in the traditional sense. What I mean by that is Textainer's revenue benefits from the protection of its long-term leasing business. This was especially evident during the financial crisis when levels of trade fell off a cliff. Despite this fact, leasing companies generally maintained profitability. It is this element that interests me.
(click to enlarge images)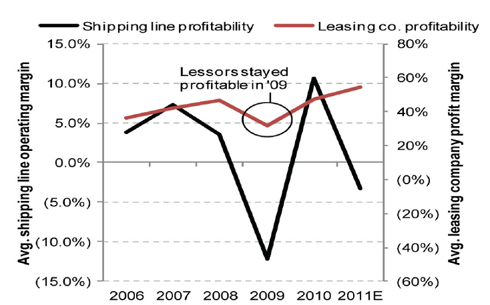 Source: Textainer Investor Presentation, March 2012
I believe in world trade and the world economy in the medium and long term. The problem is that there are some serious macroeconomic potholes out there that can trounce even the best investment thesis. Textainer's business model helps to mitigate some of this short term risk. Buyer beware, however: if the world hits one of those macroeconomic potholes, Textainer's stock price will likely become disconnected from earnings. During the financial crisis, the stock price dropped from a high of $22.62 to a low of $4.23 even as earnings continued growing (what a time to buy!).
Other facts:
Current Yield: 4.5%
Textainer is a member of David Fish's Dividend Challengers, growing its dividend for 6 straight years
3 Year Dividend Growth Rate: 12.9%
Textainer has raised its dividend for 8 consecutive quarters
TGH is based in Bermuda; the information I have found is that there is no foreign tax withholding
According to TGH, they have the largest market share in the container leasing industry
Making a Profit
The first thing I look at in an investment is a company's ability to make a profit. For TGH I looked at the company's earnings over the last few years.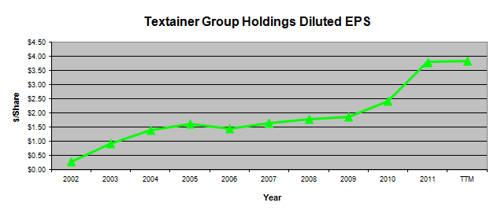 Data Source: Morningstar
Impressive. There is just that one slight blip in 2006 and then otherwise continuous growth coming in at about 32% per year since 2002. According to Textainer, they have actually been profitable for 26 straight years. Doubly impressive. Another thing to note from the chart is that much of this growth has been in the 2009-2011 period. That gives me pause. It's much easier for a company to expand rapidly over a period of 3-4 years than it is to show a consistent history of success. After all, Textainer's growth history from 2002-2009 tells a much different story than that from 2009-today. To hedge my bets a bit, I look at the average earnings of the previous 10 years. According to the numbers above and a recent price of $36.44, we get a PE10 of 21.1. Usually I like this number to be comfortably under 20. With a little bit of a pullback, we could be in business. Likewise if I feel strongly that 2012 earnings will hit the mark (currently estimated at $3.88), I will include this value in place of 2002 earnings and see if I can get below 20. Doing this brings my PE10 calculation down to a much more acceptable 17.5. With Textainer recently reporting Q1 earnings of $0.97, I think this is a fair assumption.
Future Growth Prospects
So we have established that Textainer has a history of steady profitability but how about future earnings? Right now they are forecasted to achieve 12% annual growth over the next 5 years. I think this is on the high side based on my belief that they will only achieve growth in the mid single digits this year.
Textainer grows their business through CAPEX in the form of additional containers which they either sell directly or lease. Since 2007, CAPEX has increased from $263 million to $824 million last year. This year they have continued this trend with $660 million committed through July. We will go into the cash flow impact of this CAPEX below but as far as earnings growth goes, this is promising news. According to Textainer, utilization was around 98% in 2011. This means that they have rapidly grown their fleet and successfully placed this growth with customers. For a market leader to be efficiently expanding this rapidly signals the potential for continued healthy growth moving forward.
Cash flow (or lack thereof)
All of that CAPEX comes at a cost. Generally speaking, Textainer's business model does not generate tremendous amounts of income relative to their ambitious CAPEX. In 2011, TGH reported net income of $190 million. When I compare that to CAPEX of $824 million I start to get a little worried. Is this really a problem though? While it's always better to have a river of cash flowing in, this does not bother me too much since Textainer is basically financing future cash flows…as long as the previously mentioned utilization rate remains high and Textainer manages their level of debt. According to Morningstar data, debt to equity has increased from 1.28 in 2007 to 2.01 last year. At the very least this requires monitoring moving forward. When it all comes down to it, if they were not spending aggressively, they would not be growing. It is simply the nature of their business. In a world of diverse investment choices and risks, if this is an unacceptable tradeoff to you then you may want to steer clear of Textainer.
Summary
In the end Textainer stands out for the following:
A juicy dividend yield
An appetizing earnings history
Strong signs of future growth
Negative free cash flow, but growing net income
Key metrics to monitor as an investor:
CAPEX growth
Utilization
Debt to Equity ratio
So what am I going to do? Despite the negative free cash flow, I like the business model. If the market pulls back like I think it will, better buying positions will be available. If I still have room for it in my portfolio at that time I will be jumping on board.
Disclosure: I have no positions in any stocks mentioned, but may initiate a long position in TGH over the next 72 hours.