Synopsis: AVG is a misunderstood/overlooked stock that has significant recurring revenues with significant operating leverage and growth.
Its antivirus freemium product turned the antivirus market on its head and allowed AVG to capture over 100 million active users. Now it's rolling out products to this user base in a simple manner to generate significant revenues.

The Street is worried about a Google (NASDAQ:GOOG) contract expiring September 30, 2012. I think it's likely to be renewed, and even if it isn't, it's replaceable with a similar deal with another company.

Search growth is being driven organically and allows AVG to benefit from significant operating leverage as the business grows.
Stock Characteristics
(Click to enlarge)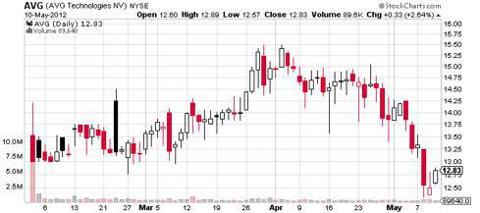 What The Company Does:
AVG offers a freemium anti-virus product to computer users. It has long been the dominant player here with over 100 million active users. Most users download AVG's free antivirus product, and that's it. A small percentage of them will upgrade to a paid version (subscription revenue). But the rapid growth is coming from other revenue the company generates from its free users (platform revenue). The bulk of this platform revenue comes from AVG's Secure Search feature, which puts safety rankings on sites when searched. AVG partners with Google for this product, generating a significant number of search leads for Google, which Google pays AVG for.
Other competing antivirus products with similar models have also sprung up. Avast seems to have jumped ahead of AVG in terms of new user growth (based on viewing downloads on Download.com). However, AVG is still a significant player. As well, I view the product as quite sticky and AVG made the first landgrab. Once a user has it on his computer, he's unlikely to delete it. And he's likely to go download it again when he gets a new computer.
History of the Stock
The stock IPO'd in February 2012, to little fanfare. Morgan Stanley was lead underwriter with a $16-18 price range. The stock priced at $16, but closed at $13 after its first day of trading.

AVG just reported its March quarter (on May 10), and beat estimates and raised 2012 guidance for both revenue and EPS.
Why is Stock So Cheap?
I believe the Street is overly concerned with the Google relationship (current contract expires September 30, 2012).
While the Google relationship is certainly helpful, I believe that AVG is creating the valuable asset (search leads), and then shares in the advertising revenue with Google. If Google chose not to renew its contract with AVG, AVG would still have the search leads and could find another search engine to partner with (AVG was with Yahoo (NASDAQ:YHOO) until November 2010). Thus, I don't feel this is a binary event for AVG, but I think the Street does worry about this.
In addition, management states that they have a good relationship with Google and they are not worried about the renewal. That being said, they are very focused on it and giving it the attention it deserves. Also, I don't see why Google wouldn't want to extend its contract with AVG, as AVG is just bringing them additional market share.
This was also a busted IPO that is likely being overlooked. Its recent conference call only lasted 30 minutes! The freemium upgrade to paid subscription is not that sexy a story, and may be what the Street is familiar with; missing the sexy Secure Search part of the story.
So Where Do I think the Stock Could Go?
This business has significant operating leverage, making it difficult to model. My base model generates a price target of roughly $29-45. I base this target off a 20x P/E multiple, looking at a blend of 2012, 2013, and 2014. This basic back-of-the-envelope model (showing adjusted numbers, but including stock based compensation) can be found below.

Most comforting at current stock levels is that 20x the trailing EPS gets a $22 price (50% higher than current price).

In its most recent quarter AVG generated $20 million cash from operations. At $14, AVG is trading at only 11x this annualized CFO level.
AVG Technologies (NYSE:AVG) $14. Price target $29-45 (up 105-220%) May 10, 2012
Disclosure: Contributor, and/or funds that he manages, is long AVG.
Please see full disclosure here.