The Census Bureau released the December retail sales report yesterday and it wasn't pretty - down 0.4 percent for the month and up just 4.2 percent for all of 2007.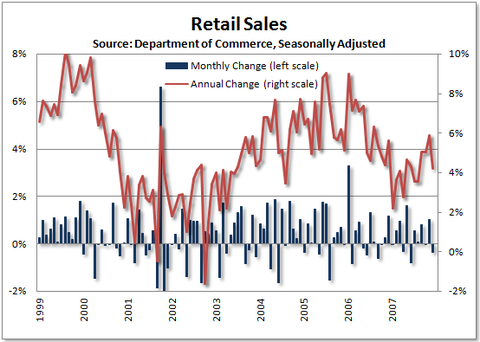 Consumer prices for December will be reported today, but, as of last month, the year-over-year rate of inflation was 4.3 percent, meaning that it's quite possible inflation adjusted spending at retailers declined last year even using the government's dubious measure of consumer prices.
A more realistic measure of inflation - somewhere between five and ten percent - would put real retail sales well into negative territory.
Last month was the weakest December reading since 2002 and, while an early Thanksgiving holiday and falling gasoline prices contributed to the decline, it is likely that the softness will continue as the incessant recession talk permeates the airwaves and consumers pull back amid rising credit card delinquencies and falling home prices.
Look at what a boom the housing boom had been for spending at Home Depot (NYSE:HD) and Lowe's (NYSE:LOW)- that area circled in gray below will forever be known as the "home improvement spending boom", starting back in 2004 when nearly everyone became convinced that home prices went in only one direction.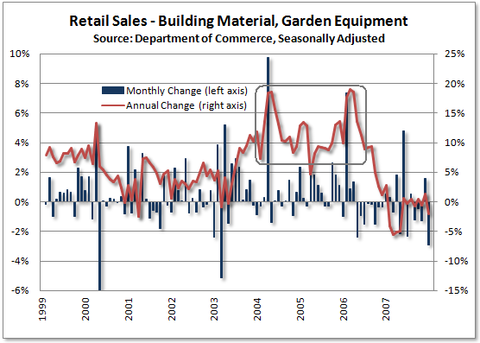 The case for a consumer-led recession was strengthened somewhat by this latest report on retail spending, however, the American consumer has been counted out many times before and never failed to come through in the end.
Will this be the year that the consumer finally caves?