Gold and silver have languished since reaching their last peaks in 2011. Gold topped out in September and has lost as much as 21% from its peak. Silver topped out a little over a year ago and has lost as much as 50%. Last week, gold and silver reawakened and made sharp reversals. The dollar index's (NYSEARCA:UUP) recent surge stopped cold on the heels of a weak Philadelphia Federal Reserve Business Outlook (Philly Fed) which showed manufacturing activity in the Philadelphia region contracted this month for the first time since September 2011. For both gold and silver, their reversals appeared to create successful tests of recent lows. Here are the various near-term charts using the SPDR Gold Trust (NYSEARCA:GLD) to represent gold and the iShares Silver Trust ETF (NYSEARCA:SLV) to represent silver. I use weekly charts for GLD and SLV to incorporate a view including their peaks.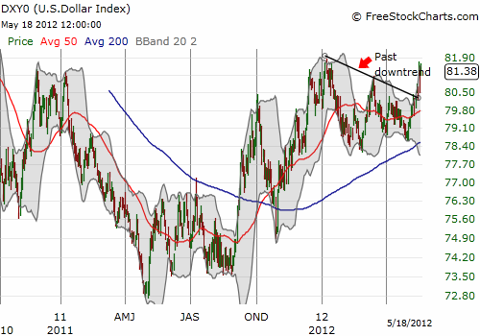 The dollar index restarts its surge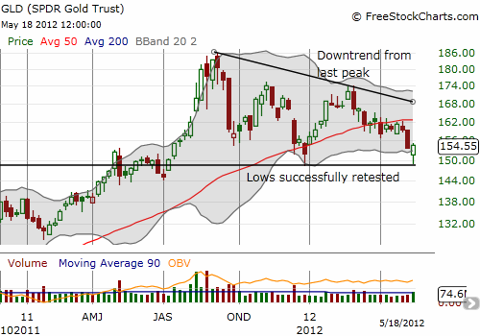 GLD successfully retests recent lows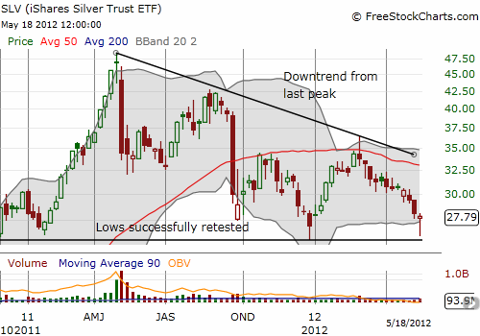 SLV successfully retests recent lows
Note that the dollar's resurgence since hitting a bottom a year ago explains most of the weakness in gold and silver (priced in dollars). If gold and silver are to continue to rally, the dollar's rally will likely need to slow down if not reverse completely. With the Japanese yen taking over as a "safe haven" paper currency, most of the dollar index's gains from here will likely be over the euro (over 50% of the weighted value of the dollar index). Neither gold not silver will be completely out of the penalty box until they each break their respective near-term downtrends as shown above.
The stocks of miners of gold and silver have suffered even greater losses than the underlying precious metals. For example, my favorite gold miner Goldcorp (NYSE:GG) made marginal new all-time highs in April of last year and has lost 36% since then. My favorite silver miner Pan American Silver (NASDAQ:PAAS) did not quite set a new all-time high when its last rally peaked in January of last year.
After getting buffeted by political wrangling in Bolivia, PAAS has lost a gut-wrenching 62% since the last peak. Losses for GG and PAAS have accelerated since early March when I wrote the following timely piece: "Gold Enthusiasm Is Waning Again Despite Surging Before Gold's Recent Peak."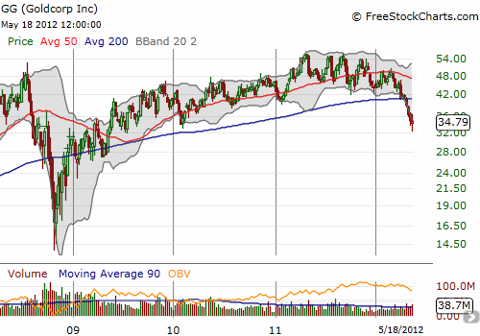 Goldcorp has broken down after a tight series of lower highs and lower lows in 2011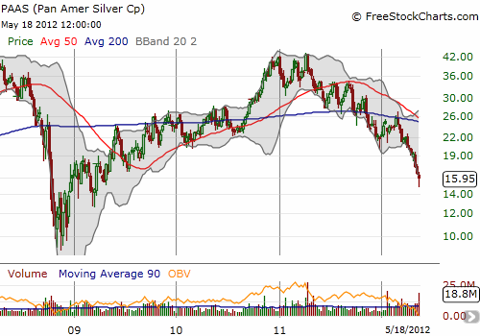 Pan American Silver has been in decline for over a year
Source for charts: FreeStockCharts.com
In November of last year, I latched onto an analysis by my favorite gold and silver investor Bill Fleckenstein (I like to call him "Fleck" for short). He made a great case suggesting gold miners would soon shed their undervaluation and surpass gold in price appreciation (see "Buy Gold Miners Instead of Gold Bars?"). Unfortunately, the growing lack of interest in gold invalidated that analysis, but I think this imbalance will soon change. I am assuming like many investors in precious metals, Fleck finally saw the first signs that gold is in the process of bottoming (I assume silver as well).
On Friday, Fleck wrote "Gold's fortunes will soon reverse." In that piece, he makes several provocative observations, including a quantification of the amazingly low valuation for PAAS (Fleck serves on the company's board). Here are some highlights, followed by some of my thoughts:
Gold and gold miners have suffered from a lack of interest.
Gold sentiment is extremely negative: "the Daily Sentiment Index has reached a record low. The Market Vane gold sentiment survey, at 51%, is back near the lows of 2008. The Hulbert Gold Newsletter Sentiment Index has been negative longer than just about any other stretch over the last decade…In addition, the open interest (i.e., the total number of contracts) in the gold futures market has declined drastically."
PAAS is "absurdly" cheap: Its "…market capitalization, for example, is so low you could buy the whole operation, sell off just the gold it recently acquired from its Minefinders acquisition and make a profit on your purchase, and you'd still own rest of the company…"
Eventually, and soon, there will be an explosive rally to the upside. The exact timing is impossible to predict.
Fleck is always careful to point out that he is not a market timer, so he stays away from absolute statements like "the bottom is here" or "buy/short now". Instead, he prefers to focus on developing the fundamental case and executing over time. For example, Fleck states: "The point isn't to predict when, it is to recognize the moment when it occurs and have a plan about what to do." I believe the "when" is now and now is the time to start planning and/or executing a plan. The sustained and steep price declines in gold and silver related stocks qualify as a buying opportunity in my "commodity crash playbook."
If you do not have any exposure to gold or silver, this is a great time to start with a sizable position and then plan to add in increments if the market serves up yet lower prices. If you already have a sizable position, then now is the time to nibble on some more of your favorite choices in precious metals. I think the fundamental case for PAAS is particularly compelling. I took note of Fleck's appeal to leverage buyout artists.
If you have read any of my pieces on gold or silver over the years, you know that I do not invest or trade in gold and silver out of fear (for example, see my semi-tongue-in-cheek piece from last year titled "If Gold Is Going Higher on Fear, It Is Fear of Greenspan"). I think fear is a debilitating emotion when it comes to trading and investing. I use gold and silver as hedges against the constant devaluation and debasement of paper currency. We live in an era where nearly all major economic problems will be met with printing money and monetary accommodation. As we appear to trip into the next phase of our on-going financial crisis, the prospects for more currency debasement to pay bills and to gain export advantage seem pretty high to me.
For what it is worth, a good friend of mine who has been in the jewelry business for the past 25 years or more agrees with me that gold will soon take off. It is no accident that those cheesy "We Buy Gold" companies are still trying to pry precious metals out of your hands. As always, time will tell…
Be careful out there!