There's no need to (or even a way to) mince words here….last week was the worst week of the year for the market. In fact, it was the worst week since early September of last year. The S&P 500 Index (SPX) (NYSEARCA:SPY) fell a whopping 4.3% over the prior five trading days, bringing the total pullback from the early April peak to painful 8.9%.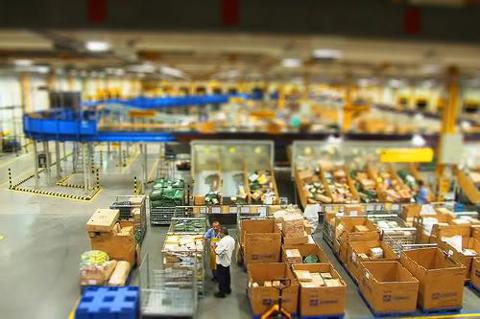 There are two likely possibilities here…either things are really, really bad, or the nosedive was a much-needed capitulation that will finally-jump-start the bigger bullish trend again. Don't rule the latter possibility out. The week in September of last year that was an even bigger loser than last week? That was also the beginning of the recovery effort (even if it took two more weeks to get it going).
We're going to do the usual poking and prodding below, right after we paint the bigger economic picture.
Economic Calendar
What a week we had for economic data! In order of appearance…
Retail sales weren't good, and downright bad when you take auto sales out of the picture. Though the numbers on the table below say both regular retail sales and retail sales with automobiles were up 0.1% in April, that's a year over year comparison. Between March and April, general merchandise store sales (the biggest segment of the retail world) were actually down 0.1% from March. It was second month-to-month decline in general merchandise sales in three months. This is a growing struggle, and a red flag.
Inflation? Doesn't exist. The current inflation rate is now 2.3%. That part of the reason why gold (NYSEARCA:GLD) has been getting crushed.
Housing starts and building permits were ok. Starts rose from 699K to 717K in April, and though permits-issued fell from 769K to 715K, both figures are modestly getting stronger. [It takes more than a month's worth of data to say for sure, however.]
Industrial productivity as well as capacity utilization both grew in April. This is huge! Though it doesn't mean anything in terms of the market's short-term swings (like the current pullback), this speaks volumes in favor of the bigger (long-term) bullish trend.
The correlation between both productivity and capacity usage with the broad market is uncanny - as long as they are rising, so too is the market. If they're falling, so too is the market. Though they are not leading indicators, they are stunningly accurate coincidental indicators (which we've discussed before).
Capacity Utilization and Industrial Production, vs. S&P 500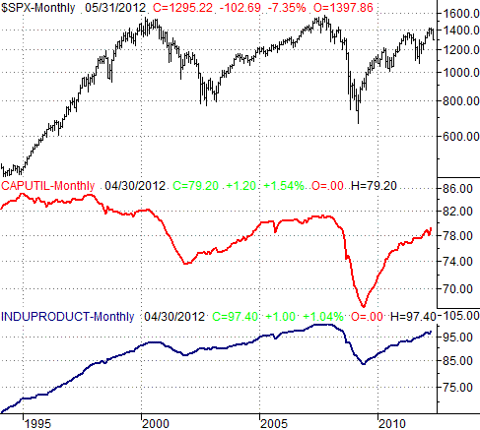 Last but not least, new and ongoing unemployment claims rolled in just about even, continuing - basically - a sideways trend for both. It's not a red flag yet, but the lack of progress on the employment front could have a slow, grinding ill-effect on the economic condition.
Economic Calendar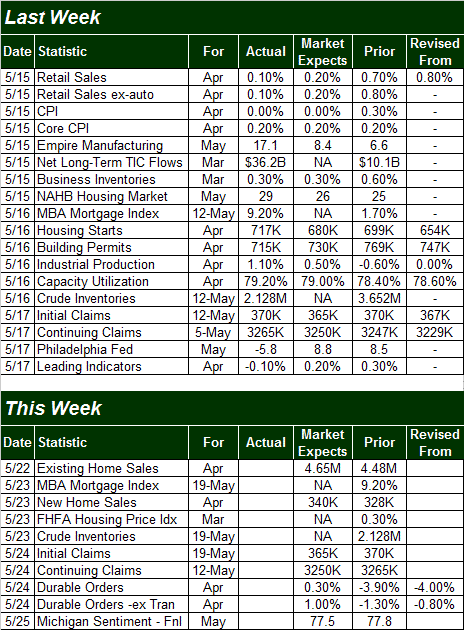 The coming week is one of the lightest weeks of the year in terms of economic data, though it will be an important one for real estate. Existing home sales for April are expected to grow to 4.65 million, new homes sales should be up to 340K (both are annualized figures), and we'll get an updated glimpse of how home prices are moving… all by Wednesday.
Stock Markets
Ugly. There's no other way to describe last week. Five straight losing days, with the S&P 500 losing 4.3% of its value in the process. Yet, there's almost something relieving about the move… as if traders knew we were due, and we finally took the lumps we knew we had to take sooner or later.
It's an idea that certainly won't jive with everything you're hearing from the media's pundits. It's an idea that may even ruffle some feathers. Yet, the reality is, trends don't last forever - the media and most investors were assuming the worst in September based on how bad things had been since August, and missed much of what was ultimately a 24.5% rally between then and April of this year. The point is, it's often darkest right before dawn.
That's not to say Friday's SPX low of 1291.98 was exactly 'the' bottom. It is to say, however, that there's a huge risk of fear driving trading decisions right now. Don't let fear blind you to the possibility that a recovery may be materializing.
As for the details, let's just put the bullish and bearish cases on the table so we know exactly what we're dealing with.
The bearish case:
* The 200-day moving average line (green) did NOT act as a floor; the SPX blew right under it on Thursday and Friday.
* The CBOE Volatility Index (VIX) (NYSEARCA:VXX) is in a new uptrend.
* The 20-day moving average line (blue) has crossed under the 50-day average (purple), and will fall under the 100-day moving average (gray) this week.
The bullish case:
* Friday's low of 1291.98 almost perfectly brushed the 38.2% Fibonacci retracement level (based on the rally from September's low to April's high).
* While last week's selling was nasty, volume was actually pretty light.
* The short-term Arms Index - or TRIN - readings (not shown) suggest the advancers/decliners and up/down volume relationships have already reached their peak bearishness, meaning the short-term selling effort is running on fumes and that the market is ripe for a bullish reversal. [Note that the long-term TRIN readings say there's still more downside to go... or at least some bearish pressure that needs to be burned off first.]
The two sides' arguments can be simplified by clarifying the two schools of thought here - either the momentum says there's even more selling/declines ahead, or the market's oversold condition says a rebound is nigh.
Between the two camps, we're more inclined to join the near-term bulls. The market (NYSEARCA:DIA) (NASDAQ:QQQ) (NYSEARCA:IWM) is unusually oversold right now, but it's not a very well-backed downtrend.
On the other hand, with hysteria being cranked up to maximum levels, traders may well be nudged into more selling early this week… even if it's the wrong decision. Besides, we're not quite all the way to all the technical floors [see the weekly chart below] that would best spur a bounce. For that reason, it may be wise to not try and catch a falling knife - let's wait for some confirmed bullishness before taking that trading plunge.
SPX & VIX - Daily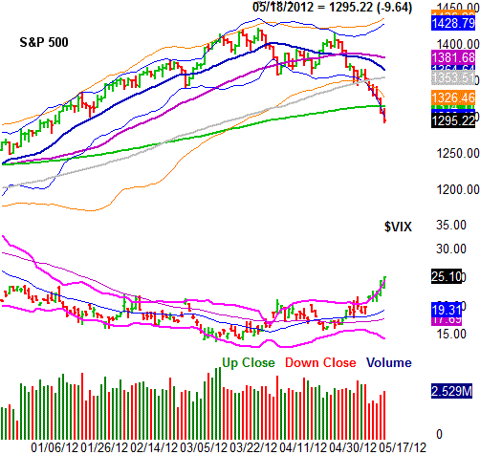 Just for a little added perspective, here's the weekly chart of the S&P 500, which as was noted above actually bolsters the bullish argument.
On this weekly version we can see how the index is at or near a major Fibonacci retracement line. It's also on this chart we can see the S&P 500 is just a hair away from a key Bollinger band (at 1280) that has played a support role before. Between it, the 200-day average line at 1282, and the Fibonacci line at 1288, there's a pretty potent 'zone' of support for the market here. It may just take a few days for that support to get traction.
Disclosure: I have no positions in any stocks mentioned, and no plans to initiate any positions within the next 72 hours.