When the overall market retreats 10% or so as it has recently, you expect your stocks to take a hit. You expect the charts of those stocks to reflect some weakness. However, the really great ones can manage to defy that rule. Enbridge would seem to be one of those. The five year chart of Enbridge (NYSE:ENB) is below.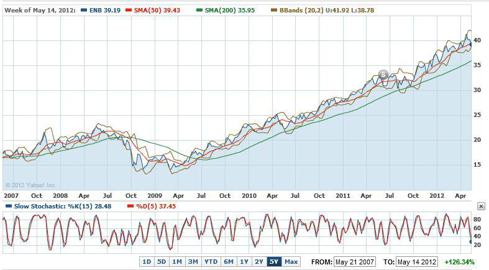 ENB is near oversold levels on the slow Stochastic sub chart. However, the strong up trend has not come close to being broken. ENB's price line has barely even penetrated its 50-day SMA. It is still far above its 200-day SMA. This is the kind of stock most people love. It rises consistently, and on top of that it pays a 2.88% dividend. Over the last two years alone the stock appreciation has been +78.54%. This has provided a fantastic return on a great dividend payer. Even in these trying times analysts are not decreasing their estimates on ENB. In fact the FY2012 ENB average analysts' EPS estimate has actually gone up slightly in the last three months. Pipeline companies often manage to weather trying times better than most other companies. They have the luxury of having 10+ year contracts. That's steady income. The recession in 2008-2009 did cause a significant retracement, and we might have another recession in the US soon. However, if you think in a 2-3 year time frame at the shortest, you will not go too far wrong on this stock. Over the long term it should pay off much better than bonds, and it will be just as safe.
ENB is a huge pipeline company, but it is not sitting on its laurels. It recently completed (May 17, 2012) the Seaway Pipeline reversal in partnership with Enterprise Products Partners LP (NYSE:EPD). This now transports 150,000 bopd from Cushing, Oklahoma to the Texas Coast. Beyond this it has a US Gulf Coast Access Initiative. This comprises three main parts. ENB and EPD will increase the existing Seaway Pipeline capacity from 150,000 bopd to 400,000 bopd by Q1 2013. ENB plans to twin the Seaway Pipeline by mid 2014 to roughly double the 400,000 bopd capacity. ENB also intends to increase the link from Chicago to Cushing, Oklahoma with the Flanagan South Pipeline project. This will have an initial capacity of 590,000 bopd (expandable to 800,000 bopd). ENB has many more smaller projects to expand or improve its current pipelines. It also has several proposed expansions by Enbridge Energy Partners (NYSE:EEP) -- a partially owned subsidiary of ENB. EEP plans to expand the Lakehead System (as in Great Lakes) Lines 61 and 67 by mid-2014. EEP will also expand Line 62 between Flanagan, Illinois and the Terminal at Griffith, Indiana.
In sum ENB plans to maintain a 10%+ CAGR through 2020.It should be able to grow its dividend as it does this. It has infrastructure which is strategically placed to move oil from the middle of the US and Canada to the Texas Gulf Coast, Chicago, Toledo, Montreal, Toronto, etc. It is ideally positioned to service many of the new unconventional shale development projects in the US and the oil sands projects in Canada. There does not seem to be any major fault in the company's infrastructure or its planning. The only negative I see is that ENB's historical PE floats from 15 to 37. It is now at 34.47. This means it could experience a retracement in the normal course of events, especially if the US economy goes into recession. The good news is that the FPE is about 20, and ENB's earnings estimates are stable (or perhaps growing a bit). This tells one that ENB can be bought with relative safety. It may retrace; but if you wait you will eventually get good growth. At a time when the entire world economy is slowing, ENB may be one of the safer places to put your money. I note much of the fundamental financial information in this article came from Yahoo Finance and TDameritrade.
Many are foreseeing a significant worsening of the EU situation, a possible US recession, and a possible hard landing in China. For these reasons, it is an exceedingly wise move to average into ENB. That way you may get some of the stock near a low. Remember in your averaging in plan that a number of tax breaks related to stocks are expiring at the end of 2012. This could also seriously impact US equity prices. Obama's efforts to tax dividends more heavily may too. Still you won't find a much safer or higher growth dividend payer than ENB. Plus it is located in the geopolitically safe areas of the US and Canada. You can't beat that for safety either.
Good Luck Trading.
Disclosure: I have no positions in any stocks mentioned, but may initiate a long position in ENB over the next 72 hours.