In today's market, if you could dream up the perfect short, would its assets be as follow?:
$697 million in commercial real estate loans

$454 million in residential real estate loans

$721 million in commercial loans

$272 million in consumer loans
Those are the majority of the assets of WSFS Financial Corp. (WSFS), a Mid-Atlantic thrift/bank.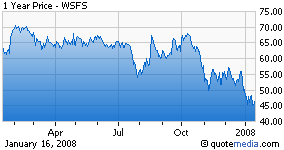 Let's face it. We are on the cusp of a massive recession. If Citigroup is any indication (Tuesday it reported massive loan losses on its consumer loans), banks are just beginning to report horrendous writedowns. And that's before the economy officially slows and layoffs occur. Things could get worse.
Under such a scenario, the worst areas to be are: consumer loans and residential real estate loans, followed by commercial real estate loans. Most indicators show that the slowdown in real estate is finally hitting commercial real estate, too, where losses are starting to pile up.
Therefore, with all these potential losses on the horizon, why would you buy a company that has $2,145,916,000 in loans in ALL these areas. And it only has $203 million in shareholder equity?
Would you pay a 40% premium to book for this company? That's a 40% premium before the storm hits and the losses mount. And remember, with so much leverage, it will take less than 10% losses in WSFS's loan portfolio to wipe out the entire equity of this company.
The stock has fallen from $67 in October to around $45 today. I'd expect it to fall further --- to around $20 -- before a better capitalized bank is able to buy it.
If you work in the circus and know how to catch falling knives, buy it. Otherwise, I recommend shorting it.
Disclosure: Author is short the stock.