Weekly Outlook: It was another poor week for the market as we continue to mirror the past two years and decline on European fears as well as lack of market catalysts, and dollar strength. The market is lacking anything to get it going right now as we have moved out of the earnings season and moved into a market lull. The past week saw some decent economic data out from the USA, but that was overshadowed by European fears, market fear, and dollar strength that is causing weakness in equities and commodities. The market is definitely showing a bit of flight to safety, and we are wondering if there is anything right now that can get the market going.
The "Sell in May" mentality is starting to really come to the forefront, and without much to catalyze the market positively, we are going to most likely see some selling in equity strength. As long as Europe remains weak, the euro will remain weak, which hurts equities and commodities as the dollar rises in relation. This week, we get a pretty quiet week of economic data from the USA and we are hitting some very crucial support area in the market. We see this week, despite recent weakness, as being more flat. Overall, the market's attention will most likely be mostly tuned to Europe.
We do have some important economic reports this week with a lot of residential construction data on tap, which has been promising as of late. We start out data on Tuesday with Existing Home Sales. Wednesday will give us New Home Sales, FHFA Housing Price Index, and Crude Inventories. Thursday we will get Initial Jobless Claims as well as Durable Goods Orders, and we finish Friday with Michigan Consumer Sentiment Index. As we can see, the week will be pretty light in way of data, so we would not expect a ton of reaction to the news overall and attention for movement will be other places.
Europe is most likely going to dominate the picture this week. Here are some highlights of big moments for that neck of the woods. We get a good deal of news from Great Britain on Tuesday with the Consumer Price Index, Retail Price Index, and Public Finances. The European Commission and OECD will give their European Outlook on Tuesday as well as the Euro-Zone Consumer Confidence report. Wednesday will give us the Bank of England meeting minutes. Thursday we will get the German GDP as well as a number of consumer reports as well as Great Britain's GDP and Retail Sales. Friday finishes up with a German consumer confidence report. On the plus side, Spain, Italy, and Greece stay out of economic reports this week. Yet, at the same time, we need some solid data and euro strength to return in order for the market to have any upside possibilities.
Earnings are pretty light this week, but some of the most important numbers will be from Dell (NASDAQ:DELL), Hewlett Packard (NYSE:HPQ), Toll Brother (NYSE:TOL), Urban Outfitters (NASDAQ:URBN), American Eagle (NYSE:AEO), and Costco (NASDAQ:COST). We do get some interesting reports, and with a light week of data, we could see these limited reports have a higher amount of value attached to them. Expectations should be pretty low though for DELL and HPQ, and we would not be expecting for positive reports from either of those.
The Fed is having a quieter week. On Monday, the Fed will deliver their National Activity Index on Chicago. We get the Richmond Fed Manufacturing Index on Tuesday and Kansas City Fed Manufacturing Index in Thursday. Limited speeches are coming out this week. These reports will be somewhat important if they show anything drastic, but they are limited in their ability to move the market.
So, where are we headed this week?
It's definitely a light week ahead for us heading into a holiday weekend. We are not expecting a drastic move in the market. The S&P 500 (NYSEARCA:SPY) has support right now at the 1270 area as well as 1300 area, so we would not expect the 1270 line to fail this week without a major development. The Dow (NYSEARCA:DIA) has good support at the 13100 level as well. Overall, both of those levels should stay solid to support the market. At the same time, there is really very little to entice buyers to enter the market, and more reasons to sell right now. Value and bargains are starting to sprout up, and we are in oversold levels. The market, though, can stay in a single direction longer than you can stay solvent. We expect some more weakness, but look for us to stay fairly range bound this week.
Stocks To Trade:
Stocks we are watching this week are stocks that have the ability to move that have not oversold yet or stocks that have shown some signs of moving countertrend and could continue up from here. Right now, we are watching Bed Bath & Beyond (NASDAQ:BBBY) for some positive movement, while we are watching Norfolk Southern (NYSE:NSC) for more weakness. Bed Bath & Beyond held its 50-day MA on Friday and is holding an upward moving channel as well. We like the fundamentals with solid results from the company in their past earnings report as well as solid catalyst with their purchase of Cost Plus World Market (NASDAQ:CPWM).
We expect them to hold up here. Norfolk Southern is looking weak right now. The stock is below a current wedge it's in and seems to be forming back into a downward price channel you can see below. Fundamentally, the company did have good earnings, but transports continue to remain weak. Until we see a reversal, look for NSC to head to 62.50.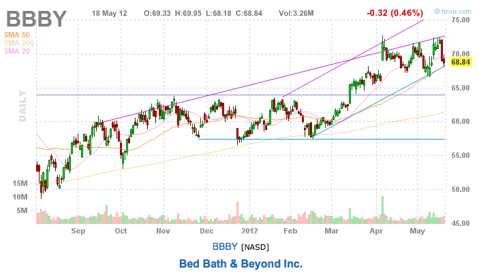 Click to enlarge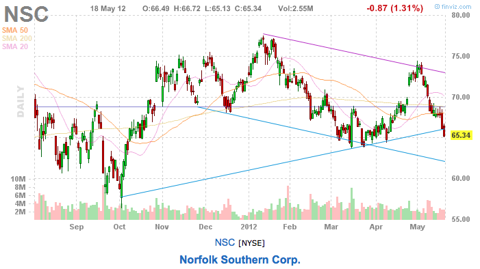 Click to enlarge
Oxen Group Holdings:
We have the following positions. In our Short-Term Equity Portfolio we are long Whole Foods (NASDAQ:WFM). We are short Chipotle Mexican Grill (NYSE:CMG), Motorola (NYSE:MSI), and Sara Lee (SLE). In our Options Portfolio, we are long Disney (NYSE:DIS) and Panera Bread (NASDAQ:PNRA). We are short Under Armour (NYSE:UA), Apple (NASDAQ:AAPL), and Russell 2000 (NYSEARCA:IWM). We have a reverse iron condor on Ultra Proshares Financial (NYSEARCA:FAS). In our Earnings Alpha portfolio, we are long Western Digital (NYSE:WDC) and Dollar General (NYSE:DG).
Chart courtesy of finviz.com.
Disclosure: I am long WDC.