It has been said that there is always a bull market somewhere and despite the equity markets decline this year, FC Stone (FCSX) has stood out as a solid performer. The company has been profiled here in November and before that, it was introduced last July. FCSX has primarily benefited from the bull market in grains and other agricultural products although it is also very active in energy markets and has begun expanding into the other areas such as foreign exchange. The company employs 118 consultants who assist clients in risk management which is often done by hedging exposure to these volatile trading markets.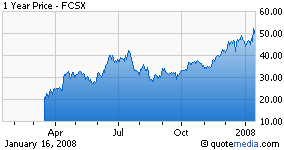 The company reported earnings on Monday and the news was well received by Wall Street. The earnings were for the first quarter of 2008 (operating under an August fiscal year end) and they showed a 29% increase in non-GAAP revenues and a 55% increase in earnings. Management cited strength in the exchange traded and OTC volumes (customers trading contracts to hedge exposure), as well as higher interest income from cash balances customers held to properly margin their futures and option contracts held in the hedging process. Furthermore, management stated that they expect continued demand for the products and services offered throughout the year.
This fall the company noted that the US experienced its largest increase in corn produced in history as many fields that typically would have been assigned to soy beans or cotton were instead used to grow corn due to the demand associated with renewable energy initiatives. Since there is still a need for soy and cotton among other crops that were likely passed over, this creates an imbalance between supply and demand resulting in volatile prices in commodities across the board. As countries such as Brazil step in to add supply to this demand imbalance, FCSX is capitalizing on new and expanding markets overseas.
China continues to be a major player on the demand side as a progressing population consumes more and more natural resources which creates more pressure on an unstable economic balance. FCSX has been able to step in and assist companies on the consumer side by helping them hedge costs associated with procuring resources such as food and dairy shipments. Although China is not fully transparent and open to capitalism, FCSX has been able to open accounts with three of the primary Futures Commission Merchants (FCM) authorized to do business outside of China. This solidifies FC Stone's place in the worldwide economy of managing commodities risks.
The company has grown much of its business organically but is not averse to making acquisitions in order to expand products offered to customers. Just this past quarter, management completed an acquisition of Downes Oneil which significantly increased the company's presence in the dairy industry. It is assumed that this addition may help the sales force to be able to cross sell existing services to new clients picked up as a function of owning Downes. While management would not give any specific new targets, they did say that future acquisitions of companies which share similar interests and philosophies would be considered.
FC Stone is currently working on a green diesel and biodiesel plant which should be operational by the end of June. One catalyst that could continue to drive the stock higher would be an announcement that the plant was finished ahead of schedule. Having this asset as part of the portfolio should allow the company greater flexibility in meeting clients needs when finding counterparties for commodity transactions. It also puts FCSX on the cutting edge of new technology in the renewable energy field.
The stock is trading well in a dismal equity environment. The multiple is high as one would expect from a company with such a growth profile. However, the multiple is not so high as to suggest that the market has an unrealistic view of just how successful the company can be. It seems that institutions wish to own this name as they can be confident that management is meeting current markets with skill and flexibility that should drive long-term stable growth in many different market environments. I am looking for a good place to initiate a long position at a defined risk level.