I love explaining the power of reinvesting dividends over the long -term. Since AT&T (NYSE:T) has increased dividends every year for 28 years, the company provides a great example of how to grow wealth over time.
The dividend payout of 5.2% can have a profound effect on the compound annual growth rate (CAGR). The CAGR in this case is the dividends plus stock appreciation. This is what will be used to calculate the future gains for your investment.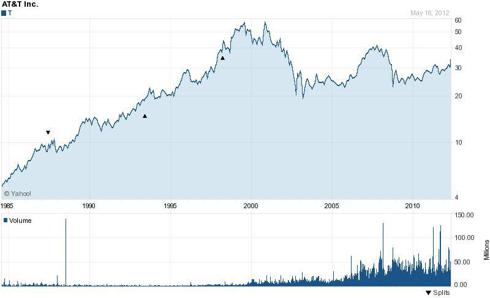 AT&T is expected to grow earnings annually at 9.59% for the next five years. Since the company's stock growth typically grows in line with earnings over time, we will use this rate as part of the CAGR for our projections. The total CAGR should equal about 14.79%.
If $10,000 were invested in AT&T at this rate and dividends were reinvested, the investment would be worth just under $20,000 in five years, $39,700 in ten years, and $157,000 in 20 years. Over a 20 year period, that works out to be a total gain of 1470% or $7350 annualized over that period.
Now, let's say you make the initial $10,000 investment, but add an additional $1,000 per year to the pot. In five years you will have about $25,000, in ten years the pot grows to $58,800, and in 20 years the total investment would be worth about $256,000. That's over a quarter of a million dollars from just $30,000 out of pocket.
Currently, the company is undervalued, which provides a good starting point for a long-term investment. The forward P/E ratio is 13.1 and the PEG ratio is 1.47. The price to book ratio of 1.86 is more compelling. This means that the stock is trading at only 1.86 times book value per share. Stocks with a price to book ratio under 3 are considered undervalued.
AT&T offers a dividend reinvestment plan (DRIP) through Computershare (OTCPK:CMSQY). This is a plan to allow the dividends to grow automatically and to take the emotion out of investing. Benefit from the simple buy and hold strategy.
AT&T has the nation's fastest mobile broadband network and the largest international coverage of any U.S. wireless carrier. It has the most phones that work in the most countries. It also has the largest Wi-Fi network in the United States based on branded and operated hotspots.
AT&T also has an innovation with its U-verse, the combination of digital TV, high-speed internet, and voice. AT&T is the only national U.S. TV service provider to offer a 100% IP based television service.
Consider taking advantage of the above average 5.2% dividend to help grow your portfolio for the future.
Disclosure: Although I don't own AT&T individually, I do own it as part of a fund in my retirement account.