According to the latest data from Barron's, Supervalu (NYSE:SVU) is the 5th-most shorted individual stock on the New York Stock Exchange. Over 40% of the outstanding shares are currently sold short, and the number of shares shorted has gone up every single month since November 2011. Investors currently short Supervalu suffer from a number of misconceptions, and long-term investors can take advantage of Supervalu shorts to reap substantial profits.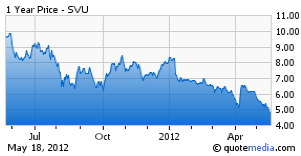 On a very shallow level, the short case for Supervalu is easy to understand. Net earnings last year were negative $7.13 per share. Total debt is over $12 billion, and the debt to capital ratio is roughly 99.7%. Sales declined last year like they did the prior two years. Each of these surface problems, however, obscures the true worth of Supervalu.
Although Supervalu reported net losses of $7.13 for fiscal 2012, these losses included large non-cash charges such as writing off the remaining goodwill from its acquisition of Albertson's. When these non-cash charges are taken out, net earnings were $1.39 per share. Free cash flow was $1.86 per share. Supervalu is highly profitable, with an earnings yield of 30% and a free cash flow yield of 40%. Investors shorting Supervalu stock because of large losses are deluding themselves.
Supervalu's debt level is high, at $12 billion or about $5.66 per share. Its debt to capital ratio is high because book value took a huge hit as a result of the write-off of goodwill in the last two quarters. Both these figures will improve as Supervalu continues to make progress in paying down debt. Management has a strong commitment to paying down debt, as it has reduced debt by more than $2 billion over the last four years, and continues to pay off debt at a rate of about $500 million per year.
Sales have fallen the last few years as Supervalu has retrenched. It has transitioned from a promotion-heavy retailer to more of an "every day low price" retailer. It has closed some unprofitable stores, and is remodeling others. But Supervalu has done an excellent job in reducing costs as sales decline. Management forecasts small same-store sales declines in the upcoming year to be offset by continued cost reductions as well as opening a significant number of its more profitable Save-A-Lot stores.
The main justifications to short Supervalu appear to be a case of missing the forest for the trees (though there is some evidence that some of the short interest in Supervalu is a result of paired trades). Supervalu is highly profitable on a cash flow basis, is doing an excellent job of paying off its debt, and is managing a period of low sales. Supervalu's dividend of 7.5% is a major cost to shorts, and a nice perk for long-term shareholders while we wait for the market to return Supervalu to a reasonable valuation. Though shorts may continue selling shares driving new lows and high volatilities, Supervalu at a Price/Earning of 3.3 and a Price/Free Cash Flow of 2.5 suggests that patient long-term investors may enjoy excellent long-term returns.
Disclosure: I am long SVU.