There are different categories and types of investing out there in the wide world, and it is one's interest that dictates where their focus lies. I myself seem to be attracted to income investing, while also dabbling in the world of speculative biotech. That being the case, I am often asked by friends and colleagues to give opinions on certain stocks and funds, which I gladly do. Other times, challenges are thrown at me based around certain themes.
Now I am faced with a new challenge, one that is a bit outside of my sphere of comfort. An associate has challenged me to come up with a "doomsday portfolio". I really should not be surprised in view of the many doomsday themes prevalent in society today. Cable television shows and the general media outlets have elevated the doomsday concepts to new heights recently. The question is what kinds of doomsday scenario are we talking about? War, disease, natural disasters, financial, or the ever entertaining and popular zombie apocalypse have all been highlighted by the media. (Note: Though a zombie apocalypse is highly unlikely, a few of the banks termed with that concept still seem to be walking around, so we will keep a watch out).
That being the case, the doomsday scenario that was chosen was the financial one. Seems my colleague believes that the United States is on the same trajectory as Greece, but on a much larger scale with devastating results. Being unable to borrow any more funds and not having the means to cover current debts will drive the United States into a financial doomsday scenario.
Not being able to operate, large portions of the government will slowly close down and items such as Medicare, Social Security, and other popular programs will be affected. Inflation and interest rates will rise at an alarming rate and many banks will be forced to close, as their clients make a run on them. In the end, there will be high levels of civil unrest, as the scenario plays out. It should be known that we are not talking about a complete annihilation of society, but just a major disruption.
Now will this come to pass is anyone's guess. I am not here to debate that. My challenge is to simply try and put a portfolio together that might survive this nightmare. That being the case, here was my response.
ProShares UltraShort 20+ Year Treasury (NYSEARCA:TBT)
TBT is an exchanged traded fund (ETF) that tries to reflect the daily performance that corresponds with twice or 200% the inverse of the Barclays Capital U.S. 20+ Year Treasury Bond Index. Through the use of complicated financial instruments, this fund does well when long-dated Treasury bond prices decline, or if yields were to rise.
So how would this work in our scenario? If our economy and currency were truly called into question by all, then the flight to quality concept that we now enjoy would ultimately reverse. To attempt to attract new bond buyers, the Treasury rates would have to rise significantly and destroy the price for existing bonds. If the Federal Reserve still had any ability to pump liquidity into the financial system, it would most likely result in higher inflation, while the value of the dollar would sink.
It is at this point where many could disagree with me. In our scenario, the U.S. Treasury bills are very exposed by trading into a free market, but this is not the case by any means. U.S. Treasury bills do not trade freely because the Federal Reserve views their involvement in this market as a very powerful way to exude their influence. It would be highly doubtful that they would relinquish this tool unless there was some extraordinary circumstance.
In the scenario I was presented though, it would not really matter. If the Fed stayed in place and became the buyer of last resort, they would be pumping liquidity into the financial system at a rate that would be hard to fathom. If the Fed disappeared from the picture and the bonds traded freely, then prices would tumble at a rapid rate. Either way, TBT should be a winner, especially with a leverage rate of 200%.
The key issues here are timing. In the recent past, several individuals have thought that this would have come to pass. TBT was a hot item and prices in 2008 topped $70 a share. Now, the ETF trades in the teens as the predicted implosion did not come to pass. But in our future potential doomsday scenario, TBT would be a good place to start.
Click to enlarge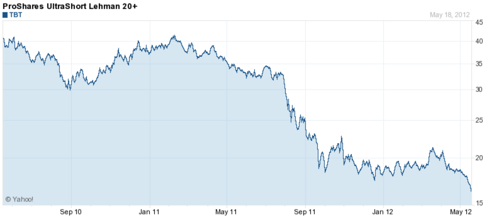 Central Fund of Canada Limited (NYSEMKT:CEF) and Central Gold Trust (NYSEMKT:GTU)
In our doomsday scenario, we will have to try to determine just where the money will flow. Since the U.S. dollar will no longer be the top choice, we will have to figure out where will the flight to quality end up. Obviously, the euro seems to be having its own issues right now, and if the U.S. were to suffer a major meltdown it is questionable if Europe, or any other currency, would hold up much better as the panic spreads.
That being the case it would seem that precious metals might be the correct asset class. The best of all would be to hold the actual physical metals, but this can bring some problems such as safety and storage issues. One could invest in ETFs like SPDR Gold Shares (NYSEARCA:GLD) and iShares Silver Trust (NYSEARCA:SLV), but that brings its own set of issues. One possible solution would be to try and get into closed-end funds that are housed outside the U. S. Confiscation of gold by the government could be a factor if things were to get bad enough, but would shares of foreign equity funds be taken as well is debatable. That being the case, there are two possible choices.
The first choice is the Central Fund of Canada Limited. This entity was founded in 1961 and its shares trade on the open market like any other stock. The shares are backed by gold and silver bullion that is stored in high security vaults in Canadian chartered banks. Being in Canada should put this treasure trove out of the hands of the U.S. government. This fund gives one exposure to silver as well as gold. Currently, CEF has 1,694,644 ounces of gold bullion and 76,964,103 ounces of silver.
Another choice is Central Gold Trust. Unlike CEF, GTU is totally focused on gold. It is also a closed-end fund that is headquarters in Canada. The total portfolio is as follows on the chart below:

With closed-end funds, there are always risks to take into consideration. These risks could easily take up an article of their own, but for the sake of the reader I have narrowed them down to two. The first is the price per share related to net asset value (NAV). Closed-end fund have their share price based upon demand and not on what the fund is worth. That being the case, the shares can trade well above or below the net asset value of the holdings that make up the fund. CEF has a tendency to often trade well above its NAV, but currently it is trading at only a 2% premium. For GTU, a similar situation exists as the fund also is trading around a 2.1% premium.
Another risk is the management fees that must be taken into consideration. These fees are what the companies will charge for their expenses to operate the funds. Since neither CEF nor GTU generate income, these fees and expenses can and will eat into your returns and the share price. If the doomsday scenario does come to pass though, these fees would matter little as the share price should track much higher as the underlying price of gold and silver climb ever upward.
Ruger (NYSE:RGR) and Smith & Wesson Holding Corporation (SWHC)
For my next picks, I could easily have just gone with exchanged traded funds that short the markets. Although this would have been effective, I believe that it is just too easy for the challenge. I had to go for something a bit more related to the doomsday subject matter that I was assigned. As part of this challenge, I was told there would be episodes of civil unrest. Needless to say, the idea of civil unrest is very concerning. Here in the U.S. we have seen very isolated cases of this, but we are all too familiar with images that have been shown is places like Greece, Europe, and the Middle East.
That being the case, Ruger and Smith & Wesson Holding Corporation would be the companies to focus on. In this instance, one would want to buy into these companies early on as the doomsday momentum builds. When it comes to safety, individuals will pay whatever price to ensure it. As tension builds across the land, people will feel the need to protect themselves and firearms would be a means to do so.
Up to this point when discussing the doomsday scenario, not much of what I have recommended has come to pass. TBT and the prices of gold and silver have been losers for anyone thinking that doomsday is upon us. Looking at the gun manufactures though seems to paint a different story. Consider Ruger, who is one of the most well-known names in the gun manufacturing business. RGR engages in the design, manufacture, and sale of firearms in the United States. It offers single-shot, auto loading, bolt-action, and sporting rifles; shotguns; rim fire auto loading and center fire auto loading pistols; and single-action and double-action revolvers. The company also manufactures and sells accessories and replacement parts for its firearms. In addition, it provides investment castings made from steel alloys directly or through manufacturer representatives.
A closer look at RGR's chart over a 5-year period shows that something has taken hold within the firearms industry.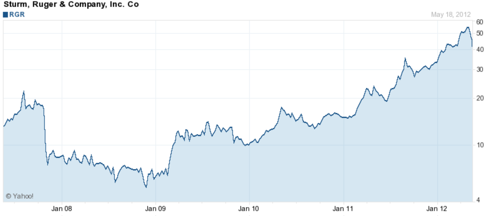 Looking at the Smith & Wesson Holding Corporation's chart for the last two years also shows something similar.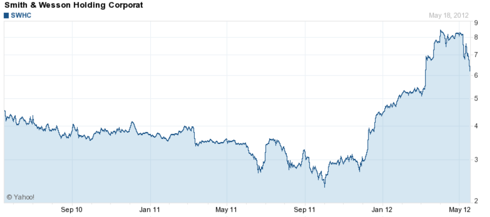 Diving into RGR's quarterly financial statement for the first quarter also reveals some interesting items. It seems that the demand for the company's products in the first quarter of 2012 was very strong. So strong in fact that it exceeded RGR's expectations for the typical first quarter. During the distributor shows, retailers ordered many more firearms than in the prior years' shows, and distributors responded by placing very large unit orders with the company. In mid-March of 2012, the company had received orders for more firearms than the total of all guns shipped in 2011. As a result, RGR announced on March 21, 2012, that it was temporarily suspending the acceptance of new orders through the end of May.
When asked why there was such an increase in demand, the company stated that it believed it was due to macro factors affecting the entire industry, including political and economic drivers. Also, it stated that RGR has continued to introduce new products to the markets that have represented $40.8 million or 37% of firearm sales in the first quarter of 2012. Many of these new firearms have deviated away from the traditional hunting and sports shooting arena and now have been focused upon the personal defense and the tactical arena.
Consolidated net sales for RGR were $112.3 million for the three months ended March 31, 2012. This represents an increase of $36.9 million or 48.9% from consolidated net sales of $75.4 million in the comparable prior year period. Firearms net sales were $110.8 million for the three months ended March 31, 2012. This represents an increase of $36.4 million or 48.8% from firearms net sales of $74.4 million in the comparable prior year period. The firearms unit shipments increased 51.9% for the three months ended March 31, 2012, from the comparable prior year period.
For our challenge, it seems that an investment in the firearms manufactures would be a good move, but it would have to be done very early in the cycle. If the financial doomsday scenario were to come to fruition, most stocks would probably suffer no matter what sector they were in. That being the case, one would have to exit the firearms trade early on before the tsunami of the doom would sink all the markets.
In conclusion, putting together a portfolio for a doomsday event is challenging. Even trying to predict how such an event might play out is next to impossible based upon all the unknown variables. That being the case, this challenge was difficult. I could just have shorted the markets and called it a day, but what fun is there in that. Do I think such events could play out in time? Anything is possible, and it is a fact that the U.S. is skating on thin ice when it comes to its debt and unfunded liability issues. In the end, only time will tell, but while I'm at it, I'm going to see if Ruger will send me a new catalog.
Disclosure: I have no positions in any stocks mentioned, but may initiate a long position in CEF over the next 72 hours.