The percentage of global market cap that U.S. equities make up has fallen from 35% at the start of 2007 to 28.35% at the moment. At the start of 2007, China made up just 1.89% of global market cap, ranking 12th out of the top 18 countries. Chinese equities currently rank second and make up 8.12% of global market cap! China is followed by Japan, the UK, France and Hong Kong.
Over the past year, there has been a significant shift in these numbers. Developed countries like the U.S., Japan, the UK and France have all suffered at the expense of China, India, Hong Kong and Brazil -- all considered "emerging."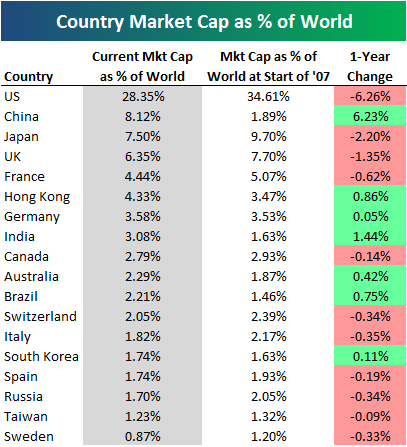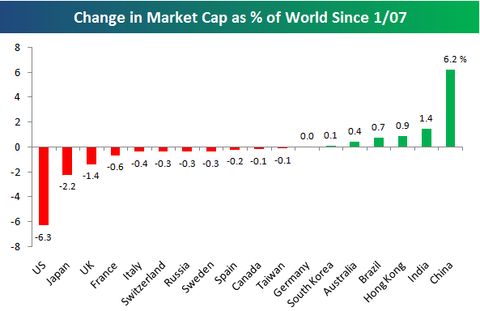 Largest Stocks in the World -- Citi Falls Off the Charts
Back in October, we highlighted a list of the largest companies in the world by market cap. Just three months ago, Citigroup (NYSE:C) was the 13th largest company in the world. Now the company doesn't even crack the top 50 (currently ranks 51st).
After another IPO in Shanghai in November, PetroChina (NYSE:PTR) became the largest company in the world and made headlines as the first trillion dollar company. While it still ranks number one in its quest for global dominance, it has lost quite a bit of its value since then and is now worth just under $700 billion. PetroChina is followed by Exxon (NYSE:XOM), General Electric (NYSE:GE) and Gazprom.
To be fair to Citi, HSBC (HBC) and Banc of America (NYSE:BAC) also dropped off the top 25 list. At financial stocks' expense, Wal-Mart (NYSE:WMT) and Johnson & Johnson (NYSE:JNJ) moved into the top 25, while Google (NASDAQ:GOOG), Berkshire (NYSE:BRK.A) (NYSE:BRK.B) and Procter (NYSE:PG) were able to move higher up the list. Google is currently the 18th largest company in the world.
Poor Citi.