China TechFaith Wireless (NASDAQ:CNTF) is a China-based company with global operations focused on opportunities in mobile phones and the fast growing PC and online gaming markets.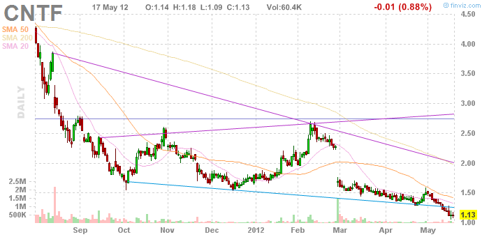 I see at least 3 reasons to buy the stock currently
1. The company's market cap is currently one fourth of its cash position
The company had $250 million in cash at December 31st 2011. The company has 53 million shares outstanding. That creates total cash of $4,72 per share. The company has no debt.
Lets compare China TechFaith against Sino Clean Energy(SCEI) and Shengkai Innovations (NASDAQ:VALV):
| | | | |
| --- | --- | --- | --- |
| Company | Market Cap | Net Cash | Q1 Revenue |
| CNTF | $60 M | $250 M | $41-$45 M estimate |
| SCEI | $22 M | $66 M | $28 M |
| VALV | $17 M | $70 M | $6 M |
We find out that all three of these companies are trading at just one quarter to one third of their respective cash balances.
2. The company is highly profitable
The company had net income of $0.51 per share for the full year 2011.
First quarter 2012 outlook:
The following forecast reflects the expected material impact of seasonality in the first quarter of 2012. The forecast is TechFaith's current and preliminary view, which is subject to change. TechFaith currently expects total revenue for its ODP, branded and gaming businesses to be in the range of US$41 million to US$45 million in the first quarter of 2012. The anticipated decline from the fourth quarter of 2011 and recent revenue levels is driven primarily by the expected material impact of seasonality in the first quarter, combined with higher competition and expected lower overall demand for its ODP and branded mobile phone business.
I believe that this outlook has been fully priced in the stock price currently. The company is going to report its first quarter results on May 22nd.
3. China online games market to grow 39 percent
China's online games market is expected to exceed US$9.2 billion by 2014 from US$6.6 billion at 2011.
Neha Dharia, Ovum's consumer telecoms analyst, said Asia-Pacific was already vital in terms of digital games retail sales and would grow in importance in future.
"The region will drive the digital games market globally," Dharia commented. "The most significant retail sales contribution will come from the massive multiplayer online game (OTC:MMOG) sector, while the highest amount of growth in the Asia-Pacific market will come from mobile gaming."
The company's gaming business had $43 million of revenues at full year 2011.
Sino Clean Energy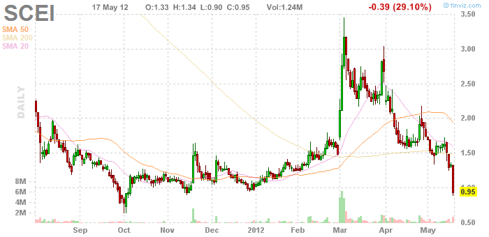 The company reported first quarter adjusted earnings $0.16 per share. Management reiterated full year 2012 guidance and expects revenue of between $150 million and $168 million. The company expects full year 2012 non-GAAP adjusted earnings to be in the range of $35 million to $40 million and adjusted earnings per share of between $1.35 and $1.54. This guidance assumes total sales volume of 1.3 million to 1.4 million metric tons of CWSF in 2012.
On May 9, 2011, the Board of Directors authorized the repurchase of up to $20 million of the company's common stock. As of March 31, 2012, 321,100 shares, for an aggregate of $799,423, has been repurchased.
I wrote an article about Sino Clean Energy on April 2012.
Shengkai Innovations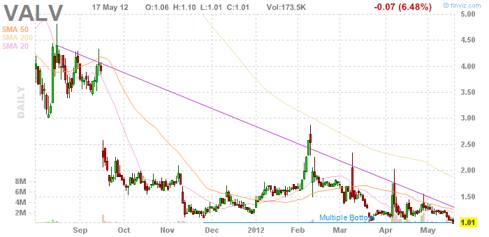 The company reported Non-GAAP Earnings per share (diluted) of $0.05 for the three months period ending March 31st 2012.
Business outlook
In response to the business disruptions and changes in the application of ceramic in the valve industry, Shengkai management has decided to gradually phase out its less profitable domestic market segments including the electric power market and focus on expanding the company's presence in the more profitable domestic and foreign oil and chemical industries where ceramic valve products typically command higher prices than the domestic Chinese market. Successful penetration into the international oil and chemical markets, however, would require the company to obtain various industry-wide certifications, including but not limited to ISO14000 and OHSAS18000 and other firm-specific supplier qualifications, which will take time to go through various application procedures, efforts in new product development and investment in additional or different equipment.

As such, the company expects that in the immediately following quarter ended June 30, 2012, revenue from the electric power industry would continue to drop, and major contribution to our sales would be from the petrochemical and chemical industry. Such decrease may persist until our marketing and sales efforts to some new customers and projects pay off, and the expansion in the international market picks up meaningfully.
I wrote an article about Shengkai on April 2012.
Conclusion
I believe all three of these companies are extremely beaten down currently. I have been accumulating all three of these companies during the past few weeks. I am expecting a technical bounce of 50-100% on all of these stocks in coming weeks and months.