The financial tide continues to pull further out to sea for Quiksilver Inc. (NYSE:ZQK), and as one would expect its share price has become a permanent member of the deep sea diving club. On January 15, the company effectively lowered its fiscal 1Q guidance to a loss per share of $0.09-$0.12 from the modest loss previously conveyed to the market. Management indicated the more cautious outlook stems from "broad-based weakness at retail which has affected our wider business, including our company-owned stores both in the U.S. and Europe." Moreover, due to the company's exposure to the equipment business through the operations of Rossignol (acquired in 2005), its key ski retail accounts are delaying reorders in anticipation of a prolonged downturn in consumer spending. As a result of management's revised outlook, we have lowered our fiscal 1Q loss per share forecast to $0.12 from a loss per share of $0.01. We have also made an adjustment to our FY`08 earnings per share assumption to $0.59 from $0.72.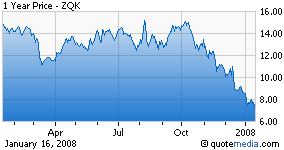 In our last assessment of Quiksilver issued on December 11, we struck an optimistic tone on the prospects of the company's shares in 2008. Serving as inputs to our analysis were (1) discounted valuation metrics relative to historical norms and similar to specialty apparel retailers, (2) aspects of the business, specifically apparel, continued to perform reasonably well on a global basis, and (3) negative news flow potentially bottomed out in late 2007. Hindsight is always 20/20, but it's apparent our upgrade to Buy was ill-timed especially when receiving fresh data signaling weakness in Quiksilver's apparel businesses.
It's our stance at this juncture that the fundamentals at Quiksilver could actually worsen further before they normalize as consumers reign in their purchases of discretionary goods and ski retailers plan orders cautiously. These combination of factors will constrain the margins Quiksilver generates (price resistance on skis and markdowns on apparel), and thus elevates risk to future earnings and cash flows.
Management went onto note it's "reviewing alternatives with respect to its equipment businesses, including possible sales." While the exiting of the hardgoods businesses will remove an overhang to operating margins, highly seasonal equipment operations such as Dynastar, Lange, and Look (Rossignol may be held until credit market conditions improve) have a high probability of being sold at loss. All told, we are downgrading our rating to Sell.
Written by Brian Sozzi, a Research Analyst for Wall Street Strategies (www.wstreet.com) specializing in the apparel/hardline goods sectors of the retail industry. Routinely sought after as a trusted point of reference for opinions and insight on the global economy and retail sector stock evaluation, Mr. Sozzi is a frequent contributor to Fox Business Network, Forbes, Bloomberg, the Wall Street Journal, Thestreet.com, CBS Marketwatch, Reuters, Seekingalpha, and the Associated Press.