At then end of March, I wrote an article detailing an opportunity in Annaly Capital Management (NYSE:NLY), the well respected Mortgage REIT. Concerns over Annaly's relatively low leverage levels and health of its CEO had driven the price of NLY's stock down to some of its lowest levels of the last two years. Since that article, Annaly has outperformed the rest of the market with Annaly up 5% and the S&P down 5%. That's not a bad swing.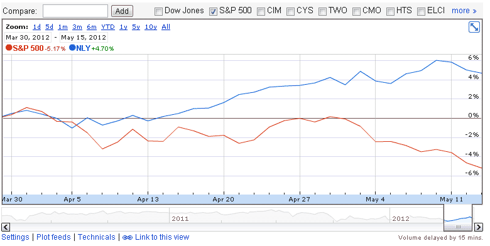 I want to reaffirm my buy on this stock for a few reasons.
First, it is important to understand how Annaly and the other Mortgage Real Estate Investment Trusts like Agency (NASDAQ:AGNC), Capstone (NYSE:CMO), Hatteras (NYSE:HTS), and Chimera (NYSE:CIM) make money. As I detailed before, it is on the interest rate difference (the "spread") between short-term interest rates and long-term interest rates. You can get more details in the other article, but basically they buy Mortgage Backed Securities and then borrow short-term against them. They then use that money to buy more MBS. This is leverage.
Right now, the U.S. Federal Reserve has been running Operation Twist, a program designed to lower long-term interest rates without stimulating inflation. It does this by selling short-term bonds in an equal amount to the long-term bonds it buys. This has the effect of raising short-term interest rates.
This is the opposite of what Annaly desires; the REIT wants the lowest possible short-term, and the highest possible long-term rates. However, last Wednesday, James Bullard, the president of the St Louis Federal Reserve said the Fed is still planning on wrapping up Operation Twist at the end of June. This should help increase the interest rate spread for these mREIT companies, putting them in an even better position to make money going forward.
Additionally, any more meaningful economic recovery should put these companies in a "sweet spot" of interest rates, where short-term rates stay close to 0 and long-term rates rise. The Fed has pledged to keep interest at these low levels through at least 2014, and maybe longer if warranted. As the U.S. economy recovers, which seems to be happening slowly but surely, long-term rates should rise as investors sell safe U.S. Treasury Bonds and take on riskier investments. We recently saw a promising rise in long-term rates, only to have the current upswelling of European Debt worry push rates right back down. However, it is unquestionable in my mind that 10 year rates will have to come off these record lows.
Others feel likewise. For instance, a recent note from Paragon Report is very positive on NLY and other MREITS. In it, Paragon says
High yielding mortgage REITs have performed admirably in 2012. The Vanguard REIT ETF (NYSEARCA:VNQ) is up more than 12% year-to-date. REITS have continued to take advantage of low interest rates to boost earnings and increase dividends for investors... and... Continuously low interest rates are boosting earnings throughout the sector. Dividend returns for Mortgage REITs are partially dependent on interest rate spreads.
Also, since the beginning of the year, I have been concerned about the "Sell in May and Go Away" effect. Through the first 4 months of the year, I had sold off most of my more sensitive holdings, including Cummins Diesel, Chase, Exxon Mobil, General Electric and Flowserve and moved into safer stocks like Kellogg's. If you look at Annaly's "beta", the correlation between the rest of the market and the stock, it has a nice low beta of 0.3, meaning it should experience less volatility than the rest of the market.
Annaly is currently yielding 13.6%, which of course changes with its earnings, and the stock is trading around book value. Technically speaking, the stock is moving between its 200 and 50 day Moving Averages. One should expect some kind of breakout from this range as the two are closing in on each other.
In summary, I recommend Annaly Capital for its high dividend payout, its low beta during the typically turbulent summer months, and most importantly, for the coming end of Operation Twist. Longer term I also recommend it because it is quite likely that all the Mortgage REITS are coming into an almost perfect interest rate atmosphere.