Time to stop thinking and start doing. A number of my friends and family have been subjected to my stock analysis rants over the past year, and have urged me to do something about it. Well after doing OK this past year with my investment picks, and drawing bits and pieces of investment strategies from the books I've been reading, it's about time I start tracking this.
I spent the last few months on and off thinking of my approach, drafting up ideas upon ideas, of how I could best write about my analysis without dangling into heavy financial jargon. What is the purpose of this other than
finding the capital to satisfy my salivating desire to race a 911 GT2 on the Sea to Sky highway? Kidding aside, it's simply to document my results testing investment strategies that I have picked up from the vast amount of investing advice there is out there. Most glossy investment paraphernalia you get from your investment adviser usually pit their performance against the S&P 500 index, based on $10,000 invested so many years ago. What they fail to mention to you is all the other costs you incur along the way, but I'll talk about that another time.
So I start today, with a clean slate, and a hypothetical $10,000 to invest. My portfolio has no stocks at the moment, so it's time to start hunting. Time to see where this goes. Let's not waste any more time, as my first stock to cover for the year is none other than Amazon. I've been buying stuff from them for years now and thought I'd check them out.
Recommendation: Avoid!
Every time the Amazon (AMZN) smiley face box arrives at my door, it is like Santa showing up again. Unlike that special day that only comes once a year, I know exactly what I am getting but still have those same happy feelings as I rip on yet another book, gadget, or toy. In order for this company to continue to deliver the same feelings to its shareholders it will need to make some big adjustments to their operations. Amazon does a great job making their customers happy, from a broad array of products, competitive pricing, free shipping, to their website experience. However, this comes at a significant cost to their business. What remains is a business that runs profit margins of just under 3% year to date. The company was moving in the right direction as it continues to cut costs, but in the 3rd quarter of 2007 they started to pick up the spending activity compared to last year.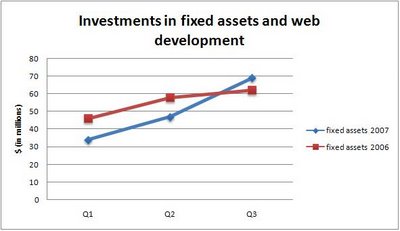 I listened into the 3rd quarter conference call but could not pull out why there was a sudden increase in fixed assets spending in the most recent quarter compared to last year. It wasn't only until the recent news about the launch of their Kindle initiative (basically iPods for reading aficionados) did I understand where some of the increased expenditure could possibly be coming from. Kindle was introduced with much publicity, but didn't receive a good review from the Wall Street Journal. Similar to their Unbox initiative they launched a while back, you will be hard pressed to find this part of their business broken out on the financial statements and investor calls. It's still early for Kindle, but Unbox has had more than a year to demonstrate its effects on the bottom line.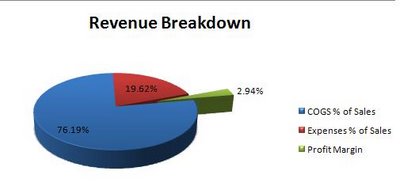 Amazon still needs to do more to cut costs, specifically their selling, general, and administrative expenses (SG&A) in order to justify their lofty share price. The reason why I am focusing on SG&A is that this is the only likely aspect of their business that they can control. As commodity prices move up higher, their cost of goods sold will continue to have upward pressure. Unless they increase their prices, their ability to sustain current gross margins will be under pressure.
One of Amazon's goals is to increase customer value through a broad offering of products online. Consumers however still have a multitude of offerings to purchase products from traditional brick and mortar retailers like Barnes and Nobles , Best Buy, Walmart, and Target. The switching costs for a customer to move from one retailer to the next is pretty much non-existent. Amazon is just one of many places to buy things. What does set Amazon apart is their continuous focus on the shopping experience through:
Broad based product offering by incorporating other retailers into their e-commerce site
Seamless purchasing process from 1-click checkout, free shipping, good product recommendations, and a host of other online promotions. These are great things for Amazon's customers, but they come at a cost to the company.
What does this cost?
At the moment Amazon's current business runs at about 23% Gross Margins year to date. What this means is that after subtracting out the cost for Amazon to acquire their products from suppliers, they are left with 23 cents for every dollar of sales to pay off their selling, general, and administrative expenses (marketing costs, employee salaries, depreciation expenses from all those heavy duty servers, etc.). Let's start setting up the variables for a more detailed analysis. There are three important factors to note here:
Higher commodity prices. At some point manufacturers will need to pass on the effects of high oil prices down the chain. In the best case scenario, let's assume Amazon's purchasing department can work wonders and keep COGS as a percentage of revenues leveled at 75% for the next 10 years. This is based on their past track record. I am essentially giving Amazon the benefit of the doubt, such that they have a rock solid purchasing department. This leaves the company 25% gross margins to work with in running the rest of their business.
The company operates several a large scale IT infrastructure operation with web sites across several countries in addition to key distribution centers to keep products in stock. The countries in which they operate are Japan, Canada, US, UK, Germany, France, China. Although this helps stabilize the company's revenue stream when one country's economy suffers, the expenses required to run this operation total 19.6% of total revenues. After subtracting out COGS, and SG&A, the company is only left with just 3 cents on every dollar of sales for the bottom line. The capital investment in technology, operations, and the costs to acquire and retain software engineers to run this operation will continue to grow. Let's give Amazon another advantage and they somehow reduce SG&A down to 19% of Revenues.
Free shipping hurts. Although Amazon can lock you in for that 79$ free shipping Amazon Prime membership deal, it can not lock in shipping costs that UPS, and USPS charge. Can Amazon continue to offer free shipping forever and eat these costs year after year? As a customer I already equate Amazon to free shipping. What happens when Amazon decides to charge more for Amazon prime to cover these costs, offers free shipping only on a limited number of products, or drops free shipping all together? That will adversely affect consumer behavior, ultimately affecting revenue growth. The company ran total shipping costs in 2006 of $317 million, and this is after collecting all those Amazon prime revenues. Outbound shipping costs will continue to rise with oil prices hovering above $90/barrel.
Cash Flow Analysis
We now come to the meat of my argument. How much cash is available to the firm each and every year for the next 10 years?
Let's assume the following highly optimistic inputs:
The company has a strong brand as the destination for online shopping and will continue to do so for many years to come, beyond 10 years. We will estimate all future cash available to the firm from year 11 onwards (2017 onwards), assuming competitors will eventually give Amazon a run for its money and reduce revenue growth rate to 5% year over year
The company continues to see payback from its investment in 3rd party sellers, technology, marketing promotions, AWS, and Unbox, and capture more consumer spending for the next 10 years, resulting in 30% growth year over year .
Let's assume Amazon's purchasing department can hold COGS down resulting in 23% gross margins for the next 10 years.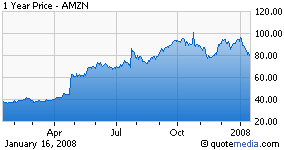 The present value of all that cash today is $23.5 billion, after you pay for the company's long term debt position. This roughly equates to $60/share. Even with the company's recent stock slide, the current share price of $81 is still too high. Mark Manahey of Citigroup recently upgraded this stock to a buy rating citing improving operating margins of a full 2% points in 2008. Mr. Manahey obviously has a lot more confidence in the company's ability to squeeze out those margins than I do. We'll have to see the next few quarters. I love Amazon's service, but I'm definitely not adding this to my portfolio until the company drastically improves its margins.
My portfolio still has 10 grand in cash sitting around. Not good. Time to keep hunting.
Disclosure: none