Natural gas prices continue to tread just above historic lows with the June futures contract showing a price of $2.711/mmBtu as of May 21, 2012. With the introduction of horizontal drilling and hydraulic fracturing on the shale rock formations, technology has unlocked an abundance of previously unknown natural gas reserves that is sure to keep commodity prices low for an extended period of time.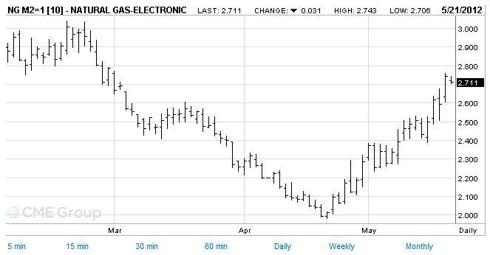 As a result of this dynamic shift in the commodities market, exploration companies most commonly associated with natural gas have fundamentally failed to provide the ideal investment opportunity for investors. Despite a grand future for the natural gas industry in light of the growing demand that is sure to ensue, investors in such companies have often come up short as the supply glut results in a race to the bottom. Those able to produce gas the cheapest have continued to do so at razor thin margins, if not for at a loss.
Yet falling natural gas prices have provided opportunities for correlated names in the industry space whose business model is dependent upon the prevalence of cheap natural gas. Companies that specialize in using natural gas as a fuel source have continued to prosper. Likewise, companies that specialize in making natural gas readily available have also found abundant demand as the desire for an inexpensive energy source becomes more mainstream. The following names offer a brief list of companies that have continued to see their business increase particularly as natural gas prices look to stabilize near their record lows.
Clean Energy Fuels Corp (NASDAQ:CLNE). Clean Energy is a company helping to fill the infrastructure void necessary the use of natural gas as a transportation fuel. The company designs, builds, operates, and maintains fueling stations. It also supplies compressed natural gas and liquefied natural gas for large vehicles. The company supports a market capitalization of $1.09 billion, a price-to-book ratio of 2.18, and a price-to-sales ratio of 3.77. While not presently earning a profit, the company has seen revenues grow from $131.5 million in December 2009 to $292.7 million in December 2011.
Disclosure: I have no positions in any stocks mentioned, and no plans to initiate any positions within the next 72 hours.