The following is excerpted from AmTech analyst Tim Boyd's note to clients on Blue Nile (NASDAQ:NILE):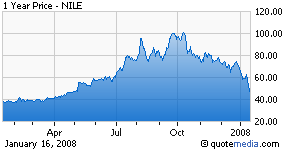 We are upgrading Blue Nile (NILE) shares to Neutral from Sell and are lowering our price target by $2 to $48.
• Upgrading to Neutral: NILE shares have been in virtual free fall since posting an all-time high of $106.16 in late September. Although "Mr. Mo" could drive the stock even lower from here, we see the risk/reward as balanced at this valuation. We also note that stocks this beaten-down can often stage sudden, violent counter-trend rallies (we are sellers of such a snap-back, by the way).
• NILE pre-announced a 4Q07 top-line Miss: In a press release on Monday morning, NILE announced that its 4Q07 revenue was up 24% Y/Y. This implies December quarter revenue of $112.5MM—below the Street consensus estimate of $113.9MM. In our view, the stock's valuation now largely reflects the Miss.
• We continue to expect 2008 guidance to disappoint: Although soft guidance could subject the stock to further selling pressure, we would not be surprised to see heavy demand emerge for the shares in the mid- to low-$40s. We also see a decent likelihood that management will announce a resumption of share repurchases in the near future, especially considering the fact that their pre-announcement failed to stop the bleeding.
• This is what happens when the market's expectations are kept artificially low! In our view, the stock would never have rallied so violently if management's 1Q07 and 2Q07 guidance had been even slightly realistic. The massive whipsaw that has taken place over the last six months has almost certainly wreaked havoc on shareholders. All the while, major insiders sold more than 50% of their shares—at an average price materially above the current market price.
• Lowering estimates and PT: We are lowering our '07, '08 and '09 estimates to reflect 1) NILE's 4Q07 pre-announcement; 2) our expectations for soft 2008 guidance; 3) the flow-thru of these reductions to our '09 estimates.
Valuation
Our new $48 PT is based on a combination of P/E and EV/EBITDA frameworks. P/E: We apply a 27x multiple (1.2x our '09-'12 CAGR of 23%) to our 2009 pro forma EPS estimate of $1.86 to arrive at a $50 target. EV/EBITDA: We apply a 13x multiple (0.6x our '09-'12 CAGR assumption of 22%) to our 2009 EBITDA-per-share estimate of $2.69 to arrive at a $45 target (adjusting for $10 in estimated YE09 cash per share).
Disclosure: none