"If I were one of these crazy hedge fund guys, with the slick haircuts and fancy shoes and racing stripe shirts, the trade I'd put on is 10-times-leveraged natural gas long versus 10-times short Apple (NASDAQ:AAPL)." - Jeff Gundlach, Doubleline, quoted in "The Reformed Broker" blog.
It seems like everyone is talking about the low price and rosy long-term prospects of North American natural gas. Indeed, natural gas spot prices at the Henry Hub in Louisiana have risen by 43% over the past three weeks and are still near major historical support levels last touched in the late 1990s (see chart below).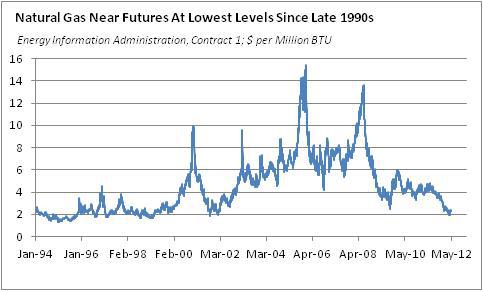 However, holding longer-term bullish positions in the futures market may be increasingly challenging as we move into the summer inventory-building months and contango gets set to worsen.
The Bull Case Holds Water: Natural gas bulls point to the fact that, while the shale drilling boom has led to record natural gas production over the past several years, the market may finally be starting to adjust. Indeed, according to Baker Hughes, the natural gas rotary drilling rig-count has fallen by 63% in North America since its peak in August 2008 and, during the same period, the oil rig-count has risen 230% (see chart).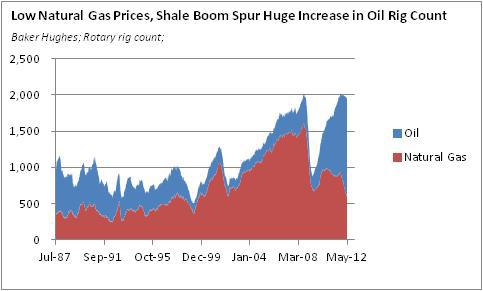 Also, from a mean-reversion standpoint, the six-month performance of natural gas spot prices recently touched -58%, an extreme level. While the correlation between past and future spot performance is relatively weak (-0.27 correlation between past 6mo and future 1yr returns), extremely low six-month returns have been related to strong one-year future returns over the past fifteen years (see chart).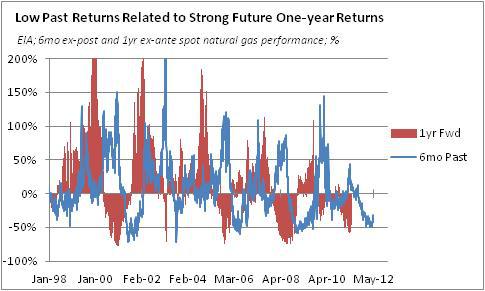 Finally, the bulls argue that North American (Henry Hub) gas prices have become completely unglued from international prices, with Henry Hub spot trading at an 83% discount to European spot gas, and that they will normalize as domestic producers find ways to export more gas (Source: World Bank Global Economic Monitor, see chart).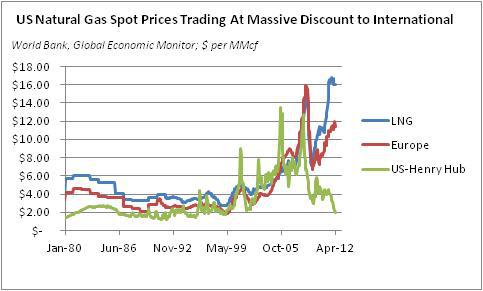 But Bears May Have Near-Term Advantage: However, over the next several months, these low prices and odd relationships may be justified. The Energy Information Administration reports that working-gas-in-storage is at its highest level ever recorded going into the summer inventory-building season (see chart below). If inventory builds are similar to the past three years, working-gas-in-storage may come uncomfortably close to the maximum U.S. storage capacity of around 4,400 billion cubic feet.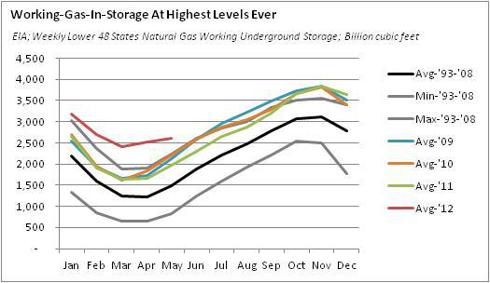 The massive build-up of gas in storage is driven by a production cycle that has not let up and consumption and net-exports that cannot keep up. While bulls were encouraged by the fact that U.S. Natural Gas Gross Withdrawals declined 7.2% in February 2012 from January, they shouldn't have been; production almost always registers a month-over-month decline in February. Year-over-year, production grew 13.3% in February 2012 from February 2011, the highest growth on record. And, while consumption and net exports have been picking up, the market continues to be overwhelmed by marketed production (see chart).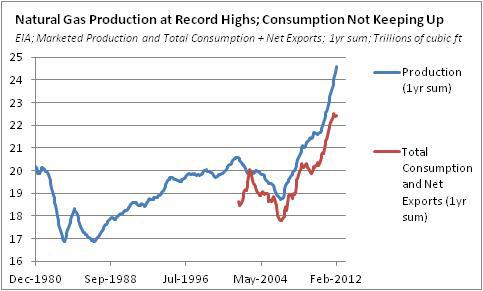 Contango Makes Positioning for Longer-Term Bullish View Difficult: Taking into account record storage and continuing record year-over-year production growth, the near term picture for North American natural gas spot prices does not seem pretty.
Over time, though, the North American natural gas market will likely normalize and prices will rise. Production will decrease in line with drilling-rig trends. North America's fifteen Liquified Natural Gas import/export terminals will shift their 20 billion cubic feet/day capacity from a 0.19 import/export ratio to one more in line with the 0.48 ratio seen in the pipeline space (itself up from a 0.19 average between 2001-09). And U.S. natural gas consumption will continue to increase as the economy recovers and natural gas increasingly powers electricity generation and transportation.
But how should investors position for a bullish longer-term view when contango makes holding many natural gas ETFs the rough equivalent of holding a poisonous snake?
Contango is a situation where futures are more expensive the farther out on the curve you go, forcing investors to lose money every time they sell an expiring contract and buy the next month's contract. Contango is the reason that United States Natural Gas Fund (NYSEARCA:UNG), which invests in front-month natural gas futures, has underperformed natural gas spot prices by over 24% per year over the past five years. Indeed, increases in the price of the next-month contract relative to the front-month contract have a strong negative relationship with future one-month UNG performance versus spot (see chart below).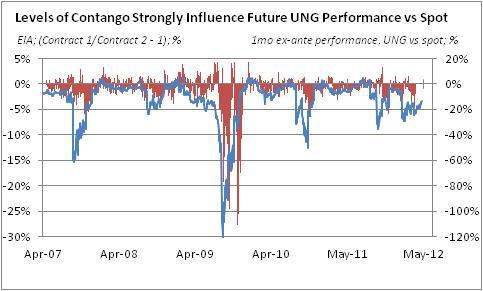 The United States 12 Month Natural Gas Fund (NYSEARCA:UNL), which invests in a basket of different natural gas futures maturities to try to limit the effects of contango, has done somewhat better than UNG though it has still underperformed spot significantly since inception.
The trouble is, while contango in the natural gas futures market has eased somewhat in recent weeks as spot gas has rallied, it will likely get worse during the summer due both to seasonal factors and to continuing secular trends in natural-gas-in-storage. First, with respect to seasonal factors, contango between the front-month and next-month contracts typically eases somewhat between April and June and then worsens considerably from July to October. The chart below shows this effect and also shows that contango has been becoming more pronounced in recent years.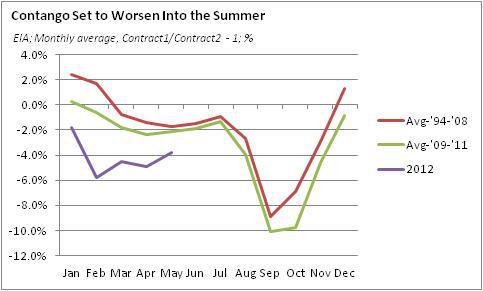 Second, taking a one-year rolling average for both contango and gas in storage in order to remove seasonality from both, we find that the longer-term trend in contango bears a very strong relationship (-0.72 correlation) to the longer-term trend in natural gas in storage (see chart below). With gas in storage on track to hit record levels by this fall, it seems likely that contango will increase considerably.
What to do? Investors can try to profit directly from contango through a product, such as the UBS Natural Gas Futures Contango ETN (NYSEARCA:GASZ), which shorts front-month futures while buying a basket of longer-dated futures contracts. However, GASZ may not be a suitable vehicle for expressing a longer-term bullish view on spot prices. Indeed, liquidity in GASZ is very light and, while spot natural gas has rallied over the past three weeks, GASZ has dropped 30% in relative terms as contango in the futures curve has eased somewhat.
Until the natural gas futures curve begins to normalize, perhaps the best way to position for a long-term, bullish natural gas view is through the equities of companies exposed to natural gas prices. While gas drillers, such as those owned by the First Trust Revere Natural Gas ETF (NYSEARCA:FCG), provide the most obvious exposure, merchant power generators are also leveraged to natural gas prices and trade at more attractive valuations. Two such companies, Exelon Corporation (NYSE:EXC) and Entergy (NYSE:ETR), trade at price-to-earnings ratios of 12.8 and 11.7 and yield 4.1% and 5.5%, respectively, versus FCG's average P/E of 17.4 and 1.4% dividend yield.
Disclosure: I have no positions in any stocks mentioned, and no plans to initiate any positions within the next 72 hours.