Remember the Industrial Revolution that we learned about in high school history class? That particular revolution has given way to several other economic movements and in today's technology-centric, social media-heavy marketplace, some investors, particularly the younger ones, might think industrial companies are a thing of the past.
That's just not true. Industrial firms remain some of the largest companies in the world and an integral part of the business food chain in the U.S. and in global developed and emerging markets. Intimately levered to the health of the global economy, industrial firms may be stodgy, but they can deliver strong returns and sometimes, decent dividends for patient investors.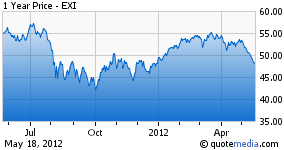 Fortunately, there are plenty of ETFs with which investors can access the industrial sector. When it comes to U.S.-based industrials, the Industrial Select Sector SPDR (NYSEARCA:XLI) dominates the conversation, but for those investors that want a little global exposure would do well to evaluate the iShares S&P Global Industrials Index Fund (NYSEARCA:EXI).
Before rushing into the iShares S&P Global Industrials ETF, just because it has "global" in its name, just how global does this ETF need to be? As in it's not as global at the country level as one might think because the U.S. accounts for almost 52% of the country weight. Japan accounts for another 15.3%, the U.K. garners an allocation of 5.2% and France receives a weight of 4.3%. In the case of those three countries, that's a serious red flag regarding EXI because the economies there are in much worse shape than what we're seeing in the U.S.
In fact, it's fair to say a couple of other of EXI's country components are teetering on the brink of recession. No matter how you slice it, there's no getting around the fact that approximately of EXI's country exposure lies in Europe and that's not the place to be these days.
Regarding individual holdings, eight of the top 10 are U.S.-based firms and five of those eight are Dow stocks. Familiar names include General Electric (NYSE:GE), UPS (NYSE:UPS), 3M (NYSE:MMM), Caterpillar (NYSE:CAT) and Boeing (NYSE:BA). Overall, EXI holds 186 stocks, most of which are U.S. companies that do business overseas (that's how iShares gets away with calling it a global ETF.)
The global exposure cuts both ways, meaning it works until it doesn't. In a market environment that isn't rewarding risk while punishing global stocks at the same time, EXI's higher beta compared to XLI's isn't working in investors' favor. That explains why in the past month EXI's decline is about 180 basis points higher than XLI's.
EXI features the better yield in this pair, but neither fund can be called a dividend dynamo and it should be noted the SPDR Dow Jones Industrial Average (NYSEARCA:DIA) has a strong yield. If EXI falls to $44 and finds support there, it could be worth a nibble. That's the rosiest near-term outlook we can come up with.
Disclosure: I have no positions in any stocks mentioned, and no plans to initiate any positions within the next 72 hours.