Japan's ministry of finance is the most notorious manipulator of inflation data, and for good reason. Japan's outstanding public debt is 776 trillion yen ($7.25 trillion), or roughly 147% of gross domestic product, the highest among leading industrialized countries. In order to keep its interest rates and debt service costs low, Tokyo's uses fuzzy math to calculate it inflation rate, to provide the Bank of Japan with the political cover to peg its overnight loan rate at an abnormally low 0.50 percent.
Japan imports almost all of its oil, or 4.2 mil bpd, and is the world's third-largest oil consumer after the US and China. Japan runs an industrial economy and is only 40% self sufficient in agricultural commodities, so 60% of its domestic demands for food and agricultural products are imported. Yet Tokyo claims that Japan's consumer price index is only +0.4% higher from a year ago, by far the lowest on the planet, despite a near doubling of food and energy prices from a year ago.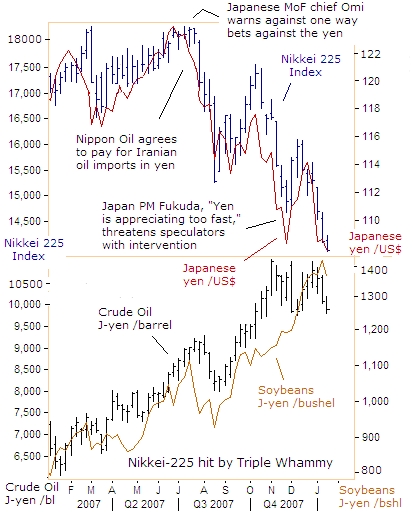 Japan has an enormous stash of cash, and can easily afford to pay for sharply higher prices for food and energy imports. Japan's current-account surplus, the widest measure of a country's financial performance on an international basis, expanded 46% to 2.2 trillion yen ($20.1 billion) in October from a year earlier. Japan's foreign exchange reserves rose 9% to a record $973 billion last year, and are the world's second largest behind China's $1.53 trillion.
Currency traders are attracted to the yen because of Japan's large external surpluses, but are also discouraged from buying the currency, because of abnormally low interest rates for Japanese bonds. On the flip side, global traders have borrowed $1.2 trillion in Japanese yen at 1% or less, to purchase stocks and commodities on worldwide exchanges, popularly known as the "yen carry" trade.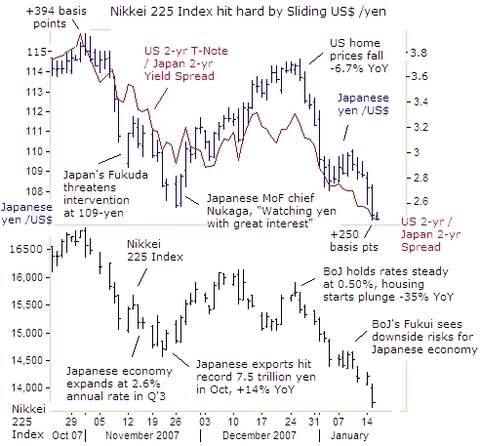 Recently, the US dollar has been tumbling against the yen, because the US Treasury's 2-year note yield has plunged from +394 basis points above the Japanese 2-year yield to as low as +250 bp over the past two months. And in a chain reaction, Japan's Nikkei-225 plunged to a 26-month low, as key exporters sank on fears of a possible recession in the US market and the surging yen. A weaker dollar will hurt exporter profits earned in the US, when converted back into yen.
Thus, unilateral Fed rate cuts have become a big headache for Tokyo's financial warlords. Yet Japanese finance officials were surprisingly silent this week, as the dollar fell below 109-yen, previously regarded as the MoF's red line in the sand, where intervention was expected to defend the dollar. The lack of intervention raises the possibility that Tokyo may have acquiesced to a stronger yen, in order to help dampen the high cost of imported food and energy.
Traders might probe the dollar's downside, until subtle threats of intervention are sounded out by the MoF. There is also simmering speculation that the BoJ might lower its overnight loan rate to zero percent, after BoJ chief Toshihiko retires in March. The yield of two-year Japanese government bonds fell to 0.60%, just 10 basis points above the overnight call rate target.
A rate cut to zero percent could raise speculation of the BOJ returning to "quantitative easing", a policy of force-feeding banks with excess cash to kick-start the economy. Annual growth in Japanese bank lending has slowed to +0.1% from a year ago, indicative of an anemic economy. Odds are rising that the world's second largest economy is slipping into recession, led by weaker exports to the US.