Apple (NASDAQ:AAPL) has experienced an extremely volatile 2012 with five percent price swings becoming the modus operandi rather than the exception. I have recommended option strategies on Apple since 2010 with positive results (remember past performance is not indicative of future results). For reference, please view the first and other articles in the series to fully understand the strategy and its strong potential returns. This strategy is oriented towards long term investors with the objective of simultaneously generating income and reducing your effective cost basis in the underlying stock. In essence the investment objective is to capitalize on Apple's volatility by selling out-of-the-money options to generate weekly income without sacrificing long-term returns. I perform a weekly analysis of Apple's stock, options, recent news, and competitive analysis. Even if you have no plans to engage in the options market this is your one-stop primer for the critical Apple developments from the past week.

(Source: Yahoo Finance)
A brief recap of this week in Apple, which was down $32.19 (-5.7%):
Apple slumped another five percent this week and has now fallen over $100 from its peak in April. Apple has declined in excess of five percent in three of the last five weeks and only rallied after reporting quarterly earnings in late April. The recent declines are not isolated to Apple as the broad stock market has slumped as well but Apple has gone through a rare period of underperformance. Apple may have faced added pressure as investors might have sold their Apple shares to raise funds to purchase Facebook (NASDAQ:FB) on Friday. Apple has so many positive catalysts on the horizon that I think it is uniquely positioned to succeed while other companies get mired by the global economy. As Europe slips into chaos it is important to remember that Apple only derived 23% of operating income from Europe in its most recent quarter. Apple is now an Asian-Pacific/Japan story as it derives most operating income from those geographic regions. The weekend Wall Street Journal has a great overview of What the Chinese Want that explains Apple's success in the country. It is only natural to be unnerved by the headlines coming out of Europe but remember that Apple is positioned to weather the upcoming storm.
One of my aptitudes as a technology analyst is my ability to parse through the countless Apple rumors to separate the plausible from the improbable. The new major product rumors that gained traction this week relate to the iPhone and iPad mini. With both the Wall Street Journal and Bloomberg effectively confirming a larger iPhone, I believe we are going to see not only a radical redesign but some other interesting new features. A larger phone opens the reopens possibility for Near-Field Communication ("NFC") technology like which is available in the new Samsung phones. I predicted that Apple would put this in the iPhone in 2011 but I believe it is inevitable. The climate is slowly shifting towards supporting such technology and one winner could be NXP Semiconductors (NASDAQ:NXPI) which makes the chips that drive NFC. The company's stock has already appreciated 28% this year so now might not be the most advantageous time to buy.
I am still torn regarding the iPad Mini rumors but I am starting to put some credence to the fact that the device will see the light of day. As I have said in the past, Apple is notorious for being willing to cannibalize its own products rather than having competitors steal market share. A smaller iPad could reduce sales of the iPod Touch and iPad but if the profit margin of the new device is comparable then Apple will still benefit. If the consumer demand is present then sales will follow, the only question is whether Apple will be the benefactor or not.
Below I present three possible scenarios and the potential returns for the Apple options. The first scenario represents a negative outlook for Apple while the final two scenarios are more reasonable. These scenarios are just projections and there is no guarantee that they will come to fruition. Even if you are optimistic it is important to consider both positive and negative circumstances in order to stress your assumptions. As a general rule, selling calls with higher strike prices has greater potential return but additional risk of loss due to the lower (or lack of) downside protection. For more information on the fundamentals of covered calls, consult Investopedia.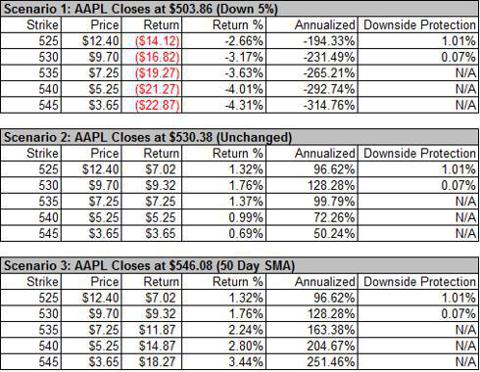 Additionally, if you would like even more information, I have prepared a sensitivity analysis for absolute return and percent returns, respectively. After studying the information above, these two charts make it easy to pick a strike price based on where you believe Apple will close at the end of the week. Estimate where you believe Apple will close and select the strike price with the highest return.

With this information, executing a buy-write on AAPL May 25 (Weekly) 550s is the optimal risk-return strategy as an opening Apple transaction. If you are uncomfortable with this strike I would consider a buy-write in the range of 530-560. This makes for an excellent trade if you are currently not long Apple; however, if you are a long-term Apple investor I would not sell any calls this week as Apple has declined so significantly in the past month. Even if you are extremely bullish you can still profitably sell covered calls; Apple is volatile enough that you will have opportunities to repurchase on further dips. An alternative approach is to sell out-of-the-money 530 puts and collect the premium without having to purchase the stock outright. Note that if the stock declines to the strike price, you are obligated to buy the stock (or closeout the position). You should always consider the risk factors (particularly with naked calls or puts) raised in this article in light of your personal circumstances (including financial and taxation issues) in consultation with your professional financial adviser.
Disclosure: Author is long AAPL, FB, and VZ.