Galena (NASDAQ:GALE) is a biotechnology company focused on discovering, developing and commercializing innovative therapies addressing major unmet medical needs using targeted biotherapeutics. The company is pursuing the development of novel cancer therapeutics using peptide-based immunotherapy products, including their main product candidate, NeuVax, for the treatment of breast cancer and other tumors.
Introduction to cancer vaccines
According to the company website. Interest in using the patient's own immune system (i.e., nature's own defense system against foreign or harmful elements), for the treatment of cancer dates back more than a century, when immunologist Paul Ehrlich (1900) first proposed the use of targeted antibodies as magic bullets against malignant tumors. However, recent advances in immunology and vaccine technology in the last decade have finally advanced the field towards making this vision a reality for patients. Following a number of disappointing efforts and clinical failures, the field of cancer immunotherapy, in particular cancer vaccines, received a significant boost with the recent approval of Provenge® (sipuleucel‐T) for prostate cancer in 2010. This success has reinvigorated the field in academic labs as well as commercial labs and has highlighted both the opportunities and challenges for cancer vaccines. In particular, the strategy pioneered by Dr. George Peoples of pursuing the use of cancer vaccines for the prevention of recurrence, pursuing indications with a low biological gradient, has resulted in a number of programs demonstrating early efficacy and significant promise.
I see 5 reasons to take a closer look at Galena Biopharma.
1. NeuVax is currently at Phase III trial for breast cancer
NeuVax consists of the E75 peptide derived from HER2 combined with the immune adjuvant granulocyte macrophage colony stimulating factor (GM-CSF). Treatment with NeuVax stimulates cytotoxic (CD8+) T cells in a highly specific manner to target cells expressing any level of HER2. NeuVax is given as an intradermal injection once a month for six months, followed by a booster injection once every six months. Based on a successful Phase II trial, which achieved its primary endpoint of disease free survival (DFS), the Food and Drug Administration (FDA) granted NeuVax a Special Protocol Assessment for a Phase III clinical trial in adjuvant therapy of women with low-to-intermediate (also known as HER2-Negative, not eligible for Herceptin) status, according to the NeuVax website.
The PRESENT (Prevention of Recurrence in Early-Stage, Node-Positive Breast Cancer with Low to Intermediate HER2 Expression with NeuVax Treatment) study is a randomized, multicenter, multinational clinical trial that will enroll approximately 700 breast cancer patients.
The study was initiated at January 20th 2012. The study's primary endpoint is 36 month Disease Free Survival .
The company was granted a patent that covers the use of NeuVax for treating Phase III target population of low-to-intermediate (IHC 1+/2+) HER2 patients on March 20th 2012. The patent provides exclusivity for this indication until 2028.
2. Neuvax targets sales of over $5 billion
According to the National Cancer Institute, over 200,000 women in the U.S. are diagnosed with breast cancer annually. Of these women, about 75% test positive for Human Epidermal growth factor Receptor 2 (IHC 1+, 2+ or 3+). Only 25% of all breast cancer patients, those with HER2 3+ disease are eligible for Herceptin® (trastuzumab; Roche-Genentech (OTCQX:RHHBY)) which had revenues of over $5.5 billion in 2011. NeuVax targets the remaining 50% of low-to-intermediate (also known as HER2-Negative, not eligible for Herceptin) who achieve remission with current standard of care, but have no available HER2 targeted adjuvant treatment options to maintain their disease- free status. Excerpt from the NeuVax website.
NeuVax Target Market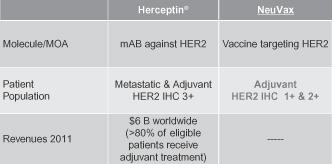 If the vaccine works in that lower level of HER2-Negative group, then Galena can go look at other cancers that are not being targeted by Herceptin. Those other cancers are anything that comes from an epithelial cell, which are the big cancers like lung cancer, prostate cancer, colon cancer, some blood cancers, ovarian cancer, and gastric cancer. The vaccine has been tested in prostate cancer. Galena is also currently testing its Folate Binding Protein (E39) in ovarian and endometrial cancer. The company's candidates have the potential to treat several other cancer types, including both lung and colon. Although, that is a possibility for future trials.
3. Production costs of NeuVax are very low
In addition to having a massive potential market, the production cost of NeuVax is quite low. NeuVax is produced for less than $1,000 per dose, which reflects the potential for very large margins considering Dendreon's (NASDAQ:DNDN) Provenge has an off-the-shelf product being produced for roughly $20,000.
The process of manufacturing NeuVax is relatively simple and can be accomplished using standard peptide synthesis techniques and automated methods. This results in cost of goods that are potentially significantly lower than both antigen-specific and polyvalent/whole-cell vaccines, which have increasingly complex manufacturing schemes.
4. Enough cash to last until the second half of 2013
With additional funding from company's April financing and the recent exercises of a majority of outstanding warrants, Galena has approximately $25 million in cash as of April 30th.
On February 17, 2012, the company entered into a Controlled Equity Offering sales agreement with Cantor Fitzgerald & Co., pursuant to which the company may offer and sell from time to time through Cantor shares of their common stock for an aggregate offering price of up to $10 million.
5. Plenty of upcoming milestones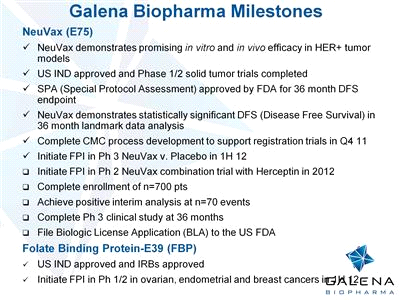 During H1 2012, the company will commence a Phase II trial comparing NeuVax in combination with Herceptin (trastuzumab) versus trastuzumab alone, in a 300-patient, randomized study in the adjuvant breast cancer setting. Galena Biopharma and Genentech/Roche through the Henry M. Jackson Foundation are funding the trial. Each company will provide their respective drugs for the trial and approximately half of the funding necessary to complete the trial.
Galena will give 2 presentations at the American Society of Clinical Oncology (ASCO) 2012 Annual Meeting. The annual event is being held June 1-5, 2012 in Chicago, Illinois.
"Safety and Long-Term Maintenance of Anti-HER2 Immunity Following Booster Inoculations of the E75 Breast Cancer Vaccine" (Abstract #2529) will be presented during the poster session on Saturday, June 2nd.
Galena will also be hosting a panel entitled, "HER2 Targeted Cancer Therapies" on Monday, June 4, 2012. The panel presentation will include an update of results from the NeuVax Phase I/II clinical trial, and an update on Galena's current Phase III PRESENT study.
Conclusion
The stock has found support from its 200 day moving average and has a bullish price objective of $9.88 from the Point and Figure chart. I believe the main catalyst going forward is the PRESENT study results. The first major news regarding the PRESENT study should be the complete enrollment of 700 patients, which could happen this year or the next. The company is also presenting data at ASCO in June 2012.
Disclosure: I am long GALE, OTCQX:RHHBY.