Barclays (NYSE:BCS) today announced the sale of its $6.1 billion dollar stake in asset manager Blackrock (NYSE:BLK). BCS has held the stake for nearly three years. As shown by the chart below, BLK shares are slightly higher than where they were three years ago.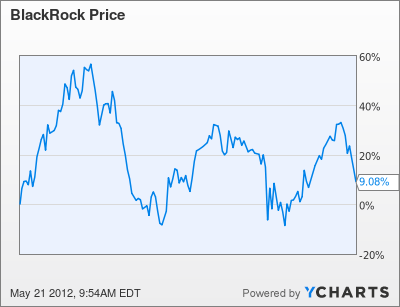 Sale Price
BCS is selling BLK at a price that is reasonable. The stock is not near its lows and not near its highs. However, I believe the sale price was not that important for BCS as the British bank wanted to raise capital.
Rationale
Considering the situation in Europe, BCS probably realizes that things are about to get very difficult over there. In the end, the entire European banking system will likely need to be recapitalized. For BCS, selling its BLK stake represents a good way to raise capital. The alternatives would have been to issue debt, or do a large stock sale. Considering that access to the credit markets has become difficult for European banks, and the stock price is very depressed, this deal makes sense.
Non-Core Asset
While the BLK stake was large, it was by no means a core asset. BCS had no real reason to hold on to the stake.
Conclusion
BCS sale of its BLK stake comes at a good time as the sale price is fair and BCS needs the capital. BCS shareholders should view this as a good decision because the bank is now in a better capital position than most of its peers.
Disclosure: I have no positions in any stocks mentioned, and no plans to initiate any positions within the next 72 hours.