The gaming industry is in turmoil. The unexpected quarterly results of the past weeks have led to big moves in the share prices of various companies such as Electronic Arts (NASDAQ:EA), Zynga (NASDAQ:ZNGA) and Activision Blizzard (NASDAQ:ATVI). To assist the Seeking Alpha reader, and in reaction to Daily Finance's "How Low Will EA Go," I will mention the pros and cons of Electronic Arts at this very moment -- especially concerning its upcoming lineup of games. Are these games, in fact, truly art? I, for one, think not.
Click to enlarge images.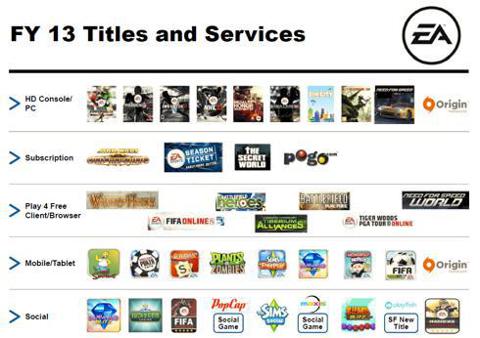 Source: Electronic Art's Q4 2012 earnings slides.
Current Situation
Mobile, Social, and Free-to-Play Games
During the last earnings call, no significant revenue stream was given by the Mobile, Social, and Free-to-Play (F2P) segment. For example, merely 6.36% and 8.60% of total revenue (GAAP and non-GAAP revenue, respectively) is generated by Mobile platforms. Electronic Arts has yet to gain mobile momentum as 66.4% of the revenue still comes from consoles. For example, one F2P game, "The Sims Social," failed to create large-scale hype, and mobile apps such as the "World Series of Poker" aren't going to generate any significant revenue stream either because the world of apps is massive and full of low-priced competitors. Note that this concerns mobile platforms and browser games, but what about Electronic Arts' publishing side and, more importantly, its digital revenue?
Origin Platform
Let's face it, Origin (Electronic Arts' gaming platform for PC and Mobile) isn't gaining the amount of steam as Electronic Arts was expecting. Given that gamers are indeed looking for a single platform with great titles, it seems as if Valve's Steam platform has lived up to expectations. By hosting a great variety of popular games such as "Portal 2," "Skyrim," "Risen 2," "Call Of Duty," and "Max Payne 3," it has further enhanced its monopoly position on digital distribution. Due to Steam's success it keeps growing day-by-day, providing daily offers to gamers worldwide. To illustrate, there are more than 4 million gamers online as we speak, according to the Steam website.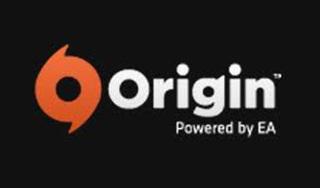 Subscription Games
Subscriber numbers are dwindling on the "Star Wars" MMO (a massively multiplayer online game), going from 1.7 million down to 1.3 million. The worst thing is that the measured date of those numbers is unclear, and gamers are reporting wasteland servers, according to the SWTOR community. With "Star Wars," the trend downward has been set and will likely fall further, but what about "The Secret World," set to be released June 2012? I follow the community and, in my opinion, this is once again an unfinished product to be released too early, with too many bugs and not enough end-game content. This is debatable, but even then one should agree that the MMO market is overloaded with games.
Future Situation
In June, the "Battlefield 3" downloadable content (DLC) "Close Quarters" will be released. "Battlefield" has a loyal fanbase, which will likely purchase this add-on. While I do see potential, it will not generate more than 150% of the already generated revenue by digital sales (see the image below). I, for one, do not see how a game that has been out for almost a year will be able to generate over 150% more revenue than it already has.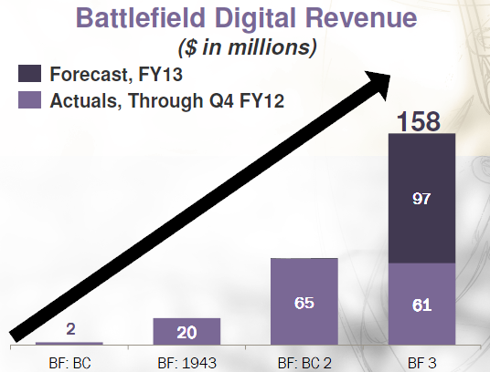 Is this a realistic forecast? Source: Bank of America Merrill Lynch 2012 Conference, May 9.
Regarding the digital revenue, Electronic Arts said in its Q4 2012 earnings report that "the company recognizes the revenue from the sale of these games and content over the estimated online service period." That means this specific revenue stream can be incorrect on a non-GAAP basis.
Classic Franchises
"Need for Speed," "Madden," and even "The Sims," once beautiful and innovative franchises, are now seeing what seems like their thousandth releases and the crowd is slowly losing interest. Therefore, their revenue will possibly turn out to be lower. Once again, I'm not saying that these franchises will not sell at all. However, the amount of sales will dwindle on what could possibly be a large scale. In this business, and with these casual games, once you're not the popular game anymore -- you're out.

Luckily, it is a totally different story for both "Medal of Honor: Warfighter" (out in October 2012) and "Crysis 3" (out in spring 2012). These long-awaited games will generate some much-needed revenue. These games will at least do decently, if not outstanding (maybe even in Europe). As stated often in the game industry, the highest amount of earnings will be made in the last quarter of the year.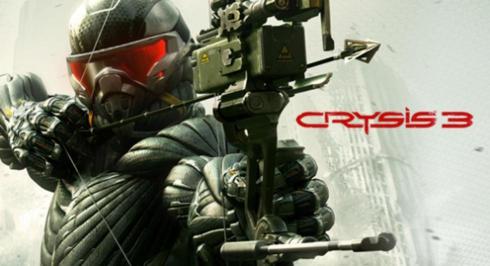 Financial Perspective
Electronic Arts' lineup for the upcoming year is relatively bad, and at the same time the company is eating away its cash (see the table below). Whether this is used to generate future revenue or wasted on bonuses is yet to be seen.
| | | |
| --- | --- | --- |
| Three Months Ended March 31 | 2012 | 2011 |
| Net cash provided (used in) financing activities | (248) | (40) |
| Effect of foreign exchange on cash | 12 | 21 |
| Increase (decrease) in cash | 51 | 226 |
| Beginning cash and cash equivalents | 1.242 | 1.353 |
| Ending cash and cash equivalents | $1.293 | $1.579 |
Next to the cash, another worry were the statements and additional losses made in the latest quarterly report. See exactly what has been left out of the recent non-GAAP results due to their non-recurring likelihood:

Source: Electronic Arts' Q4 2012 earnings report.
In the previous two fiscal years, an overall loss has been made on a GAAP basis. In my view, the GAAP full-year earnings per share (EPS) will be (once again) bad this year -- worse than the guidance GAAP EPS between (0.16) and (0.36).

Electronic Arts' Q4 2012 earnings report.
Conclusions
What worries me the most is as follows: First, Electronic Arts has shown us exactly what it will release for the coming two years, and second, no surprises are mentioned. As a result, Electronic Arts will continuously try to live on old, crippled franchises ("Need for Speed," "Madden," and "Sims"), while some much-needed fresh franchises are required. Still, some of the older franchises will continue to innovate ("Crysis," "Medal of Honor"). So, yes, it can be done, but I doubt Electronic Arts will be able to stimulate that for the future.
Following the points made for the individual games and platforms, this leads to my expectations of the coming year (Electronic Arts' fiscal year 2013):

In all, most of Electronic Arts' future lineup turns out to be kitsch rather than art. In the end, just a few games will, in my view, turn out to be art (such as "Mass Effect 3," "Medal of Honor," and "Crysis"), but overall the quality of the games is too low to generate sufficient revenue in difficult times, let alone to make a decent profit. Therefore I would recommend a short position, given the risks (in this case, the pluses) mentioned above.