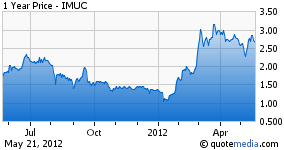 In two weeks more than 25,000 cancer specialists will come together at the annual ASCO meeting in Chicago. There will be 1,000's of scientific abstracts released, and investors will pay close attention as the meeting always produces a number of market moving developments. I am looking most forward to the developments surrounding glioblastoma multiforme (GBM), which is one of the most deadly forms of cancer known to man, that has recently seen several medical breakthroughs. This year alone there are over 150 posters and presentations on GBM, but none coming close to the survival data over a four year period of ICT-107, a cancer stem cell targeting product being developed by ImmunoCellular Therapeutics (NYSEMKT:IMUC) a small biotechnology company that is seemingly one step ahead of the competition. With that being said let's take a look at this company and break it down to determine what contributes to its stellar clinical results.
IMUC is a small biotech company that has received a lot of attention as of late. The stock has doubled in 2012, and has traded with a gain of 4% in the month of May despite the market's loss. The company is developing candidates with unheard of success and is succeeding where other companies have struggled. The company develops drugs to treat cancer stem cells (CSCs) with immunotherapy. The use of treating CSCs is still a fairly new concept, but is showing much improvement compared to cancer treatments of old, such as chemotherapy and radiation. However, because it's a fairly new concept for treating cancer it requires a significant amount of trial and error; but what is so exciting about IMUC, is that it's learning from its competitor's mistakes and is developing drugs that appear to be one step ahead of the competition.
CSC History Lesson
Up until recently, cancer treatments were largely considered a disappointment; standard treatments such as radiation and chemotherapy have saved lives but haven't yet taken the next steps in treating this constantly mutating disease. The idea of treating cancer by targeting cancer stem cells is fairly new as new evidence demonstrates progression of cancer and metastasis is primarily driven by this small cell population. Glioblastoma is especially relevant battleground because GBM cancer stem cells are most well characterized as several labs have demonstrated ability to isolate these and have validated that only these cells can produce tumors in mice.
CSC Recent Developments & Excitement Within The Industry
Over the last year we have seen substantial optimism surrounding the treatment of cancer via CSCs. There have been several big purchases with both Biovex and Micromet (NASDAQ:MITI) being acquired for over $1 billion by Amgen (NASDAQ:AMGN), and most recently Boston Biomedical being purchased for more than $2.5 billion, which shows the level of interest among big pharma. Even newly formed companies such as Verastem (NASDAQ:VSTM), which is in pre-clinical stage, began trading with a very attractive valuation of more than $200 million, thanks to the new found level of optimism for this area of treatment. And just recently, OncoMed, another CSC targeting company with phase I product candidates announced that it has filed with U.S. regulators to raise up to $115 million in an IPO, more than twice the amount Verastem raised. OncoMed also has the support, and money, of large companies GlaxoSmithKline (NYSE:GSK) and Bayer (OTCPK:BAYRY), despite being very early in the clinical phase. These early stage companies such as Verastem and OncoMed are several years behind companies such as ImmunoCellular, Galena Biopharma (NASDAQ:GALE), and Celldex (NASDAQ:CLDX), which have all been among the best performers in 2012, further illustrating the level of excitement surrounding this industry.
Intro to ImmunoCellular Therapeutics
For those of you who are unfamiliar with the sub $110 million company, ImmunoCellular Therapeutics, allow me to provide some brief insight into what makes the company so special. Its lead candidate, ICT-107, is a Phase II drug that treats glioblastoma, which is a very deadly form of brain cancer. In the U.S., approximately 13,000 people die from brain tumors each year, which accounts for 2% of all cancer related deaths. These tumors are very aggressive, grow very rapidly, and have few successful avenues of treatment, with the average life expectancy being only 14 months. In the past we have relied on surgery, chemotherapy, and radiotherapy as primary treatments, but the problem with treating glioblastoma is that these treatments are all unsuccessful in removing the root of the cancer allowing it to recur even after the tumor has been removed.
The secret behind ICT-107 and its ability to treat glioblastoma with such success revolves around its ability to treat the root of the cancer, the cancer stem cells which are primarily responsible for tumor progression. It uses immunotherapy to activate the body's immune system and helps locate the cancerous cells without harming healthy cells. The entire process is quite amazing as this has no toxicity and it is using our natural defense mechanisms built over thousands of years to fight this disease as opposed to chemotherapy that actually compromises immune system. One way in which it has been so successful is because it has learned from the previous mistakes in the treatment of cancer over the past 30 years.
Targeting Multiple Antigens is the Key
One of the most significant problems in treating cancer is the disease's ability to mutate and transform over time. Each time a cancer cell divides, it has potential to change antigens presented on its cell surface. Dendreon's (NASDAQ:DNDN) approved drug Provenge only targets PAP on prostate cancer, but if PAP expression is switched off by cell, it will no longer be effective. The same is true for Celldex's brain tumor vaccine targeting EGFRvIII. Data from Duke University has demonstrated that after a year of treatment, EGFRvIII expression switches off in some patients potentially making the vaccine ineffective. One of the primary reasons that I am bullish on the future of ICT-107 is because it has been developed to treat 6 antigens and IMUC is constantly upgrading its intellectual property with new antigens for testing in additional disease indications. Therefore, it is possible that in the coming years we could learn that ICT-107 and its variant forms not only treat glioblastoma but also many forms of cancers.
Controlling Costs is Important
Unfortunately, Dendreon's Provenge is the simplest comparison to ICT-107 because it is the first approved immunotherapy drug. Therefore, I like to look at what Dendreon did well during its development of Provenge, and what it did wrong, that other companies can learn from. One area that I bet Dendreon wishes it could correct is the cost of the drug. Not only is the drug expensive at $93,000 for a full course of treatment, but it has high costs of production for the company. During its most recent quarter, Dendreon had a cost of goods (COGs) around 75%, which is not sustainable under any measure of success. The main driver of cost has been three separate blood collection to vaccine production campaigns done over a 2-month period. IMUC is using third generation dendritic cell manufacturing processes allowing it to manufacture up to 30 doses of vaccines in a single production run and will have a cost-per-dose of less than $1,000, according to the company. This ultimately means that it will be much cheaper to produce ICT-107 compared to Provenge and that IMUC's margins will be much higher while Dendreon will most likely have a hard time with margins because of its high costs.
Clinical Results
The treatment of brain tumors is a popular area of research for several small biotech companies. Up until recently it was an area of treatment that was almost considered hopeless, but with new technology, glioblastoma treatment along with other cancer treatments now seem to have hope in the near future.
With standard of care alone, GBM median survival is only about 15 months. Addition of Avastin after recurrence seems to increase this to about 18-20 months. The new data being presented at ASCO on Avastin shows 18-22 months of median survival depending on the particular studies. The data presented on CDX-110 (ACT-III) in the past has shown a median survival around 24 months. What makes ICT-107 data stand out in this race is a median survival of 38.4 months although from a small trial. More impressively, a recent ASCO abstract shows 40% of patients continue to be disease free beyond 3.5 years with longest surviving patient at over 5 years. The other GBM trials from other drugs have a 10-15% disease free rate at 3-year mark (compared to 5% for standard of care). ICT-107 abstract also shows reduction in CSC levels in patients who went through the second surgery providing some validation to their targeting CSC hypothesis. In addition, the abstract shows a direct correlation between antigen expression and its susceptibility to attack by the vaccine resulting in better survival. With interim data on ICT-107 expected in less than a year, a validation of its earlier data would be a huge leap into the future of cancer treatment as the goal is being shifted from increasing survival by a few months to be able to control/eradicate at its root.
Conclusion
In a recent interview with Brian Nichols the CEO of IMUC Dr. Singh stated "I truly believe Dendreon was instrumental in opening the doors for small companies like us to build the next generation of immunotherapy product by building on its success." IMUC is taking immunotherapy from where Dendreon left to its next logical step by using better designed dendritic cells, targeting CSCs, using multiple antigens and building an efficient manufacturing process to control costs. While most oncology companies continues to be focused on a single pathway or a single target on cancer cell, in my opinion, IMUC is one step ahead of others in the space by dealing with tumor mutations and evasion from drugs which has been one of the biggest issues in the past.