It is already an established fact and a favorable notion that the majority of business endeavors start primarily with the ambition of profitability, followed by the aspiration of building a relevant, sustainable and successful operation. However, projecting success in business versus achieving it remains irrefutably complex. These two elements are consistently difficult to attain and represent a systematic challenge for those involved. That's why obtaining financial and operational success of a company requires a carefully designed and calculated approach with a strategic direction to deliver on objectives.
The strategy, from a business perspective, should be based on the premise of ensuring long-life rather than a myopic concentration on the short term, low cost yet high quality assets; profitability throughout the inevitable economic cycles, diversification, growth, expansion and lastly, a robust governance structure in place to implement the necessary philosophy and management concept in creating shareholder value.
Undeniably a monumental task. However, if measures are identified in locating a company's potential and ability to create value while gaining broad exposure, then the speed of execution impacting the transformation process with a clear articulation of a strategic direction is the only obstacle remaining in the way of success.
One company which has not only structurally but quite constructively capitalized on these measures is Melbourne based BHP Billiton Ltd (NYSE:BHP).
The merger between BHP and Billiton Plc on June 29, 2001, resulting in BHP Billiton Limited as the world's largest diversified commodities firm in the resources industry, has created a company which is not only a top producer of energy-related products, but also an exceptionally well managed, low-cost and high quality asset based business.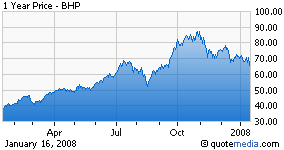 BHP is the third largest producer of nickel, the world's second largest exporter of energy coal, a leading supplier of core steelmaking materials and one of the world's top five producers of uranium. Because of its size and a substantial oil production business worth noting (it is one of the company's fastest growing segments), BHP has the widest spread of products globally, selling more than twenty different commodities while engaging in mining, drilling and processing of mineral resources, this way giving investors a stake practically in every major commodity.
As a global organization, BHP has implemented a constructive business model in place, organizing its customer sector groups into nine main business segments including Petroleum, Aluminum, Iron Ore, Base Metals, Manganese, Carbon Steel Materials, Diamonds and Specialty Products, Metallurgical & Energy Coal, and Stainless Steel Materials. By operating on six continents and in 25 countries across the world, BHP, through its subsidiaries, maintains a central role in the global economy, continuously providing raw materials in support of global economic growth and social development.
Key Points
The world economy these last few years has experienced the highest rate of expansion in nearly thirty years. This trend, combined with the emergence of the developing economies driven by strong activity in Asia and Europe, has allowed many companies to generate positive operating results and financial performance.
Meanwhile, the highly cyclical aspect of the mining industry, along with the difficulty of covering its cost of capital during negative economic changes, remains a well-known phenomenon. However, a closer look into BHP's financials reflects a well capitalized company to weather considerable uncertainty regarding the magnitude and distribution of losses stemming from industry cycles and their impact on the company's broader financial stability.
Key Measures
BHP's strong balance sheet is reflected in key financial ratios: Revenues generated during fiscal year '07 reached almost $40 billion with a net income of $13.42 billion. Operating margins came in at 33.67%. Currently, return on assets stands at 15.59% followed by a solid 49.77% return on equity. Profit margins posted 34% return. Operating cash flows at almost $16 billion, suggesting that the company will continue spending in exploring and expanding its business, repurchasing shares and continue to raise dividends. Additionally, BHP's proposed combination with Rio Tinto (RTP) is another demonstration of the company's optimal goal and persistence in correlating returns across assets. This calculative approach will progressively benefit the company's bottom line and will further unlock value by creating an organization without peer in the industry.
In a demanding commodities market, BHP keeps running its assets at full capacity by controlling costs while increasing output in a safe and sustainable manner. It is important to remember that only six years ago, BHP's market cap stood at $28 billion. This full-year profit alone amounted to half of the company's 2001 market capitalization.
Conclusion
I believe that the global economy remains robust, pointing to further expansion on macroeconomic basis. This will inevitably benefit companies such as BHP with a business model concentrated on the premise of a globally diversified portfolio.
The global growth story is a view broadly consistent with IMF's current baseline scenario which continues to forecast solid growth ahead. That is not to say that the emerging markets, to some extent, don't represent a delicate balance between some economies experiencing rapid growth and some with only positive economic background. Certainly, these economic systems will have to minimize and eliminate system vulnerabilities, when possible, so that they don't build to more systemic levels. However, based on data, the overall economic global sentiment reflects a convincing consensus of continued global growth, profitability and that of healthy capitalization prospects over the medium term future.
I have a positive outlook on BHP's profit picture based on the favorable global demand for commodities. The company has undertaken various exploration projects, representing a $20 billion commitment. It's debt-light balance sheet combined with its free cash flow yield of 5% suggest that the company can continue to stimulate its growth through organic means while enhancing its production capacity, once operational. This, in conjunction with high commodity prices, provides a favorable backdrop for revenue.
Supported by favorable fundamental factors, look for the stock to reach above $108 levels within 12-18 months.
Disclosure: none