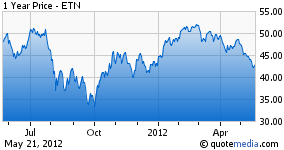 Eaton (NYSE:ETN) announced a large acquisition this morning. It is acquiring Cooper Industries (CBE) for a around $11.8B. This is around a 29% premium to Cooper's previous closing price. Eaton's stock is behaving well for the acquiring firm in early trading. One reason is that this is a key acquisition for Eaton and just one more reason to buy its stock.
Key factoids around the Cooper Industries union:
The company expects $535mm in synergies/cost savings by 2016.
Eaton expects this acquisition to add 35 cents to earnings for FY2014 and be 45 cents accretive to FY2015's EPS.
The acquisition will significantly grow its power business and expand its global reach.
4 reasons Eaton is a bargain at $43 a share:
The company is selling for 10 times operating cash flow and has a generous 3.6% yield
Eaton is priced at little over 8 times forward earnings, a significant discount to its five year average (12.9).
The stock has a very reasonable five year projected PEG (1.05) for a high yielder and was expected to provide revenue growth of 6% to 8% in FY2012 and FY2013 even before the Cooper Industries buyout.
The median price target by the 18 analysts that cover the stock is $59.50, about 40% above the current stock price.
Disclosure: I am long ETN.