Like every investor who is long stocks, I find myself growing fatigued at the continued market correction that is taking back much of the gains that I managed to achieve in the first quarter of this year. There appear to be multiple factors at work, creating investor anxiety from the uncertainty in Europe whether it's in Greece, Spain, Italy or England, or even domestically where discussion of another debt ceiling impasse threatens the fragile economic recovery in the U.S.
So what's an investor to do?
As I manage my "Buy and Hold" model at Covestor, I am doubly aware of this predicament as I seek to protect the performance of the model portfolio that is publicly shared daily with the knowledge that mirroring accounts are also affected by my own investment decisions. For me, this situation calls for attention to each holding within my portfolio and quickly parting ways with them as they develop evidence of weakness greater than the underlying market. I also try very hard to avoid incurring losses in my holdings so that the portfolio as a whole can stay profitable.
It is very helpful to consider the potential economic environment going forward as we structure our own investments in our own portfolios to avoid losses as much as possible and position ourselves for any possible stock appreciation. It is growing increasingly likely that our economy will echo the "double dip" that Europe is currently experiencing. If so, we should try to determine which stocks may be recession resistant in this environment.
As consumer's experience additional financial stress, it is likely that they shall once again look harder at value in their purchases. We shall likely see some flattening in the rebound of auto sales and with the continued aging of the elderly auto fleet in America, sales at auto parts stores like Genuine Parts (NYSE:GPC), a stock that I own, are likely to remain strong.
In terms of dining out, sales are likely to remain relatively strong at McDonald's (NYSE:MCD), a stock that I also own, and remain challenged at Sysco (NYSE:SYY), a food distributor that I currently don't own, as consumers once again pull back on their purchases and food prices pressure margins.
Soft goods firms that emphasize discounted goods will stay attractive to the stressed consumer, as companies like TJX Corp. (NYSE:TJX) will likely report continued sales strength. A company like J.C. Penney (NYSE:JCP), which is trying to move away from discounting toward being more of a premium retail firm, is finding it difficult to operate in that fashion in today's economic environment. America's great middle class is indeed under pressure.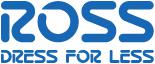 Ross Stores (NASDAQ:ROST) is a company similar in some ways to TJX in that it is managing to do well in this environment. Ross Stores closed May 18 at $60.66, up $.02 (.03%) on an otherwise down day and down week in the market.
According to the Yahoo profile on Ross Stores:
The company, together with its subsidiaries, operates off-price retail apparel and home fashion stores under the Ross Dress for Less and dd's DISCOUNTS brand names in the United States. As of Jan. 28, 2012, the company operated 1,125 stores, of which 1,037 were Ross Dress for Less brand stores in 29 states, the District of Columbia, and Guam; and 88 were dd's DISCOUNTS brand stores in seven states.
On May 17, 2012, Ross reported first-quarter results. To summarize, earnings came in at $.93, up from $.74 a year earlier. Sales for the quarter grew 14% to $2.357 billion and same-store sales increased a very impressive 9% during the quarter over the year-earlier period. The company also raised guidance for the full year to $3.26 to $3.37/share ahead of prior guidance of $3.12 to $3.27, and well ahead of the prior year $2.86 in fiscal 2011.
Reviewing Morningstar.com financials on the company, we can see that revenue has grown steadily from $6.0 billion in fiscal year ending January 2008 to $8.6 billion in fiscal year ending January 2012. During this same period diluted earnings/share have increased from $.95/share to $2.86/share. Outstanding shares have been reduced from 274 million in year ending January 2008 to 230 million in year ending January 2012.
Morningstar shows that the balance sheet as of January 2012 shows $1.92 billion in total current assets, contrasted with $1.35 billion in total current liabilities for a current ratio of 1.43. Free cash flow has increased from $117 million in year ending January 2008 to $404 million for year ending January 2012.
Yahoo's key statistics show this stock to have a market cap of $13.74 billion. The trailing P/E is a moderate 19.91 with a forward P/E (FYE Jan. 28, 2014) of 16.01. With solid growth expected, the PEG ratio (five-year expected) works out to an acceptable 1.38.
There are 226.5 million shares outstanding with 214.5 million that float. Currently as of 4/30/12 there are 3.62 million shares out short for a short interest ratio of 1.8. The company is expected to pay a dividend of $.56/share going forward with a resultant forward yield of 0.9%. This represents a modest payout ratio of only 15% leaving ample room for future dividend increases. The company did split its shares last year on Dec. 16, 2011 with a 2:1 stock split.
The company has a beautiful price chart, which, if anything, suggests the stock price may have gotten ahead of itself. Looking at the "point and figure" chart from StockCharts.com, we can see that the stock -- which traded as low as $10.50 back in November 2008 -- has rallied strongly since to a current level of $60.66.
Click to enlarge image.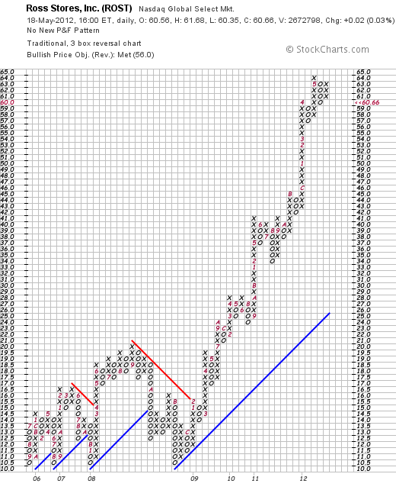 In summary, our economy is under stress and the American consumer is feeling the pinch and searching for value whether it be by delaying an auto purchase, dining at a more reasonable restaurant, or by shopping for clothes at a discount retailer.
Ross Stores is among a group of companies benefiting from this trend. It has shown strong price appreciation and continues to report strong financial results, while raising guidance going forward. It pays a small but increasing dividend and represents good value for the investor looking someplace to protect his or her investment dollars. I do not currently own shares but may well look for an entry into a position in this stock in the not-too-distant future.