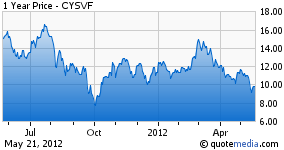 Canyon Services Group (OTC:CYSVF) once again reported stellar earnings for the 1st quarter 2012. The undervalued and under followed company is poised to increase earnings and their sector leading dividend. Canyon was able to beat analyst consensus EPS and able to maintain a sector leading net profit and EBITDA margin. Canyon is poised to beat earnings and EBITDA comparables in the 3rd and 4th quarters. In the spreadsheet below the reader can see how it compares in its 1st quarter results to its larger peers in the sector: Halliburton (NYSE:HAL), Schlumberger (NYSE:SLB), C & J Energy Services (NYSE:CJES), and RPC Inc (NYSE:RES). Canyon might not have been the best in all categories but it does have the highest profit margin.
Canyon Services Group 1st quarter revenue was $135,167mm versus $99,037mm year ago which is a 36% increase year over year. Net income came in at $37,167 compared to $30,118 for the 1st quarter 2011. This was a increase of 23% year over year. While Canyon Services had a strong 1st quarter, we believe Canyon will not only raise its dividend by more than 20% for the year it will also have a great 3rd and 4th quarter of 2012. We believe this for two reasons, the first being first being the increase of horsepower from the average of 140,000 horsepower in the 3rd quarter and 160,500 horsepower in the 4th quarter of 2011 to the anticipated 225,000 horse power during the 3rd and 4th quarters of this year. Second, is management's outlook in its MD&A, which they believe there will a strong demand for Canyon's service work and with the anticipated increase in horsepower along with deferred completions from wells drilled in the 1st quarter to the 3rd quarter. However, when you read through the MD&A discussions you find two conflicting statements by management.
"This resulted in Canyon's expanded equipment fleet operating at slightly less than full utilization in the first half of the quarter but at full utilization to the end of the quarter once customers' wells were ready for completion. With this back-end loading of completion activities in the quarter, the earlier than expected spring break-up resulted in numerous completions programs being deferred to the post spring break-up period, which is expected to augment demand for fracturing services when industry activity again resumes later in Q2 2012."

"The weaker well licensing activity of recent months will likely indicate lower industry activity in the post spring break-up period, but this could be partially mitigated by the back log of well completions previously discussed."

"It is the second-largest in the world, and from the service provider's perspective offers far superior supply-demand fundamentals to the largest market, the United States, and the number-three market, Russia. In Canyon's chosen market - Western Canada - we foresee long-term demand growth continuing to outpace supply additions."
This could be a challenge for most companies and yet, Canyon believes that it will be in a great position for having the newest equipment and a top notch workforce which will allow them to benefit with demand outpacing supply. Horsepower should be at 225,000 horsepower by the start of the 3rd quarter. This is an 84% increase to the average daily horsepower and an increase compared to the 4th quarter of 40% that should allow along with the increase in revenue per job to allow Canyon to perform in the coming quarters compared to last year's results and with this increase in cash flow from operations should allow for an strong increase in the dividend as well.