We're not going to beat around the bush -- we absolutely love Ellie Mae (NYSEMKT:ELLI). We're hardly alone though.
As you can see from the chart below, the stock price has shown extremely impressive growth. We first came to this company when we were looking for short candidates, but even casual analysis showed that ELLI, despite its significantly overbought condition, isn't a good short candidate.
Click to enlarge all images.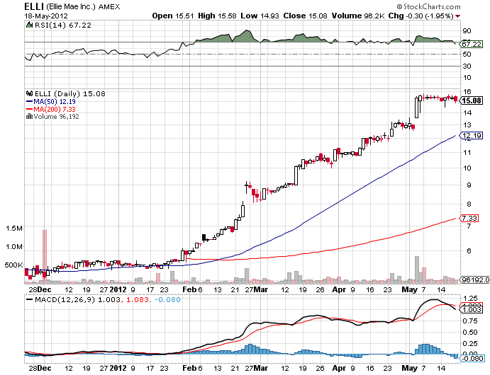 In fact, we don't think it's a short candidate at all. It's definitely a company that looks set to grow in the near future, with an entrenched position and numerous levers to propel it higher. Tom Peters, the well-known business guru, has even written a case study on the company.
What does the company do?
Here is the business description in its own words:
Ellie Mae is a provider of enterprise solutions, including an online network, software and services for the residential mortgage industry. The Ellie Mae Network, which we established in 2000, is one of the largest electronic mortgage origination networks in the United States and enables mortgage originators to securely conduct electronic business transactions with lenders and settlement service providers. Using our network technology, we have helped connect a fragmented world of mortgage bankers, mortgage brokers, community banks, credit unions, lenders and service providers, all of which are integral to the origination and funding of residential mortgages.
The industry
The mortgage industry is fragmented and rife with inefficiencies. Realtors work with "originators," which broker or sell the loan to big lenders like Wells Fargo (which then bundle them and sell them again to Freddie and Fannie, for instance). Below you can see how the market operates.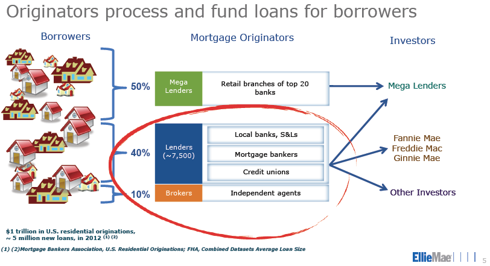 Here is a key bit of data (albeit from 2004):
The average loan is handled by 61 people, and requires 45 days to travel from application to funding. (Source: Tom Peters.)
It is this process fragmentation, inefficiency and waste that ELLI deals with. ELLI began with ePASS Business Center, an internet based platform that allows the players to instantly communicate, eliminating mountains of unnecessary paperwork (a source of error) and eliminating over 100,000 hours of wasted work by 2003.
It is akin to inter-industry business process re-engineering (BPR) or Lean Production, eliminating waste and unnecessary steps, inventory, and duplication, reducing the average cost per mortgage by nearly $3,000, according to Tom Peters (in 2004).
Newer estimates from Stephens still put the savings from moving a manual paper-based system to one that is fully electronic at $500 or 20% per loan. The discrepancy between those two figures is likely the result of waste that has already been eliminated in the meantime.
The company's products
ELLI operates in two segments, software and services and network transactions. The software includes ELLI's legacy product Encompass 360, but now also offers the same functionality as software as a service (SaaS). The latter already makes up just over half of the software revenues. More than 80% of the revenues come from the software segment.
The network transactions segment, the Ellie Mae network, provides lenders, investors, and vendors a common platform on which to submit and retrieve loan data and order a multitude of mortgage services from vendors, with ELLI generating revenues on a per transaction basis. This segment provides some 17% of revenue:
Ellie Mae Network: An electronic mortgage origination network that enables U.S. mortgage originators to securely conduct electronic business transactions with lenders and settlement service providers. We believe that about 20% of the nation's new mortgages originated every year are originated over the Ellie Mae Network. Connectivity to the network is integrated in the Encompass360 software.
Encompass360 Mortgage Management Solution: Enterprise software that supports mortgage bankers, mortgage brokers, community banks, credit unions and national and regional lenders throughout the entire loan process. The software includes connectivity to the Ellie Mae Network, electronic document management, reporting, integrated closing with closing document preparation services and a full CRM and provides users with control, visibility and transparency capabilities. The software is either licensed or provided as a full SaaS solution.
Encompass Closer: A closing document solution that integrates seamlessly with the Encompass360 software. With Encompass Closer, Encompass360 users benefit from having a single loan file from start to finish. Encompass Closer includes an extensive forms library, accurate on-screen calculations, automated auditing for errors and more.
Encompass CenterWise: An electronic documents and mortgage website solution. With Encompass CenterWise, Encompass360 users enjoy a complete eMortgage solution with electronic document management and personalized borrower portals that connect seamlessly with their software.(Source: ELLI.)
How the software platform is integrating all aspects of the process can be gauged from the figure below: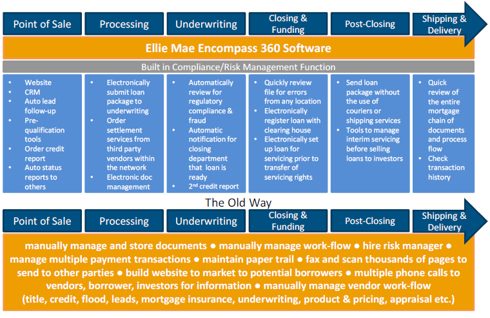 Some metrics
The figure below shows the last four years (and projection for this year), doubling the company in that space: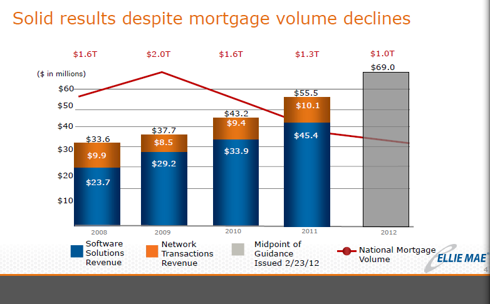 Increased guidance
The company issued increased guidance on May 2:
For fiscal 2012, revenue is expected to be in the range of $78.0 million to $79.0 million. Net income is expected to be in the range of $5.8 million to $6.3 million, or $0.26 to $0.28 per diluted share. Adjusted net income is expected to be in the range of $9.6 million to $10.1 million, or $0.42 to $0.45 per diluted share.
Due to some accounting rules, revenues from the latest acquisition, Datatrac, account for very little of the revenues. But this should be remedied in the time to come.
Growth opportunities
While you don't have to take the numbers in the graph below (from a company presentation) too literally, there is no question that this company has many drivers for growth: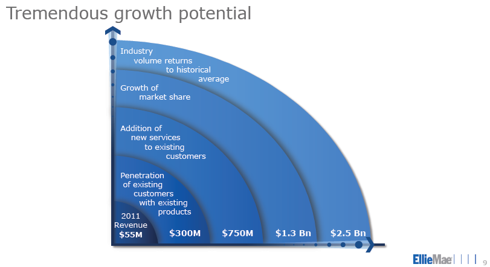 Here is another figure identifying these strategies: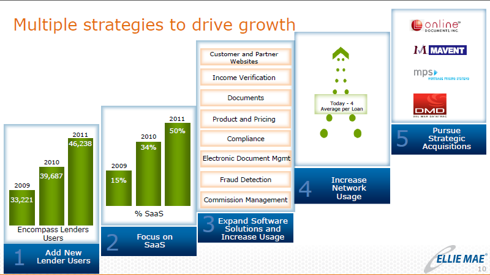 Growing need for ELLI offerings, and the changing compliance, disclosure and documentation requirements are strong drivers. Fewer than 1% of loans are currently processed completely electronically.
Consolidation, there is simply too much fragmentation in the industry, there is a move away from mortgage brokers toward lenders and this suits ELLI well.
Increasing revenue per user, from $218 per user at the start of 2009 to $337 per user at the end of last year (see chart below and table in the Q1 quarterly filing). A main driver here is SaaS adoption, which has been brisk. As SaaS adoption rises (now above 50% already), the company's valuation could be more akin to other, much higher valued SaaS plays.
Strong market longer term as the mortgage market recovers.
New products like the Total Quality Loan initiative.
Strategic mergers and acquisitions. The company acquired eight companies in the last decade. Last year, ELLI acquired Mortgage Pricing System LLC and Del Mar Datatrac, and there isn't any reason why it wouldn't acquire more companies in this fragmented industry
The successful based pricing (SBP) has already been a success and can be considered as a main attraction to get new clients (and upgrade existing clients to added functionality).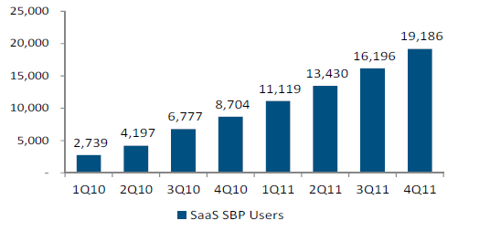 The new Total Quality Loan initiative (TQL) is still in the pilot program stage (amongst others by Wells Fargo), but testifies to ELLIs ability to keep on innovating. TQL provides greater quality assurance to mega lenders with respect to loans originated by customers.
Competition
There is a fair amount of competition, but few match the quality and depth of ELLI's offerings. Providing competing software are Calyx Software, PCLender.com, Mortgage Builder, ISGN Solutions, Harland Financial Services, and Byte Software. None of these are public companies, and none of them have SaaS platforms or all the bells and whistles that ELLI's software has.
Then there are so called point solutions which offer partial functionality like document managers, product pricing tools, appraisal workflow platforms and other compliance tools, but none of these offer the full functionality of ELLI.
Conclusion
The company seems to be on an inexorable growth path, propelled by multiple drivers. There is every reason to think this path will continue for the foreseeable future; in fact, something dramatic would be necessary to take it off such path. However, the valuation has already included much of this.
At $15 per share, the company is worth more than $300 million -- that's four times this year's expected sales, or 31 times earnings. That isn't cheap, but you pay for what you get. We'd advise buying on dips, though the demand for the shares is such that despite a considerable general market correction, ELLI shares have hardly budged.
Disclosure: I have no positions in any stocks mentioned, but may initiate a long position in ELLI over the next 72 hours.