As the European debt crisis heats up, and China tries to accelerate while transitioning to more domestic consumption, and as the US faces its fiscal cliff, and 50% of the world's GDP approaches scheduled political leadership challenges, it would be nice to be in or have a list of "weatherproof" companies to withstand an economic "storm".
A weatherproof company might be seen as one with a global footprint that has had less severe price declines in panic periods, that is not overlevered, that has high liquidity, and enough profit margin to absorb some revenue hit, positive cash flow, sales growth, above average dividend yield and dividend growth. And lastly, it would be nice if the analyst community thought the companies that had those attributes were also good choices.
Setting out on our search, we began by exploring the ValueLine 1700 and required that companies have these characteristics (the cumulative number passing the filter are shown in parenthesis):
did not decline more than 20% in 2008 (419 co's)
have a 3% yield (136 co's)
increased dividend by at least 35 for 1 and 5 years (55 co's)
have no more than 50% total debt to capital (27 co's)
have a profit margin of at least 5% (22 co's)
have a quick ratio of at least 1 (13 co's)
had positive free cash flow in the most recent year (10 co's).
We then use Morningstar to eliminate those with a worst 3-month total return in the past 10 years that was greater than negative 25%. That knocked the list down to 8.
Those 8 companies were then filtered by the ratings by four analytic services (ValueLine, Standard & Poor's, Reuters StarMine, and Wrights). We eliminated 6 of the 10 because of a negative aspect of the rating by one or more the services.
We required the ValueLine "Timeliness" and "Safety" to be at least neutral, and the estimated 3-5 year annualized total return to be at least 6%, and the financial strength rating to be A+ or better on their scale.
We required the Standard & Poor's "Stars" and "Fair Value" to be neutral or better and the financial quality to be A or better on their scale.
We required the Reuters StarMine rating to be Bullish or better (7.1 or better).
We required the Wright's rating for liquidity, financial strength and profitability each to be A or B on their scale, and the growth rating to be at least 5 on their 20 point scale.
The 4 companies that came through all that were:
| | |
| --- | --- |
| Chevron | CVX |
| Raytheon | RTN |
| Johnson & Johnson | JNJ |
| Abbott Labs | ABT |
These companies are not issue-free, but they deserve a deeper look.
The overall purpose of the test was to find reasonably "weatherproof" stocks, which these would seem to be.
Business Descriptions and Charts:
[The brief business descriptions are for quick reference only and are obtained from Reuters WorldScope via www.CorporateInformation.com. They are not presented as complete descriptions. For a complete description read the regulatory filings and material on their websites.]
Chevron Corporation manages its investments in subsidiaries and affiliates and provides administrative, financial, management and technology support to the United States and international subsidiaries that engage in petroleum operations, chemicals operations, mining operations, power generation and energy services. Upstream operations consist primarily of exploring for, developing and producing crude oil and natural gas; processing, liquefaction, transportation and regasification associated with liquefied natural gas; transporting crude oil by international oil export pipelines; transporting, storage and marketing of natural gas; and a gas-to-liquids project. Downstream operations consist primarily of refining crude oil into petroleum products; marketing of crude oil and refined products; transporting crude oil by pipeline, motor equipment and rail car, and manufacturing and marketing of commodity petrochemicals, plastics for industrial uses and fuel and lubricant additives.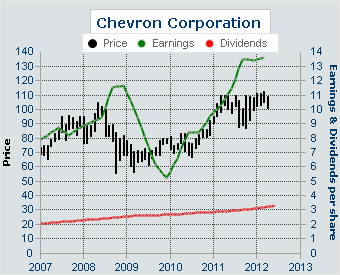 Raytheon Company, together with its subsidiaries, is a technology company specializing in defense, homeland security and other government markets worldwide. The Company provides electronics, mission systems integration and other capabilities in the areas of sensing, effects, and command, control, communications and intelligence systems, as well as a range of mission support services. It serves both domestic and international customers. The Company operates in six business segments: Integrated Defense Systems; Intelligence and Information Systems; Missile Systems; Network Centric Systems; Space and Airborne Systems , and Technical Services. On January 31, 2011, the Company acquired Raytheon Applied Signal Technology, Inc. During the year ended December 31, 2011, it acquired Henggeler Computer Consultants Inc., Pikewerks Corporation and substantially all of the assets of Ktech Corporation.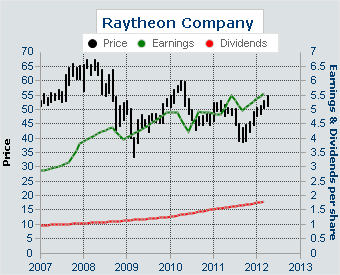 Johnson & Johnson is a holding company. The Company, along with its subsidiaries, is engaged in the research and development, manufacture and sale of a range of products in the healthcare field. The Company operates in three segments: Consumer, Pharmaceutical, and Medical Devices and Diagnostics. During the fiscal year ended January 1, 2012 (fiscal 2012), the Company's subsidiaries operated 139 manufacturing facilities occupying approximately 21.8 million square feet of floor space. Within the United States, eight facilities are used by the Consumer segment, 10 by the Pharmaceutical segment and 34 by the Medical Devices and Diagnostics segment.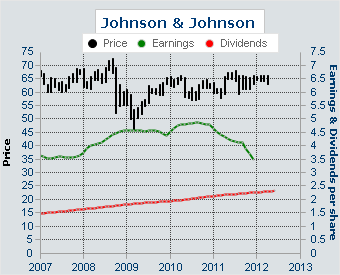 Abbott Laboratories is engaged in the discovery, development, manufacture, and sale of a range of health care products. Abbott operates in five segments: Proprietary Pharmaceutical Products, Established Pharmaceutical Products, Diagnostic Products, Nutritional Products and Vascular Products. In March 2012, STARLIMS Technologies, an Abbott company, acquired STARLIMS's French distributor Varilab; operations of two privately held Spanish businesses, operating as STARLIMS Iberica; a Dutch company, operating as STARLIMS Netherlands, with a branch office in Solna, Sweden; and the business of its Israeli distribution partner, STARLIMS Israel, Ltd. In addition, the Company established STARLIMS Germany GmbH, with offices in Witten, Germany.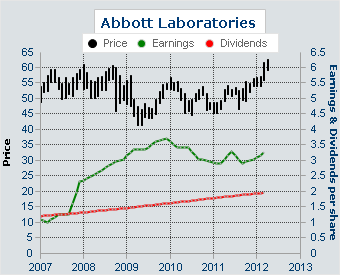 Performance Comparison Chart:
They have all done better than the S&P 500 over the past 5 years, which is certainly encouraging. CVX has shown high volatility. RTN has produce the least extra performance. ABT is the clear winner if a combination of beating the S&P 500 with comparatively low volatility. JNJ might have gotten to where ABT is, but has been plagued with product recalls and quality control problems -- great company though.
Click to enlarge
(Click to enlarge)
Disclosure: I have no positions in any stocks mentioned, and no plans to initiate any positions within the next 72 hours. QVM has positions in CVX, RTN and ABT as of the creation date of this article (May 21, 2012).
Disclaimer: This article provides opinions and information, but does not contain recommendations or personal investment advice to any specific person for any particular purpose. Do your own research or obtain suitable personal advice. You are responsible for your own investment decisions. This article is presented subject to our full disclaimer found on the QVM site available here.