Teekay LNG (NYSE:TGP) owns a fleet of seven liquefied natural gas [LNG] tanker ships, some fully owned and some in which TGP owns a significant stake. All of the company's ships are contracted to major energy firms under long 15 to 20-year contracts at fixed rates.
LNG tankers are specialized ships designed to carry gas in liquid form from liquefaction trains to re-gasification terminals.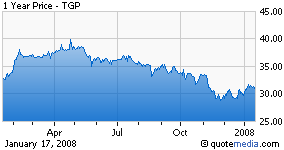 Competitive Advantages: TGP's main competitive advantage is simple: it has long-term contracts covering all of its LNG carrier ships. These contracts are typically signed with major international oil companies such as ExxonMobil (NYSE:XOM) and include provisions to adjust rates higher to keep pace with inflation.
Companies with major LNG projects want to make sure that they have access to plenty of tankers to handle all their production. Thus, rather than trying to contract tankers on an as-needed basis, these producers sign long-term deals to guarantee capacity. These are exactly the sort of deals Teekay targets, and it already has deals covering major LNG developments such as those in Angola and Qatar.
Even better for TGP, it actually signs these contracts before it buys a new ship. That means that TGP isn't speculating on demand but building to meet a known market. In this sense, TGP doesn't really have to compete with other firms at all -- it already has its existing fleet committed and has a full slate of tankers under construction that are also already committed.
Growth Drivers: TGP's main growth driver is the scheduled delivery of new ships. From its current fleet of seven LNG ships, four new 40%-owned LNG tankers are scheduled for delivery this year, an additional two 70%-owned ships are scheduled for 2009, and a further four 33%-owned carriers in 2011.
As these new ships come into service, TGP's long-term contracts will kick in and the firm will start earning revenues. And Teekay is always looking for ways to add to its tanker construction schedule.
Valuation and Outlook: TGP is organized as an MLP, meaning that it pays no corporate tax and offers a high yield for investors. The MLP currently pays an annualized $2.12 per share, divided into quarterly payments. That equates to a current yield of around 6.8%. In addition, TGP is expected to be able to boost its cash distributions at an annualized rate of around +12.5% over the coming three years.
Typically, MLPs are not valued based on earnings and price-to-earnings ratios. For master limited partnerships, we calculate ratios using distributable cash flow rather than earnings. The reason is that non-cash charges like depreciation and amortization are included in the earnings measure. These can be significant for MLPs because their assets typically throw off large non-cash depreciation charges.
Distributable cash flow is basically the net income figure with non-cash charges added back. From this adjusted figure we subtract maintenance capital expenditures [CAPEX], which is a measure of how much money it costs annually to keep up, repair and maintain existing infrastructure so that it remains usable. The final figure is a close approximation of how much cash an MLP actually has on hand to pay distributions.
With a distributable cash flow for 2007 of $2.20, TGP trades at about 14 times distributable cash flow -- a relatively attractive valuation.
Disclosure: None.