Weather Market On In Grains
Weather is a key in the grain markets right now and a combination of the nation's first heat wave this week, drought in Russia, earlier crop woes in Ukraine, dryness in western Australia and dryness over spreading some 30-40% of China's main growing area, have all helped.
[Dryness in Ukraine -- left -- has hurt barley, wheat and other crops the last few weeks, after a combination of winter-kill and fall dryness resulted in poor wheat stands, last year. To the right you see the increased rainfall for parts of western Russia and Ukraine the next week (blue), but it remains to be seen if this will be a major help to the wheat and barley crop)]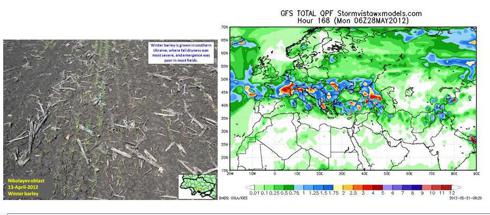 Click to enlarge
(Click to enlarge)
SOURCE: USDA/STORM VISTA
This has resulted in a massive $1.00+ move in wheat the last week and now traders are going to focus in on what happens in these other countries, as well as early corn belt heat and dryness, following "ideal" spring planting weather. Corn is building back in summer weather risk premium just in case a hot, dry summer develops in key areas.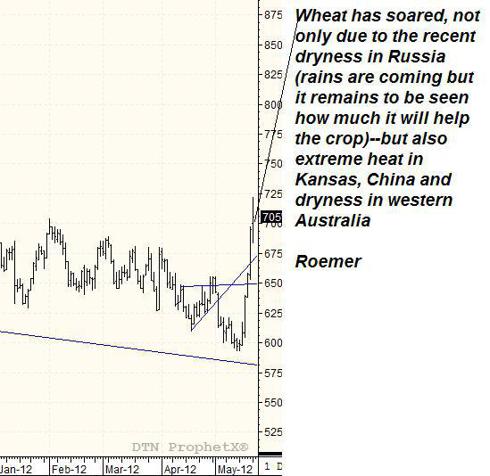 Click to enlarge
(Click to enlarge)
I mentioned last week that if it was not for rains coming to Ukraine this next week, "wheat prices would explode". However, during the course of last week, we became increasingly concerned too about extreme heat for Kansas (the tail end of the "heading stage) as well as planting woes in Australia and other factors. With such a huge net short speculative position in wheat, this has resulted in the very large sell off.
(The map below shows total rainfall across the Midwest since mid April. While rainfall has eased drought conditions in the NW belt during April and early May -- some of the areas in orange and red need persistent rains to offset the upcoming heat this week. After a bearish attitude and stellar sell off in corn since mid March, traders will closely watch for rain and temperature forecasts, in the weeks ahead)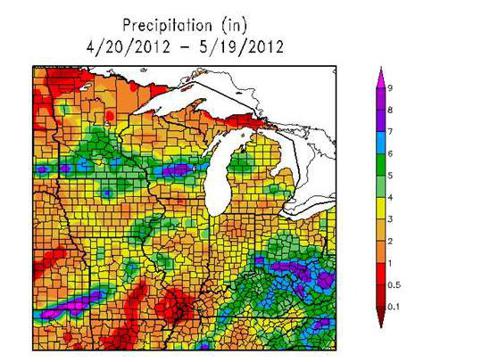 Click to enlarge
(Click to enlarge)
SOURCE: RESOURCE CLIMATE CENTERS
However, while corn belt stress will be likely this week, historically when blocks develop near Greenland (-NAO) in combination with cool ocean currents off the west coast of the U.S. (-PDO and long term cycle), hot, dry June weather is typically not the case over at least 70% of the main U.S. corn belt. Hence, corn futures and the Corn ETF Teuricum CORN may not see a lot more upside potential in the next month or so. However, this year, the wild card is China. Spring and early summer weather in China normally does not have a bearish on corn prices, as traders focus in strictly on U.S. weather. However, with corn stocks so tight, China's weather may have much more of a role in this market in coming months.
(The map below shows forecasted total rainfall by one model. It continues to advertise below normal rainfall in the North China Plain, where some 30% or so of the corn crop is produced. Usually, we look at a host of other climatological parameters such as ocean temperatures, what is happening over the arctic, eastern Pacific, etc., to try to 'out guess these models.' Those climatological factors would suggest an improving situation come June for most of China. However, right now, the maps suggest 1-2 more weeks of dry weather first and this has been a concern in some markets.)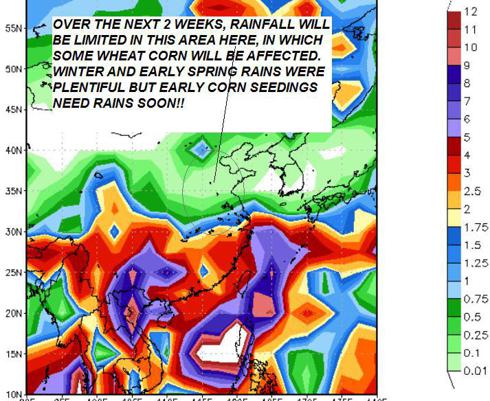 Click to enlarge
(Click to enlarge)
SOURCE:STORM VISTA
Other Commodities that have Some Weather Influence
For Coffee, futures prices have been trading in a narrow channel the last few weeks, but could well break downward if Brazil escapes this summer (their winter) without a freeze and the weather in Colombia improves from their recent wetness. Prices to $1.50 would not be out of the question, later this summer or fall if pre-El Nino weather blesses crops in these and other countries.
Natural gas prices have rallied some 30-40% the last month, due to less rigs, some production companies going out of business that would lower production and the fact that coal fired plants are mostly down this time of the year. This means any short term heat will be shored up by natural gas generation. In the Midwest, even if we have summer hot weather (which is not written in stone right now), once coal powered plants are turned on, weather will have a limited impact on demand. Prices would well reach $3.00 in coming days/weeks but to see prices much above $3.50-$4.00, it will take more production cuts and also hot eastern U.S. weather.
Cotton prices have been in a tail-spin, now dropping close to 65% from their March, 2010 highs. Increased world production, ideal weather and concerns about Chinese economy slowing has been negative this market, as well as the charts. Some concerns may mount with time about some north China dryness, but usually this is not a major factor this time of the year given some irrigation and the fact that cotton is dry weather crop.
Cocoa prices have been trading in a narrow trading range and could break to the downside over the next week or two, if the west African crop is saved by important rains. This market is often tied to political events in west Africa and other non weather factors, but the "main" cocoa crop development is in a critical time period, the next 4-6 weeks.
Disclosure: I have no positions in any stocks mentioned, and no plans to initiate any positions within the next 72 hours.