There is an interesting development in the market that I believe to be as important as the news dominating headlines, such as Facebook (NASDAQ:FB) or the euro (NYSEARCA:FXE).
Currently, bonds (NYSEARCA:TLT) have been moving up, almost parabolically, and are approaching all time highs, while the SPDR S&P 500 ETF (NYSEARCA:SPY) sits 8.7% below its 52 week high. This is an unusual development and it is worth spending some time to examine this divergence.
The stock market is currently experiencing a correction, while the bond market is even higher than October 2011 levels, when the S&P 500 bottomed a bit under 1100. Despite this brutal sell off in the last two weeks, we are well above 1100. Other indexes like the iShares Russell 2000 Index (NYSEARCA:IWM) have sold off more, yet it still remains more than 25% above its October low level.
This chart below is a comparison of the S&P 500 vs the 10-20 year bond fund, TLT, since the beginning of this cyclical bull market in March 2009:
(Click to enlarge)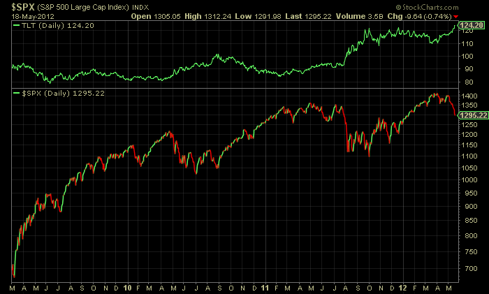 Click to enlarge
This chart illustrates that bond strength coincides with equity weakness and that both bonds and stocks have been making higher highs and higher lows since March 2009.
The two largest pullbacks occurred during the summer in 2010 and 2011 as bonds made higher highs, while equities gave back gains from strong rallies but still carved out higher lows.
This year is quite anomalous as bonds barely budged even as equities climbed higher. It's fair to say that the bond market seems more hesitant about the economy's prospects than the stock market.
Taking a closer look at how bonds have performed in this recent leg up in equities:
(Click to enlarge)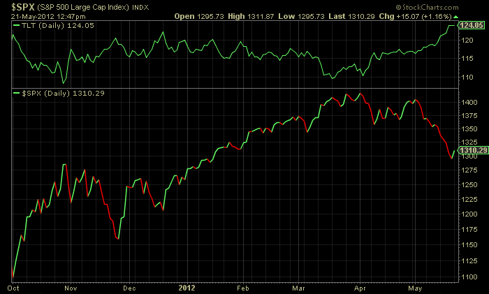 Click to enlarge
This chart illustrates that despite almost a 300-plus point move in the S&P 500, TLT remained range-bound between 110 and 120. Then as equities corrected, TLT burst higher out of its range, hitting an all time high correlating to a yield on the 10-year note of under 1.8%.
Conclusion
The resilience of bonds has to be respected and noted. Many, for years, have been cogently arguing that bonds are in a bubble and due for a move lower.
Currently, bond investors are essentially lending money to the U.S. government for record low interest rates. At these low rates, lower than inflation, it seems they are more concerned with return of capital vs. return on capital.
Its often noted by analysts that the bond market is deeper and more liquid than equity markets, so its price action should be taken more seriously. However, the bond market's recent activity is certainly influenced by Fed purchases, so it's unclear how much of today's price is purely a result of supply and demand.
In Part 2, I will explore the disconnect further to see what it has meant previously as a guide to market direction.
Disclosure: I have no positions in any stocks mentioned, and no plans to initiate any positions within the next 72 hours.