There is no question that the market for farm equipment has skyrocketed due to the growing world-wide demand for higher crop yields. Agriculture has essentially been transformed to a food plus energy venture and has led to some significant profits in farming and related stocks. A set of dilemmas for new investors in the agriculture equipment sector is that the current farm equipment stocks have doubled in the past year, are largely over-owned by funds, and it is difficult to find a solid company with significant upside potential left.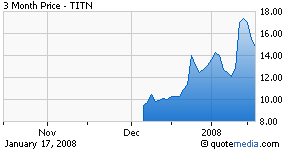 In comes Titan Machinery (NASDAQ:TITN). Titan Machinery owns and operates one of the largest networks of full service agricultural and construction equipment stores in North America. Titan is the world's largest retail dealer of Case IH Agriculture equipment and a major retail dealer of New Holland Agriculture, Case Construction and New Holland Construction equipment (all made by CNH Global NV; (NYSE:CNH)). They already have a network of 35 full service stores including two large outlet locations throughout the upper Midwest and they are rapidly expanding. For example, since the most recent quarter was reported, they have acquired four additional dealerships. They are not only exploring growth domestically, but have also recently begun to expand their offerings overseas.
Titan's most recently announced Q3 report showed robust growth. They increased revenue by 67%, gross profit by 54%, and earnings per share were 0.36 versus 0.13 in the previous year's third quarter. Titan is currently trading around 0.59 price-to-sales and a 17 PE ratio. Based on current industry averages, Titan is trading at a discount to the majority of stocks in the agriculture equipment sector.
During the latest conference call, the CEO David Meyer commented: "Technology is playing a growing role in crop utilization which creates a great opportunity for Titan because this technology requires additional technical skills and resources from a dealer to support."
This shift to high-level technology equipment is extremely important to Titan's growth because the servicing segment of their business yields better margins than the selling of the equipment itself.
Titan Machinery has only two analysts with listed coverage on the stock with a mean price target of $23.50. Titan currently holds the top Investors Business Daily EPS Rating of 99 and a Sales + Profit Margins + ROE [SMR] Rating of "A".
The low P/E, high growth rate, strong insider ownership, small fund ownership and lack of current notoriety in the investment community make this a compelling stock going forward as the company continues to be 'discovered' by the Street. The recent market pullback has provided an opportunity to take a serious look at this stock below the post earnings highs.
Disclosure: Author is long TITN.