Plenty of retail investors as well as institutional money managers weren't able to get IPO shares of Facebook (NASDAQ:FB) at $38 per share. Their collective disappointment stemmed from the fact that FB had been expected to finish the day with a 20% unrealized gain in and around $45-$46.
Yet the ability to get in on something - even a "sure thing" - isn't always what it is cracked up to be. On 5/21/2012, FB traded circa $33-34, or 10% below the coveted offer price.
Similarly, over the last 10 years, scores of worldwide investors have clamored to move more of their capital into the world's second largest economy. Yet China severely limits external access to three-fourths of their local corporations. In fact, the government restrictions have made China's "A shares" inaccessible to most foreigners.
Perhaps ironically, an inability to invest directly in local consumption-oriented industries on the Shanghai Exchange may have been a blessing in disguise. Prices are still down 60% from the October 2007 pinnacle.
More recently, however, export-dependent transports and interest-rate sensitive financials in SPDR S&P China (NYSEARCA:GXC) have struggled mightily. Whereas GXC is flat year-to-date, the Shanghai Composite has gained roughly 10%.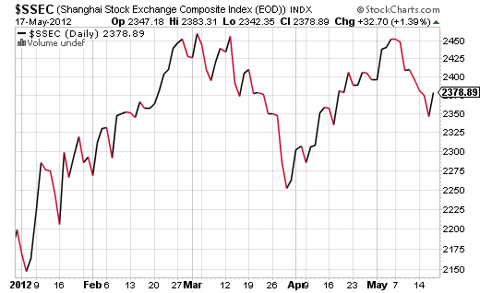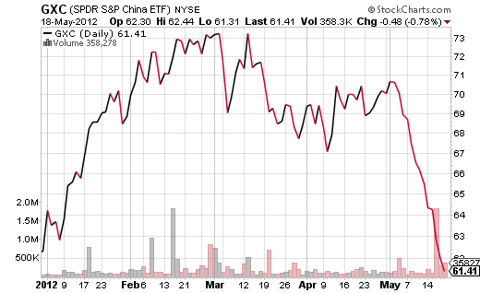 Why the discrepancy? Since the beginning of the year, the Chinese government had been hinting at stimulating its local economy. Helping the rising middle class after years of intolerable inflation gives hope to the local population and businesses that can invest on the Shanghai Exchange.
What's more, over the weekend, Premier Wen explained that the central government will boost domestic consumption to promote steady and relatively fast economic growth. Wen added that it also intends to implement structural tax reductions to ease companies' financial burdens.
And there's more. China's foreign exchange regulator announced this weekend that it will allow more domestic securities in overseas funds. The demand for access to middle class consumption in China via the country's capital markets should be particularly vibrant at a time when China is turning toward growth/easing/stimulating.
Considering the fact that few investors can get anywhere near China's A shares - considering that U.S. ETF investors must rely primarily on funds like iShares China 25 (NYSEARCA:FXI) and SPDR S&P China (GXC) - does China's announced policy initiatives still matter? Yes. China's pro-growth stance that has been years in the making should still be beneficial to all Chinese equities.
Unfortunately, the export-laden GXC and FXI are inexorably tied to Europe. They cannot break free entirely if Europe itself isn't importing Chinese goods or if European banks aren't able to function.
That said, China's commitments will give a boost to the global economy as well as to global confidence. A European "eurobond" solution could see GXC and FXI lead the emerging market pack out of a two-year downtrend.
And there's still one additional option. Market Vectors China (NYSEARCA:PEK) offers an indirect way to invest in local Chinese A-shares. PEK invests in a variety of derivative instruments to gain performance exposure, and it is indeed having some success at doing so. (Note: Like the Shanghai Index, PEK is up handsomely on the year.)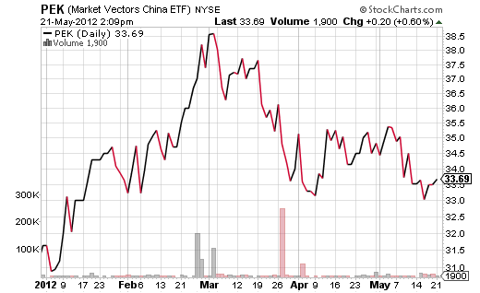 Disclosure: Gary Gordon, MS, CFP is the president of Pacific Park Financial, Inc., a Registered Investment Adviser with the SEC. Gary Gordon, Pacific Park Financial, Inc, and/or its clients may hold positions in the ETFs, mutual funds, and/or any investment asset mentioned above. The commentary does not constitute individualized investment advice. The opinions offered herein are not personalized recommendations to buy, sell or hold securities. At times, issuers of exchange-traded products compensate Pacific Park Financial, Inc. or its subsidiaries for advertising at the ETF Expert web site. ETF Expert content is created independently of any advertising relationships.