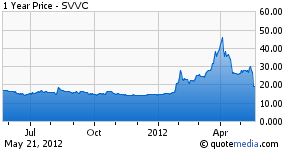 On April 19th Firsthand Technology Value Fund (NASDAQ:SVVC), the largest publicly traded holder of Facebook shares, took advantage of the Facebook (NASDAQ:FB) pre IPO hysteria and completed a secondary offering of 4.4 million shares raising $118 million. They now have 171 million in cash and 8.5 million shares outstanding. This gives them a cash per share of $20.00.
As the media has well covered, the Facebook IPO did not go as well as expected, down 9% from the IPO price. The ripple effect of this has affected the share prices of the two largest publicly traded owners of Facebook shares, SVVC and GSV Capital Corp (NASDAQ:GSVC). On Friday due to the weak FB opening, SVVC stock dropped 29% to 19.27 from the opening price of 27.02. As I type, SVVC is trading at 19.45 below cash per share of $20. Did I mention Firtsthand Technology Value Fund also has private investments in future flyers Twitter, Intervac, Yelp (NYSE:YELP), Gilt Groupe and others?
One of my readers brought up an excellent point to me when discussing the value SVVC currently trades at. You could take the 600k shares of FB that SVVC owns and mark them down to $30 per share, and that is still $2.10 per share of SVVC Facebook stock. Ignore Twitter, Intervac, Yelp and the rest and it's still $22.10 per share fair value for at 19.45 stock.
Two months ago, I recommended shorting SVVC at $46/share. Now I am calling a bottom in SVVC, recommending you initiate a long position as it ridiculously trades 26% below current NAV of 24.51.
Disclosure: I have no positions in any stocks mentioned, and no plans to initiate any positions within the next 72 hours.