To say that the Facebook (NASDAQ:FB) IPO has been a disaster would be an understatement. FB is now trading significantly below the IPO price of $38.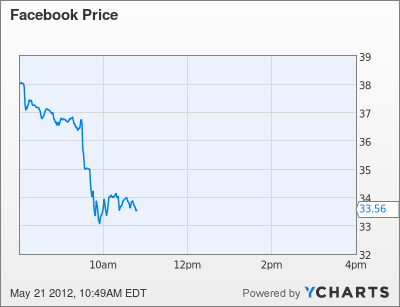 In addition to the bad stock performance, the IPO has also been characterized by major technical probelms. Conformation reports, usually available shortly after a trade is placed, were delayed hours. Institutional investors who had put in large orders did not know whether they had been filled or not, and at what price.
The blame for the technical problems should be attributed to Nasdaq (NASDAQ:NDAQ) as it was the exchange Facebook decided to list on. In an interview with the Wall Street Journal, Nasdaq CEO Bob Greifeld said, "this was not our finest hour" and that the exchange is "humbly embarrassed." This embarrassment is sure to hurt Nasdaq's chances at getting upcoming IPOs. Instead, many of these companies are likely to consider listing on the New York Stock Exchange owned by NYSE Euronext (NYSE:NYX).
As shown by the chart below, the Facebook IPO has already started to weigh on NDAQ.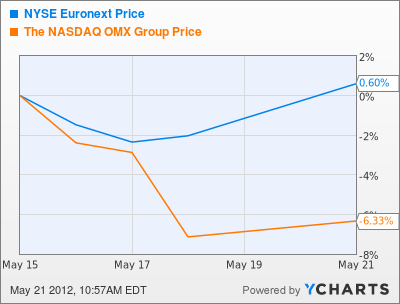 Conclusion
While there were not many winners from the Facebook IPO, NYX is one of them. The Facebook IPO is another reasons to consider buying NYX, a thesis I have already laid out here.
Disclosure: I have no positions in any stocks mentioned, and no plans to initiate any positions within the next 72 hours.