As a follow-up to my commentary from last week on Cumulus Media (NASDAQ:CMLS), Victor Miller, a Bear Stearns analyst who is one of the top media analysts on Wall Street, put out a note on the company Thursday morning in which he analyzes the current status of its pending deal to go private led by its CEO, Lew Dickey, members of the Dickey Family, and Merrill Lynch Global Private Equity. Ultimately, he reiterates his OUTPERFORM rating on Cumulus, and concludes, "We still think CMLS could very likely be private in 2008".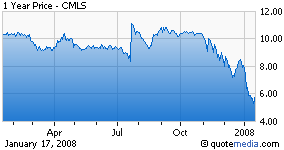 He thinks that there are three likely outcomes that could unfold, stating "All three options point to a privatization". Further he states "CMLS' current lows may be a buying opportunity".
According to Miller, three "privatization" scenarios exist:
The original $11.75 deal happens with Merrill Lynch as proposed;
The Merrill Lynch deal gets re-cut to $10.75;
Merrill Lynch balks and the Cumulus uses its 8.5x EBITDA borrowing capacity to repurchase its 27.75 mil share float (assumes the Dickey Family and original investor Bank of America "rolls" their equity).
What are his thoughts on the company's stock if the pending deal to go private as proposed or some modification doesn't happen?
He writes:
Right now, we believe that CMLS trades at a slight 0.25x multiple premium to the pure-play radio group. If the Merrill Lynch deal does not occur and the company eschews a buyback, which we feel is unlikely, we believe the stock should trade to levels approaching $4.75 to $5.00.
His confidence in the stock should reassure investors who have seen a significant drop in Cumulus's share price since the deal was announced last year. He concludes, "The upside relative to downside seems compelling now given more likelihood of some catalyst."
Additional excerpts from his analysis follow:
• Market Doubts "Go-Private" Deal. On July 23, CMLS announced that management/Merrill Lynch Global Private Equity would offer $11.75 per share in a bid to go private. We believe CMLS' 47% discount-to-deal price and 190% annualized return (mid-April close) reflect the market's strong doubts about a closing. CMLS now trades in-line with comps.

• Doing the Math. CMLS' 11.0x implied 2008 take-out multiple [$11.75 bid] is not aggressive relative to other 2005-2007 deals, but since the "go-private" announcement, a) public radio trading multiples have contracted by 2.3x, b) 8.5x+ leverage is less amenable in the debt market and c) Clear Channel has struggled to close its 100+ sized market deals.

• Cumulus Has Some Good Stories to Tell in 2008. 1) Mid-small markets are more healthy than large market radio, 2) CMLS' new Jan. 1 nationwide streaming initiative is paying off, 3) CMLS turned away $3-4MM in "remnant" ads in 2007, making 2008 comps easier, 4) CMLS expects significant political in 2008 and 5) CMLS successfully executed a station "move-in" into NYC from Westchester. Given factors 1-4, CMLS could be pacing positive in 1Q.

• Going Private in 2008? The Dickey Family can roll $60MM+ in equity. CMLS' CFO negotiated a bank line in June 2007 that permits CMLS to borrow up to 8.5x EBITDA at attractive rates.
Disclosures: none